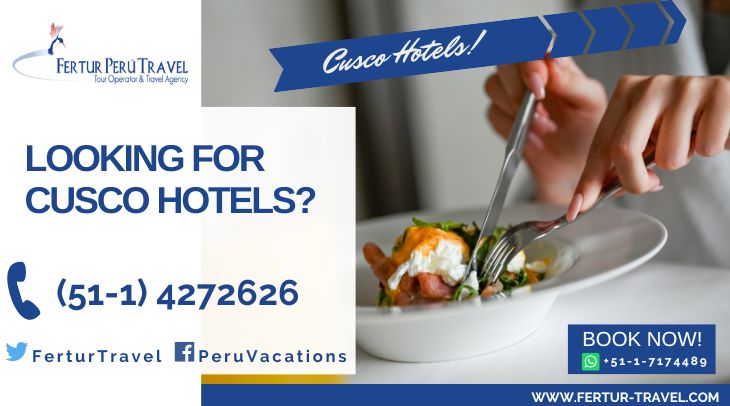 Below is a list of some of Fertur Peru Travel's top hotel picks for comfort and service in the Inca capital Cusco. Contact us for excellent rates. Compare Cusco hotels and Book with Fertur Peru Travel!
The 10 Best Cusco Hotels
⭐⭐⭐⭐⭐
The Monasterio is housed in the old San Antonio Ábad seminary, a classic of 17th century Andean-baroque architecture. Guests have access to the famous "Escuela Cusqueña" art collection and the hotel chapel, gleaming with gold leaf. Four colonial courtyards offer pleasant gardens with fountains, surrounded by stone colonnades. Each room has a unique layout and is furnished in a mix of colonial and modern styles, while most have views of the city. Supplemental oxygen can be pumped directly to many of the guest rooms to avert or alleviate altitude sickness. The two hotel restaurants serve international and Peruvian food and have frequent live music and traditional dances; an Andean harpist plays regularly in the Lobby Bar.
---
⭐⭐⭐⭐⭐
This luxurious hotel located directly across from the Koricancha, just blocks from the traditional center of Cusco, is built on the remains of the Inca Anclla Huasi and incorporates Pizarro's historic 16th century "Casa de los Cuatro Bustos." The Libertador recently expanded to encompass two additional courtyards and a sleek pyramidal lobby. Spacious, tranquil rooms, many with private terraces and all climate-controlled and furnished with original wooden and leather pieces, allow you to enjoy your stay in an unforgettable atmosphere.
---
⭐⭐⭐⭐⭐
There is nothing standard about this exclusive luxury boutique hotel. The Casa Cartagena features original Inca walls and magnificent "frescos" from the colonial era, which were carefully restored in 2007 by the School of Fine Arts of Cusco. Declared a "Cultural Heritage Monument," Casa Cartagena offers butler service and an in-suite buffet breakfast as standard services. The rooms are huge, maintaining their original Inca and colonial architecture, but with all modern amenities, including an oxygen enrichment system for altitude sickness.
---
⭐⭐⭐⭐
One of the newer hotels in Cusco and among the few which are fully environmentally sustainable, the Eco Inn is located just across from the artisans' market and a short walk from the Qoricancha. Pleasant, airy rooms surrounding an interior courtyard are equipped with 100% cotton sheets and towels. The hotel uses solar power and has one of the few waste recycling programs in Cusco. A river stocked with local fish runs through the Atrium Café restaurant, where all the dishes are made with fully organic, locally produced ingredients.
---
⭐⭐⭐⭐
An historic 18th century manor just three blocks from the main square of Cusco, this recent addition to the Casa Andina family has been transformed into one of the finest boutique hotels in Peru. The well-lit, tastefully decorated rooms surround three interior patios with wooden balconies, while the colorful dining room evokes a bygone era of state banquets and high society. The restaurant's adventurous menu uses local ingrediants — try the alpaca carpaccio or the sweet potato tortellini — and is known for having some of the best food in town
---
⭐⭐⭐⭐
The 17th century mansion of the Marquis de Picoaga boasts a beautiful two-story archway entrance and a series of traditional colonial columns encircling a peaceful, flower-filled courtyard. The hotel has a colonial and a modern section; rooms in both are similar but the colonial section is decorated with traditional Peruvian tapestries. Peruvian and international cuisine is offered in the Mirador and Virrey Restaurants, the former with outstanding panoramic views of the city and the latter in a charming colonial salon.
---
⭐⭐⭐⭐
Constructed in the Colonial style, the Jose Antonio is located in a quiet neighborhood a short distance from the Plaza de Armas. The modern rooms are comfortable and well-maintained, and the friendly and knowledgeable staff will do everything they can to make your stay in Cusco enjoyable. Many rooms are equipped with jacuzzis. Diners' tables surround a wood-fire stove in the restaurant, while the welcoming bar is decorated with Peruvian antique crafts and artwork.
---
⭐⭐⭐⭐
A 16th century mansion just steps from the Plaza de Armas, the Novotel boasts two wings: One colonial, evoking the epoch of the conquistadores with period artwork, and the other modern, decorated with regional tapestries and embroidery. The exquisite central courtyard is the perfect place to relax. All rooms are brightly colored and well equipped with all the standard services. The excellent French restaurant, located in the hotel's garden, is complemented by a comfortable, crystal-vaulted bar. Coca tea is available at reception to help adjustment to Cusco's altitude.
---
⭐⭐⭐
The boutique Tierra Viva Cusco Plaza hotel is so named because of its close proximity to the Inca capital city's Plaza de Armas. This former colonial house — once owned by close family of Spanish Conquistador Francisco Pizarro — is a mere 50-foot stroll down a cobble stone street to Cusco's cultural heart. The historic building has 20 elegantly appointed rooms, as well as comfortable lounges and open areas. The classic Cusco style courtyard lies beneath glass dome, and is brilliantly illuminated with natural light from dawn till dusk, and reveals an awesome moon and stars by night. Tierra Viva Cusco Plaza Hotel is an ideal place for rest and relaxation as you prepare for the next day of wonder and discovery in the magical capital of the Inca.
---
⭐⭐⭐
The boutique Apu Huascaran is a 17-room hotel on a quiet corner of Cusco's San Blas quarter, a block from the Plaza and Church of San Blas. Apu Huascaran is our top pick in Cusco for quality, service and comfort at a super economic rate — a great value. Run as of early 2013 by Maxy and Luis, the hotel has undergone a makeover, with new bathroom fixtures and 24-hour hot water. The Apu Huascaran is a great choice for families with children traveling to Cusco on a budget.
---
Contact Us: Find luxury Cusco Hotels with Fertur!
To book your vacation now or consult with us, fill out the "Contact Us" form to the right and a Fertur Peru Travel coordinator will contact you within one working day with detailed information about your fully customizable trip. Fertur Peru Travel's pledge is to offer you top-quality, individualized attention that starts with the planning of your trip and continues through your journey to guarantee a great vacation.