Machu Picchu Guide 2022: Everything You Need To Know
---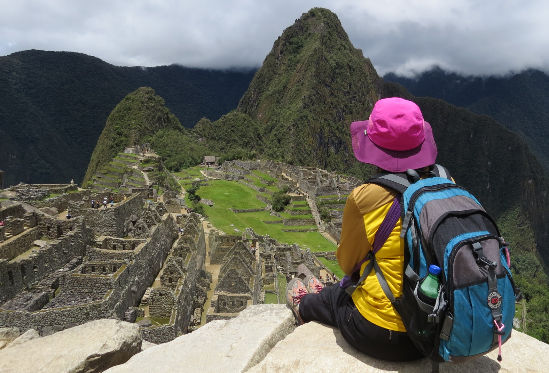 Here is a 2022 up-to-date guide to Machu Picchu, where people from all over the world venture for a shared dose of awe and awakening. No photograph or description can capture the experience. You must be there for that moment when you first set eyes on the monumental Inca architecture perfectly perched between two craggy mountain peaks. Now read this Machu Picchu guide for 2022.
Machu Picchu Guide 2022
Where is Machu Picchu?
The Machu Picchu Sanctuary is located 45 miles (73 km) from the Plaza de Armas of Cusco, Peru, South America. The nearest population center — and main gateway to the ancient citadel — is the town of MachuPicchu Pueblo, more commonly known as Aguas Calientes. There is no direct road access to this small bustling town, so the only way to get to it is by train or on foot. The main entrance to Machu Picchu stands at an elevation of 8,000 feet (2,438 meters) above sea level, on the mountaintop above Aguas Calientes.
How long does it take to get up to Machu Picchu?
To get up to the sanctuary, you can choose between a 75-minute to 2-hour hike (how long depends on your fitness) or boarding one of the buses that depart from Aguas Calientes every five minutes between 5:30 a.m. and 3:30 p.m. The buses take about 25 minutes to ascend the switchback Hiram Bingham road. Tickets for the bus are sold adjacent to where the vehicles depart, but there are often long lines. Also, Machu Picchu tickets are NOT sold at the entrance gate above. There is a Ministry of Culture office just off the main square in Aguas Calientes (Machupicchu Pueblo) where entry tickets can be purchased, but buying them last-minute is not advisable. Tickets can sell out days — or during the busiest season (June through August) weeks — ahead of time. So it is a good idea to buy both the bus ticket up to the sanctuary and entry ticket into the citadel well in advance. Visitors can also check availability and purchase tickets on Machu Picchu's official website.
What are the entry times for Machu Picchu?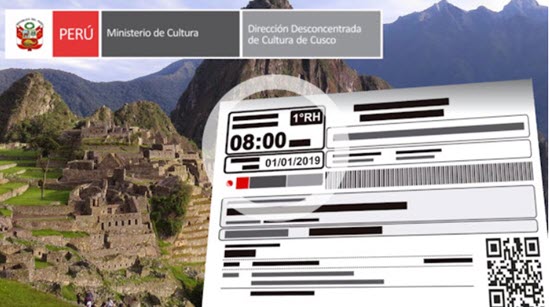 First Shift: between 6:00 am and 9:00 am (6, 7 and 8 a.m.)
Second Shift between 9:00 am and 12:00 pm (9, 10 and 11 a.m.)
Third Shift between 12:00 pm and 3:00 p.m. (12, 1 and 2 p.m.)
Covid-19 limits and protocols for Machu Picchu?
In order to maintain social distancing, the maximum number of visitors per day is 3,500 people. Visitors must wear masks and adhere to all health protocols indicated when entering the monument and throughout their exploration of the citadel. Proof of Covid 19 vaccination is required to enter Machu Picchu (both physical and digital vaccination passes are accepted). In case proof of vaccination cannot be presented, a negative PCR test result, taken with 48 hours of the visit, is acceptable.
During the Machu Picchu tour, a minimum distance of 5 feet (1.5 meters) between visitors is suggested. Groups, which now are limited to a maximum of eleven (10 visitors plus their guide), are encouraged to maintain a distance from each other of at least 65 feet (20 meters).
To review Peru's general Covid-19 health protocols, click HERE.
Machu Picchu Guide Mandatory
Visitors must be accompanied by a certified guide*, either in private or in small groups, to enter the sanctuary and tour one of four established routes. In addition, visitors can choose ahead of time to purchase entry tickets to climb Machu Picchu Mountain, Huchuypicchu Mountain or the iconic peak of Huayna Picchu.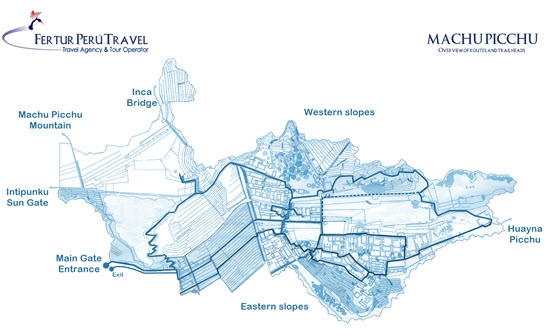 *Note: The rule requiring visitors be accompanied by a certified guide is strictly enforced for groups. The regulation, however, is currently not enforced in practice for individual tourists. Visitors can tour the Inca Citadel without a guide, although one is highly recommended.
Machu Picchu Sanctuary Routes
The four circuits divided into long and short routes along the lower and upper terraces.
Machu Picchu circuit #1 (short)
Click to open ⮱ Machu Picchu Circuit Map 1: This short route includes the upper terraces near the trail heads to Machu Picchu Mountain and the Sun Gate, followed by the Main Portal, the Granite Quarry, Room of Mirrors and Ceremonial Fountains.
Machu Picchu circuit #2 (long)
Click to open ⮱ Machu Picchu Circuit Map 2: This is the longest route, as well as the most complete and popular circuit. It includes the upper terraces near the trail heads to Machu Picchu Mountain and Inti punku Sun Gate, followed by the Main Portal, the Granite Quarry area, the Sacred Main Square, the Intihuatana, the Sacred Rock, the Room of Mirrors and the Temple of the Condor.
Machu Picchu circuit #3 (short)
Click to open ⮱ Machu Picchu Circuit Map 3: Lower terrace short route: Includes the entrance to the Guard House, a walk across the lower platforms, past the Temple of the Sun, the House of the Inca, the Ceremonial Fountains and the Room of Mirrors.
Machu Picchu circuit #4 (long)
Click to open ⮱ Machu Picchu Circuit Map 4: This extensive route includes Machu Picchu's lower terraces past the Temple of the Sun, the House of the Inca, and on to the Sacred Rock. From there the circuit winds back through the lower sector past the Water Mirrors and Temple of the Condor and back to the exit.
Note: To prevent bottlenecks, time restrictions currently apply, limiting visitor access, to three primary shrines within the sanctuary:
Intiwatana Pyramid: only 07:00-10:00 (#07 on the map, only Route 2)
Visitors can usually stop and rest before making the turn at the Sacred Rock on routes 2 and 4, and even meander a bit around the Water Mirrors. But otherwise the circuits are in one direction only and no backtracking is allowed. Veering off the established routes to visit the Intipunku Sun Gate or the Inca Bridge is currently prohibited.
Huayna Picchu
The name Huayna Picchu in Quechua means "new mountain." Rising to 8,763 feet (2,671 meters) above sea level, the summit is girded by Inca buildings, terraces and a shrine on the lower far side, the Temple of the Moon. Reaching the top takes about 50 minutes to an hour and requires a hair-raising, difficult ascent up a narrow trail and through a cave tunnel. Steep granite steps at the top put you literally on the edge of the abyss. The hike sets out from the Sacred Rock at the far north end of the sanctuary. Only 200 visitors are admitted each day, in four shifts: the first from 6:00 to 7:00 a.m., the second from 8:00 to 9:00 a.m., the third from 10:00 to 11:00 a.m., and the fourth from 12 p.m. to 1 p.m. (Note: After completing this route, visitors are not able to re-enter the citadel.)
Huchuy Picchu Mountain
Its name in Quechua, Huch'uypicchu, means "Little Mountain." Reaching a height of 8,188 feet (2,496 meters) above sea level, that is exactly what this peak is, situated diminutively alongside the towering Huayna Picchu. Despite its relative stature, the moderate hike to the top offers stunning views of Machu Picchu and the surrounding cloud forest. The 1.2-mile (1.9 kilometer) trek takes about 45 minutes to an hour. From the checkpoint, the hike loops around the lower route above the Eastern terraces, up and over the peak and back out over the upper terraces. The visitor limit per day is 200, spaced over nine shifts throughout the day, with the first schedule from 6:00 to 7:00 a.m. and the last from 2:00 p.m. to 3:00 p.m. (Note: After completing this route, visitors are not able to re-enter the citadel.)
Machu Picchu Mountain
Towering to 10,044 feet (3,061 meters) above sea level, the Quechua name of this higher peak at the southern end of the sanctuary means "old mountain." The ascent is technically less challenging than Huayna Picchu, but the hike up is longer and no less arduous. Getting to the summit typically requires 90 minutes to two hours, or longer. But at several points along the way, this trek offers unparalleled views of the Inca citadel framed by Huayna Picchu, with the Urubamba River snaking around it in a horseshoe bend. Once on top, you have a 360 degree panoramic vista of the surrounding mountains. The hike begins above the thatched roof Guard House, along a marked stone path that veers off from the trail that leads up to the Inti Punku. The visitor limit per day is 400, again in two shifts: the first from 6:00 to 7:00 a.m. and the second from 8:00 to 9:00 a.m.
Inca Bridge
As with Huayna Picchu and Machu Picchu Mountain, the trail head begins with a warden's hut where you must sign in and out. But the hike is free. It is a fairly easy, albeit, vertigo-inducing trek. Getting to the bridge takes about 20 to 30 minutes over a winding cloud forest trail. The ever-narrowing path offers some spectacular vistas of the surrounding river valley and mountains. Crossing the Inca Bridge itself is strictly prohibited ever since several years ago when one hiker tried and fell to his death. But it is quite a sight. Four logs are loosely laid over a 20-foot (six-meter) gap in a buttressed section of the trail grafted onto the sheer mountainside. This "drawbridge" provided the Inca controlled access to prevent unwanted guests from slipping in from the Aobamba Valley to the west.
Inti Punku (Sun Gate)
These ruins located at 8,860 feet (2,700 meters) above sea level mark the end of the line for hikers of the Inca Trail, offering them a well-deserved first magnificent view of Huayna Picchu directly ahead and the magnificent stone citadel spread across the saddle ridge below. Day visitors to Machu Picchu can also enjoy this iconic view. Give yourself 45 minutes to an hour to hike up to the Inti Punku from the sanctuary, setting out to the left of the Guard House along the upper terrace.
What should I bring to Machu Picchu?
Your passport. Do not forget to bring it because you cannot enter without it!
Your Machu Picchu Entry ticket. There is no way to re-issue one if you forget or lose it.
Proof of Covid-19 vaccination (physical or digital) or a negative PCR test result.
A camera with a fully charged battery and lots of space on the memory card.
Good walking shoes, preferably cross trainers or footwear designed for hiking.
Water in a non-plastic bottle.
Sunscreen and a cap or hat.
A rain pancho (a small fold-able one is fine in case of rain).
Machu Picchu Guide 2022: What should I not bring? (The Rules)
The officials at Machu Picchu have signaled that rules of conduct and a list of prohibited items promulgated since 2017 will be more strictly enforced.
Here are the RULES OF CONDUCT and WHAT NOT TO BRING TO MACHU PICCHU!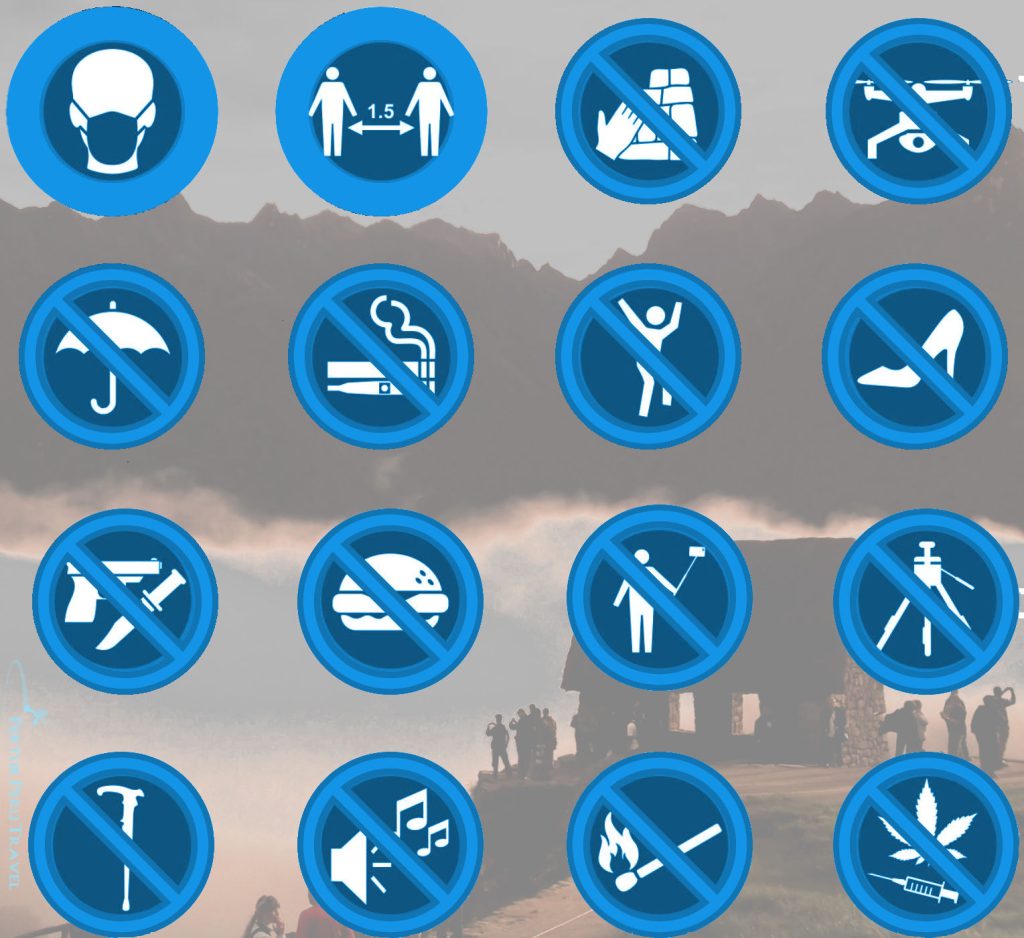 Visitors to Machu Picchu are not allowed to:
Carry in plastic bottles
Carry backpacks, bags or handbags larger than 16 x 14 x 8 inches (40 x 35 x 20 cm). Items that exceed these dimensions must be deposited in the cloakroom storage outside the entrance.
Enter with food and/or utensils.
Enter with any illegal substances or under the influence of any illegal drugs.
Enter with any type of alcoholic beverage or in a state of inebriation.
Carry umbrellas or parasols. (Caps, hats and raincoats are allowed.)
Carry tripods, monopods or extensions for cameras, cell phones or any other stabilizing equipment or extension for filming and/or photography, unless authorized by the Department of Culture of Cusco (DDC Cusco).
Enter with animals, except for guide dogs when strictly necessary.
Enter with any type of aerosols.
Enter with any type of musical instrument, megaphone or speakers.
Use virtual applications with cell phones or mobile devices along any narrow arteries, trails and points of congestion (the use of such technology is allowed only in large open spaces and designated explanation areas).
Enter with heels or hard-sole shoes (entrance is allowed only with shoes or sneakers that have soft or rubber sole).
Enter with baby carriages or strollers (only baby backpack carriers with non-metal frames are allowed).
Enter with sharp instruments and/or weapons of any kind.
Enter with banners, posters and/or placards, among other objects of this type. (The use of pennant are allowed exclusively for tour guides leading groups of at least 5 visitors and are limited to the model and dimensions determined by competent authorities in coordination with the respective guides).
Cause disturbances, hop, jump or generate disorder along the entry path to the Machu Picchu Sanctuary and/or at any point within the complex.
Enter with clothing intended for advertising purposes.
Climbing or leaning on walls and/or structures.
Touch, move or extract lithic elements.
Perform any type of graffiti.
Disturb, collect or extract native flora or fauna and/or cultural elements.
Carry out activities that distort the sacred character of the Machu Picchu Sanctuary, such as fashion shows, dances and social engagements, ceremonies of any kind.
Enter with portable stools or seats, among others.
Enter with trekking poles with metallic or hard tips (Canes and poles are allowed for use by elderly people or people with obvious physical handicaps, and in general as long as they have rubber tips).
Carry out any type of activity that implies the impairment or deterioration of the Machu Picchu Sanctuary, its natural environment and/or facilities.
Obscene acts contrary to morality and good manners.
Undress, wear costumes, lie down, run and/or jump.
Smoking or vaping.
Make loud or annoying noises such as clapping, screaming, whistling, singing, among other actions, because it disturbs the tranquility and the sacred character of the Machu Picchu Sanctuary.
Make any kind of fire.
Dispose of waste of any kind.
Disrespect the established circuits and routes.
The commercial sales in the interior of the Sanctuary of Machu Picchu and spaces the Puente Ruinas bridge.
Feed the domestic and wild animals of Machu Picchu Sanctuary.
Items that park guards deem impermissible can be deposited in the cloakroom storage outside the entrance.
Compare Trekking Options To Machu Picchu
Some Other Frequently Asked Questions
What is Machu Picchu?
To call Machu Picchu a ruins does not do it justice. Covering an area of 37,302 hectares atop the mountain ridge, 250 houses and temples still stand intact after more than 500 years. With its Sacred Plaza at an altitude of 8,261 feet (2,518 meters) above sea level, the stone walls are slanted inward to withstand earthquakes. As part of their engineering marvel, the Incas constructed an intricate water system of fountains and aqueducts fed by underground springs and made the stone complex self-sufficient with terraced outcroppings for farming. They accomplished all this without the benefit of the wheel nor any form of writing as we understand it. But beyond the inexplicably advanced engineering is the sheer poetic beauty of Machu Picchu. A haunting reminder of the Inca Empire, the site inspires feelings of cosmic harmony — a bridge between past and present. That is why it was named a World Cultural and Natural Heritage by UNESCO in 1983.
Who built Machu Picchu?
It is believed the citadel was built by the Inca emperor Pachacutec starting in about 1440 and was inhabited until the Spanish Conquest in 1532.
Why was Machu Picchu built?
Why Machu Picchu was built, and what purpose it served in Inca society, remains an enduring mystery.
Yale anthropology professor Richard Burger and his partner archaeologist Lucy Salazar argue that Machu Picchu's main function was to provide Pachacutec, his royal entourage and his guests a warm and pleasant "country palace" during the cold Cusco winter months of June, July and August.
Peruvian archaeologist Luis G. Lumbreras first theorized in the 1970s that Machu Picchu is in fact Patallaqta, a "Royal Mausoleum" built — much like the Egyptian pyramids were for the ancient pharaohs — to venerate Pachacutec after his death.
American researcher and explorer Paolo Greer argues that an underground Inca niche with fine coursed stonework excavated in 2009 next to the Torreon (or Temple of the Sun) is, in fact, Pachacutec's tomb.
In 1987, Spanish historian María del Carmen Martín Rubio discovered 46 lost chapters from Narrative of the Inca, published in 1557 by Chronicler Juan de Betanzos, gathering dust in the private collec­tion of the Fundación Bartolomé March in Palma de Mallorca, Spain.
Betanzos was the official Quechua interpreter for the Conquistadors. His wife was the Inca princess Doña Angelina Yupanque, who had been betrothed in dynastic marriage to her half-brother Atahualpa before Francisco Pizarro had him murdered and took her as his concubine. She married Betanzos after Pizarro's assassination.
Given his fluency in Quechua, and his wife's first-hand knowledge of Inca royal lineage, Betanzos is considered one of the most reliable of the Spanish chroniclers.
"After [Pachacutec] was dead," Betanzos wrote, "he was taken to a town named Patallacta, where he had ordered some houses built in which his body was to be entombed. He was buried by putting his very well dressed body in the earth in a large clay urn.
"Inca Yupanque ordered that a golden image made to resemble him be placed on top of his tomb. And it was to be worshiped in place of him by the people who went there," the chronicle continues. "He ordered that a statue be made of his fingernails and hair that had been cut in his lifetime. It was made in that town where his body was kept."
Lumbreras, Greer and Martín Rubio believe the "Patallacta" described — and there are several locations in the Cusco region with that name — is in fact Machu Picchu.
High mountain archaeologist Johan Reinhard suggests that Machu Picchu functioned primarily as a sacred center, where huge landscape alignments of mountain deities and celestial bodies converge.
Reinhard showed how the Intihuatana, the hitching post of the sun, marks a geographic intersection, east-west and north-south, between important mountain deities — Huayna Picchu, or "Young Peak" (North), Wakay Willka, or "Tears of God" (East), Pumasillo, or "Puma's Claw" (West) and Salkantay, or "Savage Mountain" (South).
According to Inca legend, the Sun was ritually tied to the Intihuatana — the hitching post. At the time of the solstice, when the Sun was farthest from the earth that connection to Machu Picchu acted as a kind of cosmic lasso, preventing the sun from straying any further away on the horizon, ensuring its orderly orbital return.
Looming above Machu Picchu, due North, is the ceremonial mountain peak of Huayna Picchu, while directly south lies Salcantay — one of the most sacred mountain "Apu" deities for the Inca. In May, during the rainy season, the Chacana, or Southern Cross, rises to its highest point in the sky directly above Salcantay. Surrounding the four Crux stars are other star groups and the Yana Phuyu (YA-na FOY-you), a river-like expanse of dark cloud constellations representing the spirits of the animals here on earth.
For the Inca, this corner of the Milky Way was integrally associated with rain and fertility.
On the December solstice, the Sun sets behind the highest snow peak of the distant Pumasillo mountain range to the West. And twice a year, on the solar equinoxes, the Sun comes up behind the snow-covered peak of Wakay Willka (Mount Verónica) and sets behind San Miguel (Mount Vizcachani).
(Updated March 25, 2022)
---