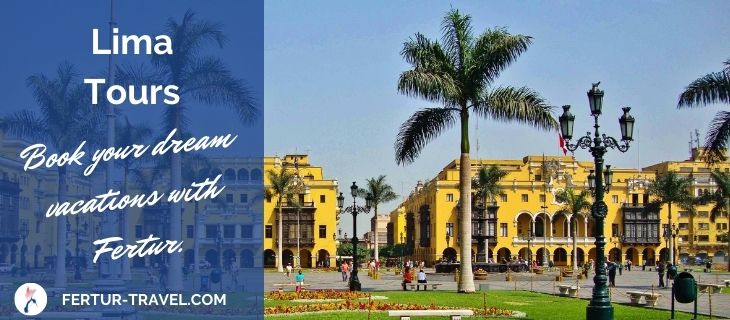 Lima, boasting some of the finest museums and historical monuments in Peru, and fast earning a reputation for the most exquisite cuisine in the Americas. Herman Melville described the Peruvian capital in Moby Dick as mist-shrouded, and "the strangest, saddest city thou can'st see." For decades Lima could not shake that reputation as a gloomy place to avoid or pass through as quickly as possible. How that's changed. Book your Lima tours today with Fertur!
Today, this city of 8 million is fast earning its place among the top Latin American capitals, with some of the finest museums, hotels and restaurants in the hemisphere. Lima's historic fabric of cultures — Spanish, Andean, Chinese, Japanese and African — are more vibrant and dynamic than ever, and those who fleet by are simply missing out.
Several Lima Tours to Choose From:
Full-Day Lima Street Photography Tour
Visit the best places in Lima while learning the art of photography with an exceptional pro photographer. Tours are customized to your unique interests and skill level. The photographer is a special breed of traveler. Enticed by objects and scenery that others may overlook, travel photographers search for the angle and lighting of an experience or a moment worthy of development and revelation. Let us take you on a full-day photographic tour of Lima to discover and photograph the beauty of this amazing and diverse city.
Topics covered include:
Artistic Seeing and Vision
Photographic Composition
Creative Inspiration
f/stop, ISO, Shutter Speed
High Dynamic Range
Portrait Photography
Photojournalism
Photoshop + Nik Color Efex Pro
Histograms, Levels, Dodging
---
An archaeological journey that pinpoints the transition from Inca imperial rule to the Spanish conquest. Your four-day trip culminates with a visit with Dr. Guillermo Cock, one of Peru's leading archaeologists, who will offer his cutting-edge insights into his discovery of fallen indigenous warriors from the Inca Rebellion of 1536. The tour includes delicious meals and a traditional dance show at one of Lima most popular restaurants.
Includes:
Transport from and to airport
Three nights in the hotel of your choice
Lima city tour
Larco Museum
Lecture with Dr. Guillermo Cock
Lunch at Don Cucho
Dinner at Huaca Pucllana
Dinner/dance show Brisas de Titicaca
Entrance fees
English-speaking guides
---
A special evening tour of Lima, the "City of Kings," to discover the allure and beauty of our capital by night. See the architecture and monuments magnificently illuminated. Also enjoy the marvelous spectacle of the Magic Water Circuit in Lima's Reserve Park, where monumental fountains, laser lights and music are melded in spectacular displays. Finish the evening with a fine dinner at one of Lima's premier restaurants or nightclubs.
Includes:
Transport in private car or van.
Guided Lima city tour by night
Entrance fee into Magic Water Circuit
Dinner at the restaurant or "peña" nightclub of your choice.
English-speaking guides
(Minimum two people)
From Wednesday to Sunday
Beginning at 5:00 p.m.
---
A four-day vacation package with a guided tour of Lima's Spanish colonial center, including the eerily fascinating catacombs of the San Francisco Convent. Also, Miraflores and Lima's famous Gold Museum. Then head south of the city to the sprawling ruins of Pachacamac, the temple deity adored for a thousand years by a succession of ancient cultures until the Spanish Conquest of the Inca Empire.
Includes:
Transport from and to airport
Three nights in the hotel of your choice
Lima city tour
Gold Museum
Pachacamac ruins
Entrance fees
English-speaking guides
---
This package vacation shows you the historic and modern highlights of Lima — the "City of Kings — from the Spanish colonial center, with its grand Plaza de Armas, impressive Cathedral and Franciscan catacombs, to the famous Gold Museum, and the Miraflores district's "Park of Love."
Includes:
Transport from and to airport
Two nights in the hotel of your choice
Lima city tour
Gold Museum
Entrance fees
English-speaking guides
---
Contact Us: Get a quote for Lima Tours
To book one of our Lima Tours now or consult with us, fill out the "Contact Us" form to the right and a Fertur Peru Travel coordinator will contact you within one working day with detailed information about your fully customizable trip. Fertur Peru Travel's pledge is to offer you top-quality, individualized attention that starts with the planning of your trip and continues through your journey to guarantee a great vacation.