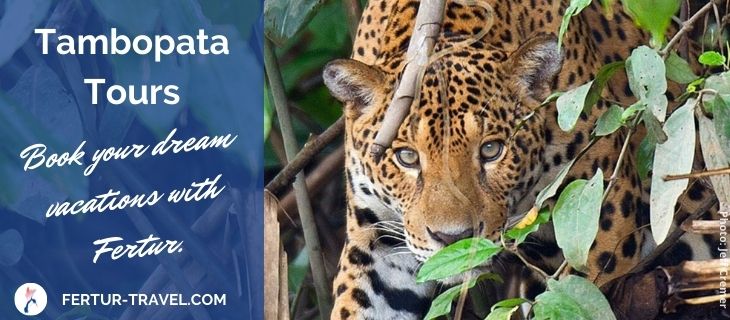 Puerto Maldonado (Tambopata), the gateway to the southern jungle bio-reserve in the heart of the Amazon Basin. Book your Tambopata tours today with Fertur!
The rugged frontier town of Puerto Maldonado, bisected by rivers and surrounded on all sides by the lush Amazon Jungle, is the starting off point for Tambopata's many remote lodges.
Out in the wilderness, the enthralling rhythms of the jungle dominate, and capybaras, caimans, parrots and all manner of other animal and bird life let you know that you have left the modern world far behind.
The 3 Best Tambopata Tours for 2023
Enjoy four days at the Posada Amazonas, a lodge devoted to ecoutourism and partially owned by the local indigenous community of Infierno. Activities include a jungle canopy walk, a catamaran visit to a nearby clay lick and discussions of sustainable use of the forest's resources.
Includes:
Transport from airport and on river
Three nights Posada Amazonas
Tres Chimbadas oxbow lake wildlife spotting excursion
Ethnobotanical center visit
Parrot and Macaw clay lick
Ecology trek with professional naturalist
English-speaking guides
---
Revitalize your body, mind and spirit with a five-day wellness retreat at the Amazon Yoga Centre in Peru's Amazon Rainforest. This new beautiful lodge just outside Puerto Maldonado in Peru's Tambopata Reserve provides a nature-centric mix of yoga and meditation, delicious healthful meals, serenity and adventure. Advanced yoga experience and physical flexibility are not required. This program is based on holistic Ayurvedic healing systems and is designed for all to release stress, increase awareness and improve your health and connection to the world around you.
---
This four-day package vacation includes river transfers to the Reserva Amazónica Lodge and visits to Sandoval Lake, Rolin Island and Gamitana Creek, as well as a traditional jungle farm. Opportuinites to see monkeys, exotic butterflies and other wildlife abound.
Includes:
Transport from airport and on river
Three nights Reserva Amazónica Lodge, all-inclusive
Trail hikes
Evening nature presentations
Sandoval Lake rowboat excursion
Gamitana wildlife spotting excursion
Inkaterra Butterfly House
English-speaking guides
---
Contact Us: Get a quote for Tambopata Tours
To book one of our Tambopata Tours and Amazon Jungle vacations now or consult with us, fill out the "Contact Us" form to the right and a Fertur Peru Travel coordinator will contact you within one working day with detailed information about your fully customizable trip. Fertur Peru Travel's pledge is to offer you top-quality, individualized attention that starts with the planning of your trip and continues through your journey to guarantee a great vacation.