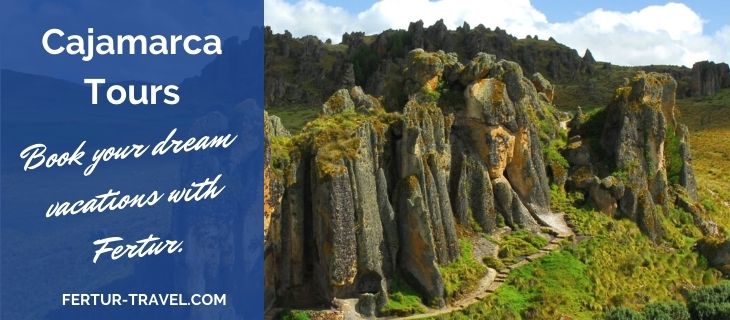 Cajamarca, where the fall of the Inca Empire began with the capture of Atahualpa by Conquistador Francisco Pizarro. Visit Atahualpa's "Ransom Chamber," the last vestige of Inca architecture in one of Peru's most picturesque and historic Andean towns. An Andean-Baroque style Cathedral and the Church of San Francisco front the graceful Plaza de Armas. A short ride away are the Baños del Inca — rejuvenating natural hot springs once favored by Inca royalty. Book your Cajamarca tours today with Fertur!
Where is Cajamarca?
Nestled in Peru's northern Andean highlands off the beaten "gringo trail" Cajamarca is located at a moderate elevation of 8,695 feet (altitude in meters 2,650), surrounded by a verdant valley.
It is a jumping off point for tours to Peru's principal dairy region and some stunning pre-Inca ruins. Cajamarca is also an overland eastward gateway past the Marañón Valley, climbing up to the northern cloud forest city of Chachapoyas.
Cajamarca is most famous for being the site of the 1533 ambush and capture of the Inca Atahualpa by Fransico Pizarro and his conquistadores.
Today, El Cuarto del Rescate, or the Ransom Room, with its trapezoidal doorways and signature Inca walls, stands as a testament to one of the Western world's most infamous acts of treachery.
The Spanish held the emperor captive for months while his subjects gathered enough Inca treasure to fill the room to the ceiling once with gold and twice with silver. Fearing an overwhelming Inca counterattack if Atahaulpa was released as agreed, Pizarro ordered the emperor's execution. Pizarro's infamous double-cross was later condemned by King Charles in Spain, and in the history books thereafter.
Cajamarca is home today to South America's largest gold mine. Perhaps as an echo of the past, gold remains both a source wealth and social and environmental tensions for this otherwise tranquil and lovely colonial city.
What to see in Cajamarca?
The Ransom Room is the lone example of Inca architecture left in Cajamarca. The Spanish tore down the great Inca plaza where they ambushed and captured Altahualpa, using the stones to rebuild the city around a colonial Plaza de Armas.
The plaza's cathedral, begun in the 17th century, boasts a baroque facade and a main altar covered in gold leaf.
Opposite the Cathedral is the Church of San Francisco. It contains a museum of Colonial religious art, mostly from 17th century, and catacombs with now-empty burial pits and wall niches where Franciscan friars are still entombed.
A few blocks away is El Conjunto Monumental de Belén, another 17-century colonial historic monument comprised of a 17th-century hospital and church with an elaborate baroque facade fashioned from volcanic rock.
From the plaza's southern corner, you can ascend steep, zigzagging steps to Cerro Santa Apolonia for a spectacular panoramic view of the city. Besides small chapel and manicured gardens, there is also two carved stone alters known as the Rumi Tiana, or "stone seat."
Here priests of the Inca empire are believed to have performed rituals and Atahualpa is said to have used this vantage to review his army.
Touring Cajamarca, you should definitely venture a few miles east of the city to the natural hot springs where the Inca emperor was said to be bathing with his concubines when he first was told that the Spanish were en route.
Today Baños del Inca is a relaxing and fun complex public baths and private saunas, several restaurants and the luxury Laguna Seca Hotel and Spa.
The Best Cajamarca Tours & Trips
Includes:
Two nights in the hotel of your choice
Transport from and to airport
English-speaking guides
City Tour
La Collpa farm and Llacanora village
Baños del Inca
Cumbemayo excursion
Entrance fees
---
Includes:
Two nights in the hotel of your choice
Transport from and to airport
English-speaking guides
City Tour
La Collpa farm and Llacanora village
Baños del Inca
Entrance fees
---
To book your vacation to Peru now or consult with us, fill out the "Contact Us" form to the right and a Fertur Peru Travel coordinator will contact you within one working day with detailed information about your fully customizable trip. Fertur's pledge is to offer you top-quality, individualized attention that starts with the planning of your trip and continues through your journey to guarantee a great vacation.