Cajamarca 3 Days 2 Nights: Everything You Need to Know
---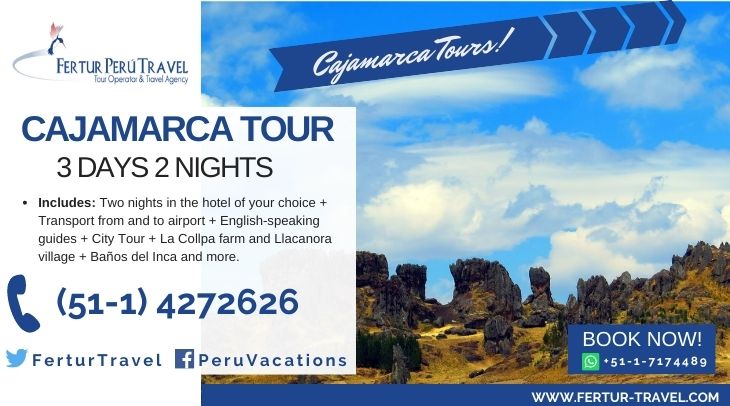 ---
This three-day Cajamarca vacation puts you in the Ransom Room that Inca Atahualpa filled with six tons of gold in a futile bid to save his life. Tour the Andean-baroque churches and soak in the relaxing sulfurous thermal spring known as "Los Baños del Inca". Book now your Cajamarca 3 days itinerary!
Includes:
Two nights in the hotel of your choice
Transport from and to airport
English-speaking guides
City Tour
La Collpa farm and Llacanora village
Baños del Inca
Entrance fees
Prices available upon request
Check this Cajamarca 3 days itinerary to plan your trip
Day 1: Cajamarca
Reception. Transfer from the airport to the hotel
Day 2: City Tour – Hacienda La Collpa – Baños Del Inca
Breakfast. Morning excursion to city's historic monuments and churches, including the Cathedral, San Francisco Church, and the Ransom Chamber, which Atahualpa filled with gold and silver in a futile attempt to secure his freedom. Local traditional lunch. Drive to La Collpa farm and Llacanora village. In the evening, soak in a relaxing sulphurous thermal spring known as "Los Baños del Inca." (B)
Day 3: Tranfer Out
Breakfast and transfer from the hotel to the airport. (B)
(B) Breakfast, (L) Lunch, (D) Dinner
---
Contact Us: Get a quote for Cajamarca 3 days tour
To book your Cajamarca 3 Days now or consult with us, fill out the "Contact Us" form to the right and a Fertur Peru Travel coordinator will contact you within one working day with detailed information about your fully customizable trip. Fertur Peru Travel's pledge is to offer you top-quality, individualized attention that starts with the planning of your trip and continues through your journey to guarantee a great vacation.
Go Back to Cajamarca Tours