Rainbow Mountain Tour: 4 Days 3 Nights. Book Now With Fertur!
---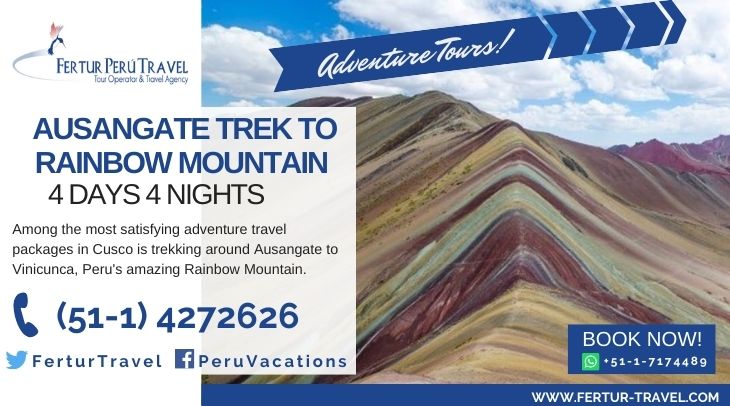 ---
Here is an adventure trek that starts with breathtaking views throughout of the permanently ice-capped Ausangate, the highest and most powerful deity mountain in the Cusco region. Go! Book our Rainbow Mountain tour today at the best price.
It culminates on the slopes of the brilliantly colored Vinicunca, or "Rainbow Mountain" — in other words, it's a high-altitude feast for the eyes from start to finish like no other in Peru.
This is among the most challenging, yet satisfying adventure travel packages we offer.
Prices available upon request
Rainbow Mountain tour itinerary
Day 1: Cusco – Tinki – Upis – Hot Springs
Our expedition begins early, with pickup from your hotel at 4 a.m. It takes approximately three hours in private transport to reach the trailhead at Tinki Tinki, at an altitude of 3,900m/12,795 ft above sea level.
It is in this small Andean village near Ocongate that you will meet your guide, the porter/horse wrangler and trail chef.
We will enjoy a light breakfast before setting out on the expedition. This first gradual, uphill hike will take approximately three or four hours. Passing through traditional villages, we are likely to encounter local llama shepherds in their colorful traditional clothing.
We will stop for lunch at a spot with an amazing view of Ausengate in the distance. It is an additional two hour hike to reach our campsite at Upis Alto, a hamlet at 4,100 m/13,451 ft above sea level, near a famous hot springs. (B/L/D)
Walked Distance: 13 km / 8 m
Campsite Elevation: 4,100 m / 13,450 ft
Meals: Breakfast, lunch, dinner, snacks, drinking water
Weather: Dry and cold
Day 2: Upis – Condor Pass – Pucaccocha
The day starts early with a hearty, nutritious breakfast before setting out on a 3- to 4-hour trek that will take us past aqua blue mountain lakes and gorgeous waterfalls.
More likely than not we will encounter llamas, alpacas and wild vicuñas. You also will probably see Andean condors soaring above, as we approach the first pass at 5,000 m/16,404 ft above sea level.
You'll want to have your camera for the spectacular views of the surrounding mountain ranges.
After the photo break, it will take about 90 minutes to complete the gradual downhill hike to meet up with our chef, who will have lunch waiting for us.
The final hike of the day will take another 90 minutes or so to reach our campsite at Puca Ccocha, or "Red Lake" on the flank of the Ausangate peak. The sunset is mind-blowing. (B/L/D)
Walked Distance: 12 km /7.5 m
Campsite Elevation: 4,300 m / 14,100 ft
Meals: Breakfast, lunch, dinner, snacks, drinking water
Weather: Dry and cold
Day 3: Pucaccocha – Alpaca Pass – Chillca – Vicuña Pass Yanaccocha
After breakfast we will embark on the most challenging — and rewarding — day of hiking over two passes and down into verdant valleys. It will require a steep 2- to 3-hour climb to reach Alpaca Pass, at an elevation of 5,100 m /16,732 ft. Get out the camera.
From this summit, we will be right in front of Ausangate. Spread out below are the rolling hills of the Chilca Valley, with grazing alpaca and wild vicuña.
A 2-hour gradual downhill trek will bring us to our waiting chef with a well-deserved lunch and ample rest. Then we will embark to reach the Vicuña Pass. At 5,300 m /17,388 ft, this is the highest elevation of our expedition.
The views are incredible. You can enjoy them, along with a cup of piping hot coca tea, before the one-hour downhill trek to our campsite along the banks of Lake Yanaccocha. (B/L/D)
Walked Distance: 15 km/9.3 m
Campsite Elevation: 4,400 m/ 14,435 ft
Meals: Breakfast, lunch, dinner, snacks, drinking water
Weather: Dry and cold
Day 4: Yanaccocha – Rainbow Mountain – Chillca Village – Cusco
On this final morning, after breakfast, it is a gradual 90-minute trek to reach Vinicunca, or "Rainbow Mountain," a kaleidoscope of multicolored hills at 5,200 m /17,060 ft above sea level.
The vivid stripes are formed by trace minerals — iron oxide red, bright yellow iron sulphide and varying concentrations and diagenetic shades of chlorite green. (You can expect a much more expansive and precise explanation of the geology of this natural wonder from your guide, as you that extra digital camera battery you brought along to good use!)
We will continue to the end of the trail — all down hill now — along the Chilca Valley for about three hours, to reach the village.
Here you will have time to explore on your own and choose a local eatery for lunch. And finally, it's a four-hour drive in private transport, through local villages, back to Cusco and your hotel, arriving around 6 p.m. (B)
Walked Distance: 12 km /7.5 m
Meals: Breakfast, lunch, snacks, drinking water
Weather: Dry and cold
Note: – Departure and arrival times are approximate.
(B) Breakfast, (L) Lunch, (D) Dinner
| | |
| --- | --- |
| Altitude | 12500 – 17388 f.a.s.l. / 3800 – 5300 m.a.s.l. |
| Season | May – November |
| Duration | 4 Days / 3 Nights |
| Level of Difficulty | Difficult (depending on individual physical fitness and acclimatization) |
Includes
• Transportation and excursions included in the program
• The admission rates precluded in the program
• 4 breakfasts + 3 lunches + 3 dinners (optional vegetarian food)
• Camping equipment for 4 Days (Tents)
• Toilet tent
• Pack animals and Muleteers + 1 emergency saddle horse
• Professional and Qualified Guides, with specific Mountaineering training and instruction received in Cusco, ample experience in trekking, English and/or Spanish-speaking.
• Trail Cook.
Not include
• Extras drinks and beverages
• Tips
• Sleeping Bag
What To Bring.
A backpack with a change of clothes
Rain jacket or poncho
trekking or sport shoes
Warm clothes, including jacket, fleece and sweaters
Sleeping bag (it can be hired for 10 US$ / 4 days)
Flashlight and batteries
Camera, films and/or extra batteries
Hat or cap to protect you from the sun, rain or cold
Sun block
Insect repellent
Toilet paper
Snacks: biscuits, energy bars etc.
Water bottle or Water bladder (Optional: sterilizing kit e.g. Micropur tablets or portable filters, either gravity-fed or pumps)
Swimsuit (for hot spring)
Contact Us: Get a quote for this Rainbow Mountain Tour
To book your vacation now or consult with us, fill out the "Contact Us" form to the right and a Fertur Peru Travel coordinator will contact you within one working day with detailed information about your fully customizable trip. Fertur Peru Travel's pledge is to offer you top-quality, individualized attention that starts with the planning of your trip and continues through your journey to guarantee a great vacation.
Go Back to Peru Adventure Tours