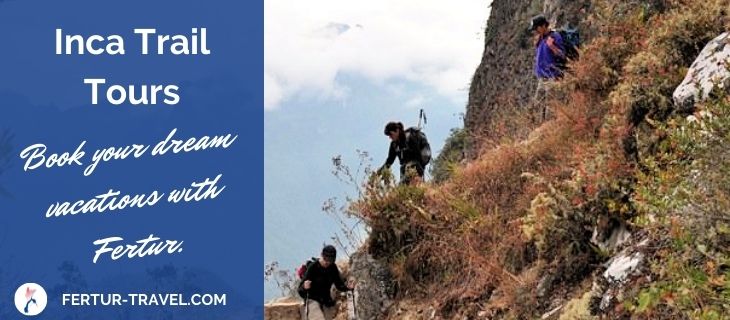 The Inca Trail, to Machu Picchu is Peru's most popular trekking route and one of the world's most spectacular hikes. It forms part of the more than 14,000 miles (23,000km) of roads built by the Inca across South America. Each year, some 25,000 hikers from all over the world are granted Inca Trail permits to trek the 27-mile (43km) trail, climbing through enchanted woodlands up to treeless puna grasslands before a dizzying descent to the impregnable citadel of Machu Picchu, deep in the Cusco cloud forest. It is recommended to book your Inca Trail tours at least 6 months in advance.
Book The Inca Trail Tours With Fertur
Enjoy the classic four-day Inca Trail trek, an arduous but infinitely gratifying journey on the world's most famous ancient highway. This route offers exclusive access to a half dozen major Inca ruins, including Runkuracay, Sayacmarca, Phuyupatamarca and Wiñayhuayna. Then arrive at the Inti Punku Sun Gate at sunrise for an unforgettable view of Machu Picchu.
Includes:
Transfers
Tourist train to "Kilometer 82"
Meals on the trail (Optional vegetarian)
PeruRail Expedition train from Aguas Calientes to Cusco, or to Ollantaytambo and then a bus to Cusco
Certified guide (English-speaking)
Entrance fees to the Inca Trail and the Sanctuary of Machu Picchu
Guided tour of Machu Picchu
---
This less arduous one-day Inca Trail hike to Machu Picchu requires no camping or hauling of backpacks. But the six-hour trek still allows you to explore the magnificent Inca ruins of Wiñayhuayna, accessible solely via the Inca Trail. And you also get to enjoy the spectacular panoramic view of Machu Picchu from the Sun Gate — known in the Quechua language as Inti Punku, which translates to "Gateway of the Sun."
Includes:
Transfers
Transportation to "Kilometer 104"
Box lunch on the trail (Optional vegetarian)
One night Aguas Calientes hotel
Tourist train from Aguas Calientes to Cusco, or to Ollantaytambo and then a bus to Cusco
Certified guide (English-speaking)
Entrance fees to the Inca Trail and the Sanctuary of Machu Picchu
Guided tour of Machu Picchu
---
To book one of our Inca Trail Tours now or consult with us, fill out the "Contact Us" form to the right and a Fertur Peru Travel coordinator will contact you within one working day with detailed information about your fully customizable trip. Fertur Peru Travel's pledge is to offer you top-quality, individualized attention that starts with the planning of your trip and continues through your journey to guarantee a great vacation