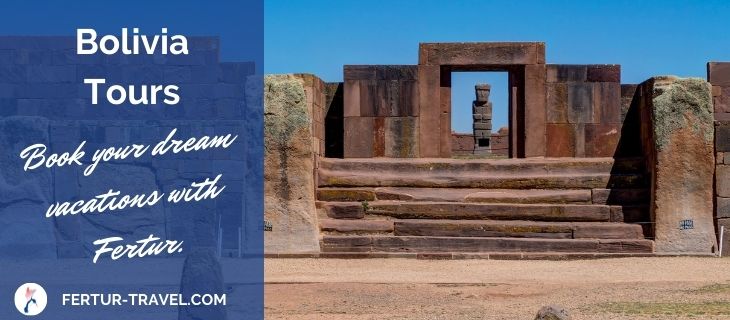 Take a travel experience to new heights when you visit one of the most exclusive destinations in South America, Bolivia. Book your Bolivia tours 2023 today with Fertur Peru Travel.
Custom Bolivia Tours 2023
Do you want to experience a feeling of unencumbered freedom? To feel like you've stepped out of time and are walking over the clouds? If so, then after experiencing Peru, continue on to neighboring Bolivia.
Set out from Copacabana to cruise the highest navigable lake, Titicaca. Then explore the highest capital city in the world, La Paz and tour the ancient pre-Columbian archaeological pilgrimage site of Tiwanaku. Hop into an off-road vehicle with a guide to experience the unique landscape of endless salt plains, the Salar de Uyuni.
Cruise Lake Titicaca and visit the largest salt desert in the world, the Salar de Uyuni, located in the highlands of Bolivia.
---
A mystic 3-day journey to Bolivia's Island of the Sun, La Paz and Tiwanaku.
---
Contact Us: Get a quote for Bolivia tours 2023
To book your vacation now or consult with us, fill out the "Contact Us" form to the right and a Fertur Peru Travel coordinator will contact you within one working day with detailed information about your fully customizable trip. Fertur Peru Travel's pledge is to offer you top-quality, individualized attention that starts with the planning of your trip and continues through your journey to guarantee a great vacation.