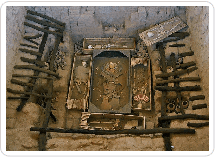 Chiclayo, where in 1987 the gold relic-laden Sipan tomb was unearthed, constituting one of the most important archaeological finds of the last 30 years and where ongoing excavations at the pyramids of Tucume are reaping magnificent new discoveries every year.Founded in 1560 as a rural Indian village by Spanish priests, Chiclayo has grown into Peru's fourth largest city. Located along the Pacific coast in a fertile agricultural valley, it is also a a gateway to a treasure trove of archaeological sites, such as Batan Grande, Tucume and Huaca Rajada (more often referred to as Sipan).
Chiclayo Tours
A vacation of cultural and archaeological discovery that begins with a city tour of Chiclayo, including the twin-domed neoclassical Cathedral, the Paseo de las Musas park, and city's famous "shaman" market. Also featuring a full-day tour of Huaca Rajada, the Royal Tombs of Sipan Museum and Tucume.
Includes:
Transport from and to airport
Two nights in the hotel of your choice
English-speaking guides
City Tour with Shaman Market
Huaca Rajada, Royal Tombs of Sipan Museum and Tucume
English-speaking guides
Entrance fees
---
To book your vacation now or consult with us, fill out the "Contact Us" form to the right and a Fertur Peru Travel coordinator will contact you within one working day with detailed information about your fully customizable trip. Fertur Peru Travel's pledge is to offer you top-quality, individualized attention that starts with the planning of your trip and continues through your journey to guarantee a great vacation.