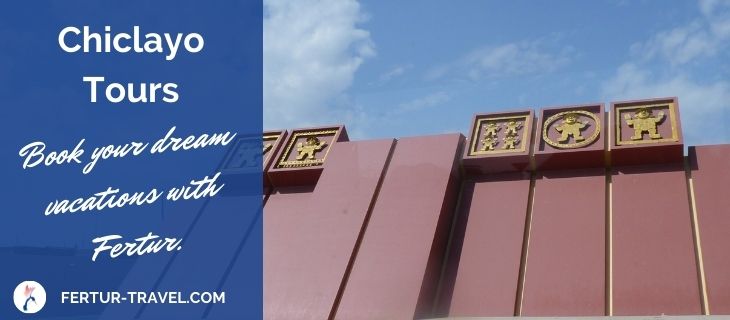 Chiclayo, where in 1987 the gold relic-laden Sipan tomb was unearthed, constituting one of the most important archaeological finds of the last half century and where ongoing excavations reap magnificent new discoveries every year. Compare The 2 Best Chiclayo Tours in 2023!
Founded in 1560 as a rural Indian village by Spanish priests, Chiclayo has grown into Peru's fourth largest city.
Chiclayo is known as La Ciudad de Amistad (The City of Friendship), but it could easily claim the title of South America's Archaeological Capital.
Located along the Pacific coast in a fertile agricultural valley, it is the gateway to a treasure trove of nearby archaeological sites, such as Batan Grande, Tucume and Huaca Rajada (more often referred to as Sipan).
Opportunities for archeology tours abound, as important discoveries are made beneath the sun-baked desert landscape seemingly every year, if not every few months.
Sipán — Huaca Rajada
The most famous site is the Huaca Rajada (Split Temple), located next to the modern village of Sipán.
About a half-hour drive from Chiclayo, passing through lush green sugar cane fields and the village of Pomalca, sits the archaeological site's small research facility and site museum. An earthen footpath leads to the burial mounds where the main tomb of the Lord of Sipán was excavated in 1987.
This high priest of the Mochica civilization was interred about 290 C.E. with his royal entourage. He was adorned in gilded ceremonial armor, a feather headdress and a golden face plate identifiable on Moche ceramics as Ai Apaec, the highest deity in the elaborate Mochica blood sacrifice ritual.
So exceptionally rich with precious artifacts was the Moche ruler's tomb that it is often compared to the discovery of the Egyptian pharaoh Tutankhamun. It is but one of several ancient tombs uncovered at Huaca Rajada, and archaeologists believe current excavations will reveal others.
Most of the relics from the Sipán tombs are on display in the Museo Tumbas Reales de Sipán in the small colonial city of Lambayeque. Inspired by the design of ancient Moche pyramids, this modern abstract museum, opened in 2002, is one of Peru's finest.
What attractions are near Huaca Rajada?
A few blocks away is the older, but also excellent Museo Brüning, inaugurated in 1924. It exhibits some Moche ceramics but also showcases exceptional ceramics, textiles and golden artifacts from several other ancient cultures, including the Chavin, Chimu, Vicús and Inca. Also showcased are relics created by the people of Sicán (C.E. 750-1375), excavated from the nearby archaeological sites Batán Grande and Túcume.
The hauntingly beautiful — and many believe actually haunted — pyramid metropolis of Túcume is well worth visiting. Túcume has an unprecedented concentration of 26 ancient pyramids built between the 9th and 13th centuries around the Cerro Purgatorio or "Purgatory Hill."
If have had your fill of archeology, you can take a tour of Chiclayo's beach circuit for their surf, ceviche and incredible sunsets. Start with Pimental, a fishing port and seaside resort popular with surfers for its great waves, and with photographers for its iconic century-old creaky pier. A few miles south is the traditional fishing village of Santa Rosa, notable for colorful wooden fishing boats, artisanal fishermen who tend to huge, long nets and paddle out to sea aboard hand-made caballitos de totora — traditional reed watercraft used in Peru for the past 3,000 years.
Returning to Chiclayo, head to Mercado Modelo for an authentically mesmerizing market experience — particularly at the southwest corner, where dozens of stands specialize in medicinal herbs and remedies, as well as enchanted amulets and hallucinogenic cacti for the bustling local Brujo (witch doctor) clientèle.
You are going to eat really well! The traditional gastronomy of Chiclayo and Lambayeque is mind-blowingly delicious and varied. The world class cuisine highlights Spanish, Afroperuvian, Andean and Amazon jungle influences.
Two iconic Peruvian Norteño dishes that you should not miss
Arroz con pato a la chiclayana – This classic duck with rice dish is said to have originated from Spanish paellas, where Peruvian duck meat was combined with the Spanish spices and herbs, and the chili pepper and the fermented corn "chicha" beer.
Cabrito a la Norteña – Succulent baby goat is slow-cooked in a golden paste of fried garlic, onion and aji amarillo (yellow pepper). Coriander adds fragrance and color, and pepper and salt give it spice. Hunks of loche (a giant green squash) gives the sauce a creamy texture and tenderizes the meat so it melts in your mouth.
Chiclayo Top 2 Archaeology Tours
Includes:
Transport from and to airport
Three nights in the hotel of your choice
Huaca Rajada, Royal Tombs of Sipan Museum and Tucume
San Jose De Moro
Huaca Cao
Trujillo City Tour
Chan Chan
Huaca de la Luna y del Sol
Visit with Moche Artisans
English-speaking guides
Entrance fees
Includes:
Transport from and to airport
Two nights in the hotel of your choice
English-speaking guides
City Tour with Shaman Market
Huaca Rajada, Royal Tombs of Sipan Museum and Tucume
English-speaking guides
Entrance fees
---
To book your Chiclayo tours now or consult with us, fill out the "Contact Us" form to the right and a Fertur Peru Travel coordinator will contact you within one working day with detailed information about your fully customizable trip. Fertur Peru Travel's pledge is to offer you top-quality, individualized attention that starts with the planning of your trip and continues through your journey to guarantee a great vacation.