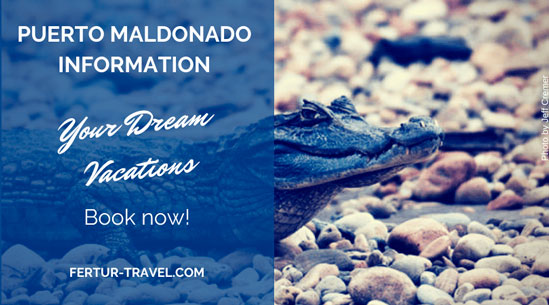 The jungle frontier town of Puerto Maldonado is located in the confluence of the Tambopata and Madre de Dios rivers, and is the jumping-off point to some of the most exciting wildlife viewing available on the planet. 
Named after explorer Faustino Maldonado, the town is a short 45-minute flight from Cusco and is a gateway to three protected jungle zones: Manu, Bahuaja-Sonene and Tambopata-Candamo. 
These reserves cover more than 8.6 million acres (3,500,000ha), holding some of the richest pockets of biodiversity in the world: Jaguars, Anteaters, Giant Otters, Caimans, Monkeys, Tapir, Vultures, Hawks, Macaws, Hummingbirds, etc.
Here there are more than 200 species of mammals, 1,000 birds (10% of the world's species) and more than 70 amphibian species. Also identified are some 760 species of fish, 500 species of beetles, 80 species of ants, and more than 15,000 species of flowering plants, to name a few.
Scientists are discovering new species every year, as they study animal behavior and catalogue new biological data that could hold the key to major advances in medicine and science.
Sustainable eco-tourism is the greatest weapon against forces that threaten to degrade and destroy this pristine jungle. Responsible travelers offer an economic alternative to the illegal timber trade and unregulated gold prospecting, both of which are wreaking havoc on the fragile ecosystem.
Altitude: 259 mts. / 839 ft. above sea level
Weather: Hot and humid
Temperature: 70 – 95 ºF – 22 – 35 ºC aprox.
Rainy Season: Tropical rains december To March.
< Prev: Puerto Maldonado Highlights
---