Interesting Puerto Maldonado information to know before you go
---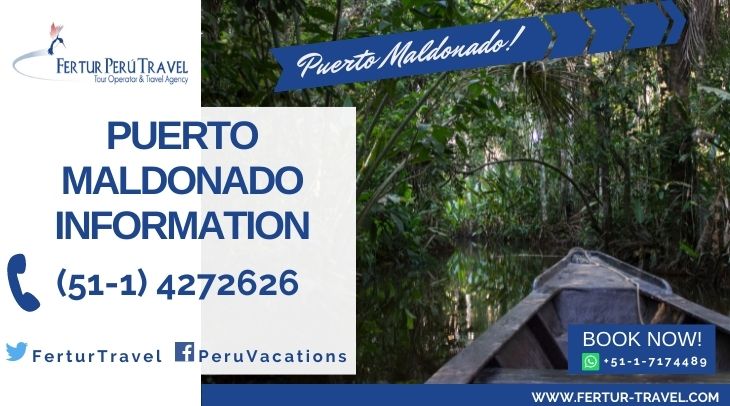 ---
Where is Puerto Maldonado?
The jungle frontier town of Puerto Maldonado is located in the confluence of the Tambopata and Madre de Dios rivers, and is the jumping-off point to some of the most exciting wildlife viewing available on the planet.
How to get to Puerto Maldonado
Named after explorer Faustino Maldonado, the town is a short 35-minute flight from Cusco and is a gateway to three protected jungle zones: Manu, Bahuaja-Sonene and Tambopata-Candamo.
Rather than flying in from Cusco, some travelers choose to visit Puerto Maldonado by bus. The nearly 290-mile (465 km) journey takes about 10 hours, but the new modern highway connecting the two cities makes for a smooth ride, even during the rainy season from December through March.
Some of the mountain views are stunningly beautiful — even breathtaking, as the bus climbs above 13,000 feet (4,000m) before making the descent into the jungle basin. So be prepared for the altitude.
There are also direct 1½-hour flights from Lima to Padre Aldamiz International Airport.

Don't expect the designation of "international" to imply the airport is large. Like most of Peru's international airports, it's not. (Also, in Peru's storied aviation tradition, the name of the Puerto Maldonado airport has an interesting backstory: Padre Joseba Aldamiz was a missionary from the Basque Country who came to Peru in the 1950s to serve isolated indigenous communities in Madre de Dios. Alarmed by the difficulty of getting medical attention during outbreaks of yellow fever, the then-middle aged Dominican priest enrolled in pilot school in Lima in 1960 and obtained his aviation license. He died in 1966 when his single prop Cessna aircraft — known throughout the region as the "Fray Martín de Porres" — crashed due to engine failure.)
A question we get all the time: Is Puerto Maldonado safe from yellow fever? Yes it is. And while yellow fever vaccinations are recommended for jungle excursions from Puerto Maldonado into Tambopata, they are not required. If you choose to get immunized against yellow fever, you need to receive the shot at least one week prior to the date of your trip for it to be effective.
What to do in Puerto Maldonado
There are many full-day jungle trips from Puerto Maldonado that include a boat ride on the Tambopata River to the famous Macaw Clay Lick. There are also yoga and spiritual retreats within driving distance from the city. Things to do include meditation and shaman-led ayahuasca sessions, cooking classes, massages, and short excursions into the rainforest for hikes, bike rides, and kayaking adventures.
Puerto Maldonado or Iquitos?
While both Amazonas in northern Peru and Tambopata in the south have great Amazon lodges to choose from, Puerto Maldonado is easier to reach from Cusco than Iquitos. Tambopata also is generally recognized for offering more opportunities to view a wider array of wildlife.
What animals are in Puerto Maldonado?
The reserves surrounding the city cover more than 8.6 million acres (3,500,000ha), holding some of the richest pockets of biodiversity in the world: Jaguars, Anteaters, Giant Otters, Caimans, Monkeys, Tapir, Vultures, Hawks, Macaws, Hummingbirds, etc.
Here there are more than 200 species of mammals, 1,000 birds (10% of the world's species) and more than 70 amphibian species. Also identified are some 760 species of fish, 500 species of beetles, 80 species of ants, and more than 15,000 species of flowering plants, to name a few.
Scientists are discovering new species every year, as they study animal behavior and catalogue new biological data that could hold the key to major advances in medicine and science.
Ecotourism in Peru
Sustainable eco-tourism is the greatest weapon against forces that threaten to degrade and destroy this pristine jungle. Responsible travelers offer an economic alternative to the illegal timber trade and unregulated gold prospecting, both of which are wreaking havoc on the fragile ecosystem.
Altitude: 259 mts. / 839 ft. above sea level
Weather: Hot and humid
Temperature: 70 – 95 ºF – 22 – 35 ºC aprox.
Rainy Season: Tropical rains December To March.
< Prev: Puerto Maldonado Highlights
---