Paucartambo Festival Tour: The Best 11 Days of Andean Folklore
---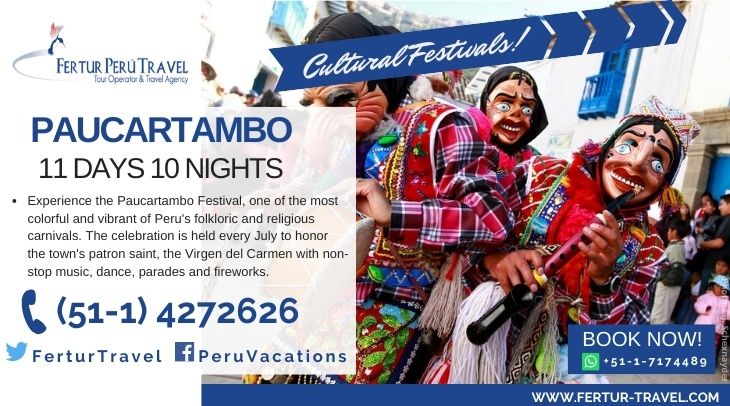 ---
One of the most colorful and vibrant of Peru's many festivals is the celebration of the Virgen del Carmen in Paucartambo. Experience this lavish folkloric and religious carnival — days of non-stop music, dance, parades, games and fireworks. Plus explore Cusco and the Sacred Valley, hike the Inca Trail to Machu Picchu, and much more. Enjoy the Paucartambo Festival with Fertur!
Prices available upon request
This tour should be booked at least four months in advance. For less than four months booking, please contact your Fertur Travel Coordinator for the tour availability.
The itinerary that includes the Paucartambo Festival in Cusco
Day 1: Arrive, explore Cusco
After pick-up at the airport and transfer to your hotel, we'll meet in the lobby at 1pm and head off for a traditional Peruvian lunch at a local restaurant.
Your afternoon is left fairly flexible, leaving you time to explore Cusco, shop, or wander around.
We want to make sure that if you need it, there's time today to acclimatize to the rarefied atmosphere of the famous two-mile high capital of the Inca. Overnight in Cusco. (L)
Day 2: Paucartambo Festival & Tres Cruces
We set out on a scenic 3-hour drive to the usually sleepy Spanish-colonial town of Paucartambo to witness its annual transformation into one of the world's great traditional 'religious' festivals.
Revelers and devotees dressed in spectacular costumes converge to venerate the Virgen del Carmen, a manifestation of the Virgin Mary. But like so many Peruvian religious celebrations, this Catholic fiesta bursts with Spanish colonial symbolism and Andean mythology.
What begins as pious pilgrimage exalts into an all out party!
Upon arrival, you will rest up in the tranquil lodgings in an old hacienda in Paucartambo.
Optional: A traditional activity during the festival is to drive in the middle of the night two hours north of Paucartambo to Tres Cruces to glimpse one of the world's most spectacular sunrises. Here the Andean cloud forest precipitously drops, revealing a panoramic view of the Manu jungle Biosphere. Atmospheric conditions of the Amazon basin this time of year often create optical illusions, making the sun appear as two or more spheres exploding golden light across the horizon.
Overnight in Paucartambo (B)
Day 3: La Fiesta de la Virgen del Carmen
Today is the central day of Paucartambo, and you'll have a chance to dive right into the festivities.
In the afternoon we'll take up a strategic position on a balcony in the Plaza de Armas to view the central parade of the Paucartambo fiesta. As many as 19 comparsas (groups of devotees) who have prepared all year come dressed up as ritualized characters.
They dance on the streets and prowl on rooftops to accompany the Virgencita on her triumphal march through town.
Among the cast of characters are "Doctorcitos" (little doctors), "Ukukus" (half man half bear creatures), "Saqras" (mischievious little demons), "Danzaks" (heart throb soldiers), "qoyacha" (little queens) and "Majeños" (drunken colonial-era muleteers).
As the evening approaches, the festivities get more raucous with ritual dances, mock battle, fireworks and even a flaming wheeled cart ride to the afterlife.
Overnight in Paucartambo. (B)
Day 4: Final homage to Mamacha Carmen & devotees past
This morning sees the culminating ceremonies of Paucartambo. It begins with an early mass, in which the participants enter the temple with masks and hats in hand in reverence to Virgen del Carmen, also known Mamacha Carmen.
The dancing parade then continues on the cobble stone streets into the cemetery, to pay homage amid chanting and song to the devotees of generations past.
In the afternoon we'll drive to the Sacred Valley of the Inca to your hotel, and leave the afternoon and evening free to relax and recover. (B)
Day 5: Explore the Sacred Valley
This morning we'll explore Inca ruins of Pisaq, a sprawling mountain complex of temples, dwellings and fortifications that looms over the small town of the same name that is the gateway the Sacred Valley.
Pisac's bustling square is home to the region's largest and most famous craft market, and the surrounding streets are a maze of charming gardens, carved stone buildings, and hidden courtyards.
Here artisans create fine instruments, games and works of art. In the afternoon, after a hearty lunch, we'll head for Ollantaytambo, a continuously occupied Inca village since the Conquest, girded by spectacular Inca hillside ruins. (B/L)
Day 6: Inca Trail to Machu Picchu – Hike to Huayllabamba
Classic Inca Trail Cusco – KM 82 – Huayllabamba – Lluncachimpa In the morning we leave Cusco (altitude 3350m.a.s.l.) in a private van or bus.
On the way we pass cultivated fields and towns that have maintained their ancient traditions and customs, all surrounded by craggy peaks and glaciers.
We enter the Sacred Valley of the Inca at KM 82, where we gather to start walking the classic Inca Trail.
We stop at the town of Miskay for lunch and to hear a brief description of the archaeological complex of Llactapata.
We then continue to the town of Huayllabamba at 3100m.a.s.l. Finally we complete a climb up the valley to our campsite at Lluncachimpa at 3300m.a.s.l. Walking time: 6 hours. (B/L/D)
Day 7: Lluncachimpa – Llulluchapampa – Pacaymayu – Chaquicocha
Dawn is the best time to start climbing through the enigmatic valley of Lluncachimpa (3300m.a.s.l.) through Lluchapampa at 3850m.a.s.l. to reach the highest point of the trek named Paso de Warmihuañusca or "Dead Woman's Pass".
From here we take in impressive views of the Veronica Range and the remnants of the Inca trail running through the mountains.
After a short rest we descend to the deep valley of Pacaymayu at an altitude of 3500m.a.s.l. We have another climb to Runcuracay at 3950m.a.s.l., then descend to the archaeological site of Sayacmara.
We finally arrive at our campsite in Chaquicocha at 3650m.a.s.l. Walking time: 7 hours. (B/L/D)
Day 8: Chaquicocha – Wiñayhuayna
Today we have a beautiful day's walk through the middle of a tropical forest, known as Yunga.
We also stop at some of the most important archaeological sites along the Inca Trail. We visit the sites of Phuyupatamarca (3600m.a.s.l.) and finally Wiñayhuayna (2650m.a.s.l.) our last campsite.
Walking time: 5 hours. (B/L/D)
Day 9: Machu Picchu!
After we've enjoyed a very early breakfast, around 5:00 am, we're guided by torchlight to the Sun Gate (Inti Punku) at 2780m.a.s.l, where we can experience the sunrise over Machu Picchu and the peak of Huayna Picchu.
Machu Picchu (2400m.a.s.l.) stands in all its glory, leaving us breathless, and we descend to explore the Lost City of the Inca. We then return to Cusco. (B)
Day 10:

Free day in Cusco
Today you can relax and recharge your batteries, or stroll the ancient side streets of the San Blas artisan district, with its charming plazoletas (little plazas), antique, jewelry and handicraft shops.
In the evening, enjoy a delicious dinner with cocktails and wine at one of Cusco's fine restaurants.
Overnight in Cusco. (B/D)
Day 11: Departure Day ~ Farewell!
We'll get you to the airport in plenty of time for your flight home. (B)
(B) Breakfast, (L) Lunch, (D) Dinner
INCLUDED
All accommodation, activities, guiding services and transport as specified in itinerary
Breakfast, lunch and dinner as described in itinerary. (B,L,D = breakfast, lunch, dinner)
Drinking water or soft drink with included meals
Entrance to Machu Picchu

Optional: Extra permit to enter Huayna Picchu at Machu Picchu (if still available at time of booking)

Full Boleto Turistico de Cusco which gets you into many sites in Cusco and the Sacred Valley and can also be used on free day

Tips in restaurants and for local guides

Standard Inca Trail to Machu Picchu

Tip for trip guide and driver
NOT INCLUDED
Flights (ask us for help with making arrangements)
Extra porter to carry your personal belongings on the Inca Trail (unless you specifically request one – there is an extra charge and a maximum weight limit of 15 kilograms / 33 pounds)
Drinks apart from water or soft drink with meals
Note about conditions at Paucartambo
The Paucartambo trip is not a typical tour package and is appropriate for adventurous people. You will experience crowded streets, rowdy crowds, and food that may not be prepared to the same standards of hygiene you are accustomed to. It is a trip into the heart of a traditional rural culture. While being truly authentic and very rewarding, you must be prepared for a lesser standard of living for the couple of days we participate in the fiesta.
---
Contact Us: Get a quote for this Paucartambo Festival 2022
To book your vacation now or consult with us, fill out the "Contact Us" form to the right and a Fertur Peru Travel coordinator will contact you within one working day with detailed information about your fully customizable trip. Fertur Peru Travel's pledge is to offer you top-quality, individualized attention that starts with the planning of your trip and continues through your journey to guarantee a great vacation.