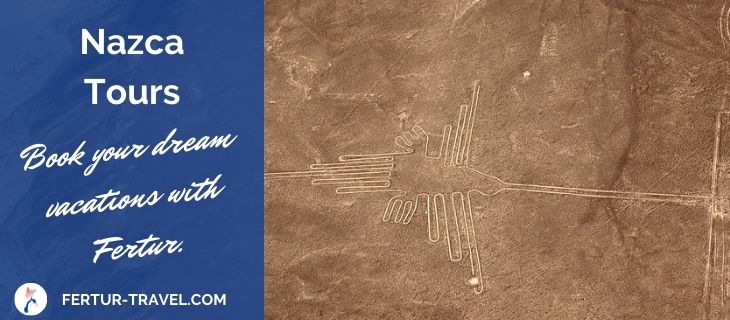 The Nazca Lines, etched into the desert plains more than 2000 years ago. Maria Reiche, who devoted her life to studying and protecting the lines, believed they were astronomical signposts. Book your Nazca tours today with Fertur!
Several of the figures point toward the solstice. The giant monkey corresponds to the Ursa Major constellation, she found.
Many scientists now believe that several of the geometric figures indicate the location of life-giving water in aquifer channels deep beneath the bone-dry desert floor.
You can ponder this question from a birds-eye vantage point in a soaring plane, one of the world's most enduring, enigmatic riddles: Why were giant iconic Nazca Lines etched timelessly into the desert plateau?
Nazca Tours 2022: Flight over the Nazca Lines
---
If you only have one day to spare, this Nazca excursion is for you. Depart from Lima's Cruz del Sur bus station. Then switch to a small plane to fly over the enigmatic Nazca lines.
Includes:
Transfer Hotel / Lima´s Bus Station
Bus Ticket Lima /Nazca/ Lima by Cruz Del Sur Bus
Over flight Nazca Lines
English-speaking guides
---
Overnight lodging in Nazca and wake up fresh to experience your fly-over above the Nazca Lines – one of the world's most enigmatic sites. Learn about the ancient Nazca culture, the story of Maria Reiche, who dedicated her life to unraveling the mystery of the figures etched into the desert plateau, and the most recent scientific theories about their origin and purpose.
Includes:
Transfer Hotel / Lima´s Bus Station / Hotel
Bus Ticket Lima /Nazca/ Lima by Cruz Del Sur Bus
Transfer Bus Station / Nazca Hotel / Bus Station
Over flight Nazca Lines
01 Night in Nazca + Breakfast
Certified English-speaking guide
---
To book one of our Nazca Tours now or consult with us, fill out the "Contact Us" form to the right and a Fertur Peru Travel coordinator will contact you within one working day with detailed information about your fully customizable trip. Fertur Peru Travel's pledge is to offer you top-quality, individualized attention that starts with the planning of your trip and continues through your journey to guarantee a great vacation.