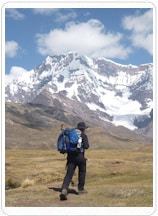 This adventure travel trek takes you through the snow-capped Ausangate mountain range, either on foot or with horse support.
It is a challenging journey over mountain passes as high as 5,200 meters, but well worth the effort.
You'll get close to vicuñas and alpaca herds, see a variety of high Andean waterfowl on isolated emerald, turquoise and red-tinged lakes, and will have a chance to bathe in a natural hot springs.
Prices available upon request
Detailed Itinerary
Day 1: Cusco – Tinki – Upis
We leave early, around dawn, from Cusco in a private van, for a six-hour journey toward the Amazon jungle city of Puerto Maldonado. Along with way, we'll pass through beautiful agricultural areas and vast, stunning landscapes, arriving before noon to Tinki at 3800 m.a.s.l. After a light picnic lunch, that we will start the trek, hiking for approximately 5 hours to the Ausangate glacier, making first camp at Upis at 4200 m.a.s.l. (L/D)
Day 2: Upis to Jatun Puqa Q'ocha
Following an early breakfast, we will make a two-hour ascent from Upis to reach La Arapa pass (4850 m.a.s.l). Along the way, we'll likely spot vizcachas (wild Andean hares). Ausangate, considered the most important "Apu" deity mountain, will loom ever larger. On our descent, multi-colored glacial lakes will come into view below. We will set up camp close lake Jatun Puqa Q'ocha, which means "big red lake" in Quechua . (B/L/D)
Day 3: Jatun Puqa Q'ocha to Q'ampa
We set out early for a short ascent to the Apuchata Pass in 4900 m.a.s.l. Below is the turquoise Ausangate Lagoon. Then we push forward to the highest point of the journey, the Palomani Pass at 5200 m.a.s.l. From this vantage point, there are spectacular views of Mount Ausangate, as well as the Vilcanota mountain range. It is a steady descent from there to the Q'ampa River valley, where we make camp, with a gorgeous view of Ausangate's western massif.  (B/L/D)
Day 4: Q'ampa to Pacchanta (Thermal Baths)
Today we complete the circuit around the base of Ausangate, and make our way over our final pass, 5000  m.a.s.l. It is known as the Q´ampa Pass (although, there are various spellings).  Take photos that you will proudly frame in your home, maybe even give as a gift. Those Andean rabbit creatures from before, the viscachas…  they're very common here, too, near our final destination, Pacchanta. This is where we're going to make camp. It's also where you will be able to relax. After coming so far, it may feel like the most sultry, medicinal, spiritual — fill in the blank — thermal bath in an Andean hot spring that Inca royalty once bathed in. (Your cry for help has been answered. Get over yourself.) It's cake from here. Remember, what you experienced over these past days is a prize that has to be earned. Don't tell a soul, besides your most and truly loved ones. (B/L/D)
Day 5: Pacchanta – Tinki – Cusco
After an early breakfast, we leave Pacchanta towards Tinki, which will take us approximately 3 hours. From Tinki we take our private bus back to Cusco city, arriving in the afternoon. (B/L)
Note: – Departure and arrival times are approximate.
(B) Breakfast, (L) Lunch, (D) Dinner
| | |
| --- | --- |
| Altitude | 12500 – 17060 f.a.s.l. / 3800 – 5200 m.a.s.l. |
| Season | May – November |
| Duration | 5 Days / 4 Nights |
| Level of Difficulty | Difficult (depending on individual physical fitness and acclimatization) |
INCLUDES:
Transportation and excursions included in the program
The admission rates precluded in the program
4 breakfasts + 5 lunches + 4 dinners (optional vegetarian food)
Camping equipment for 5 Days (Tents)
Toilet tent
Pack animals and Muleteers + 1 emergency saddle horse
Professional and Qualified Guides, with specific Mountaineering training and instruction received in Cusco, ample experience in trekking, English and/or Spanish-speaking.
Trail Cook.
NOT INCLUDED:
Extras drinks and beverages
Tips
Sleeping Bag
WHAT TO BRING:
A backpack with a change of clothes
Rain jacket or poncho
Trekking or sport shoes
Warm clothes, including jacket, fleece and sweaters
Sleeping bag (it can be hired for 10 US$ / 5 days)
Flashlight and batteries
Camera, films and batteries
Hat or cap to protect you from the sun, rain or cold
Sun block
Toilet paper
Snacks: biscuits, energy bars etc.
Water bottle or Water bladder (Optional: sterilizing kit e.g. Micropur tablets or portable filters, either gravity-fed or pumps)
Towel
Swimsuit (for hot spring)