Galapagos 5 Day Cruise: Book Easily Online With Fertur!
---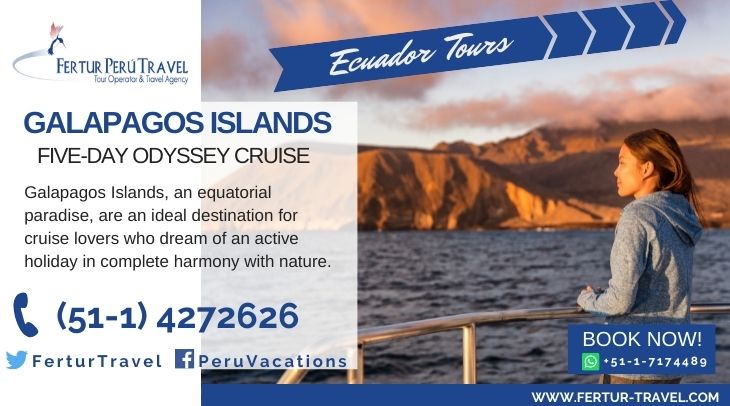 ---
Visit Galapagos Islands aboard a luxury yachts & cruise boats for to experience the unique flora and fauna. Book now for this Galapagos 5 day cruise!
Vacation aboard the Galapagos Odyssey for a Galapagos 5 Day Cruise
Prices available upon request
Quotes are based per person in superior double cabin, low and high season
Day 1: (Thursday) – Galapagos (Baltra Airport)
Departure from Quito or Guayaquil to Baltra (aprox. 2 and half hour flight). Passengers will be picked up at the airport by our guides and taken to the pier to the M/V Galapagos Legend.
Bartolomé
Dry landing. Passengers will see volcanic formations like lava bombs, spatter, and cinder cones. After a hike to the summit you'll be impressed by the view of the surrounding islands, including the eroded tuff cone of Pinnacle Rock.
During the hike to the summit, travelers will often see colonies of marine iguanas, lava lizards, tiquilla, lava cactus, Scalecia tree and others.
Visitors will be able to snorkel and see the Galapagos penguin, sea turtles, and white tipped sharks from a safe distance.
Day 2: (Friday) – Urbina Bay (Isabela)
Wet landing. Passengers will visit the volcanic ash beach and coral area. Depending on the season you may be able to observe giant tortoises, land iguanas and flightless cormorants. After the walk we will have time for snorkeling.
Fernandina (Espinosa Point)
Dry landing. Visitors will see the biggest marine iguanas mingling with sally-light foot crabs, as well as flightless cormorants nesting sites, Galapagos penguins, Galapagos hawks, and sea lions.
Among the flora and volcanic formations observers will spot brachycereus cactus, and "pa-hoe-hoe" lava and "AA" lava formations. Numerous mangrove beds extend into the sea.
Day 3: (Saturday) – Santiago (Egas Port)
Wet landing on a beach of dark sand (volcanic ash). Most of the landscape is comprised of layers of rocks and lava flows. Here you can see great blue herons, striated herons, yellow-crowned night herons and American oyster catchers.
Passengers will see marine iguanas grazing upon algae beds alongside red sally light-foot crabs. There is a colony of fur-seals swimming in pools of cool water. This is a place where you can swim, snorkel and look for squid, starfish and a variety of colorful tropical fish.
Rábida (Jervis)
Wet landing. The volcano-formed beach is dark red and frequented by sea lions. It's considered the geographic center of Galapagos because it has the most diverse volcanic rocks on the Islands.
You'll hike to a salt water lagoon, where flamingos can sometimes be found.
July through September is a good time to observe brown pelicans nesting in the salty bushes. Boobies and 9 species of Darwin's finches can also be observed. You can take a dinghy ride by the reefs, as well as snorkel.
Day 4: (Sunday) – Santa Cruz (Charles Darwin Research Station)
Here you will be able to observe the giant tortoises that are part of the reproduction program and the world's most famous tortoise, Lonesome George, the last surviving specimen of his species.
Visitors can also admire the prickly-pear cactus forest and many land birds. Later on, you'll have some free time to walk around town and shop for souvenirs.
Santa Cruz (Highlands)
Travelers can trek through the highlands of Santa Cruz and visit Cerro Chato, where you'll be able to observe the famous giant tortoises in their natural habitat. Additionally, travelers can walk inside the dormant lava tubes.
Day 5: (Monday) – Santa Cruz (Bachas Beach)
Wet landing. This beach is located on north side of Santa Cruz Island.
Here you will encounter many sea birds, marine iguanas, sea turtles, and have the opportunity to walk on the white sand beach.
Return to the Galapagos Legend, check out and transfer to the Baltra's airport. Return flight to Quito via Guayaquil.
Includes:
All transfers and transportation with a bilingual guide
All inclusive 4 nights, full board
Superior accommodation cabin
02 daily excursions
Multilingual guides (English), lectures
Snorkeling
Welcome & farewell cocktail
Does not include:
Airline Ticket Quito – Galápagos – Quito (Approximately US$ 450)
Galapagos National Park fee US$ 100 per person (subject to change)
Ecuadorian international departure tax US$ 40.80 per person (subject to change)
INGALA identity card for the entrance to Galapagos US$ 10,00
Alcoholic and non alcoholic beverages
Wet suits
Tips, travel insurance, personal expenses, etc.
Anything not specified
---
Contact Us: Get a quote for this Galapagos 5 day cruise
To book your vacation now or consult with us, fill out the "Contact Us" form to the right and a Fertur Peru Travel coordinator will contact you within one working day with detailed information about your fully customizable trip. Fertur Peru Travel's pledge is to offer you top-quality, individualized attention that starts with the planning of your trip and continues through your journey to guarantee a great vacation.
Go Back to Ecuador Tours