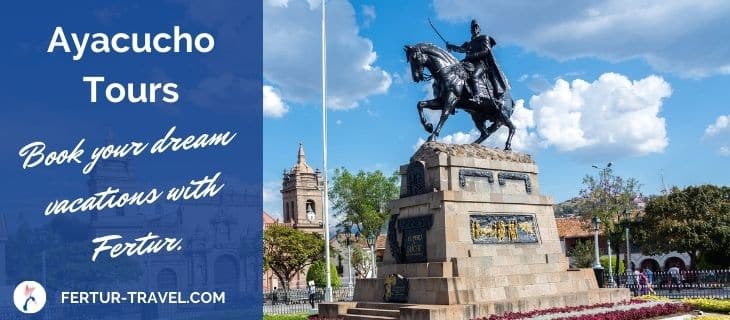 Ayacucho, one of the most fascinating and beautiful cities in the Peruvian highlands, is famed for its 33 colonial churches. Ayacucho tours offer a highland authenticity and enduring cultural identity not easily found in more touristy Andean destinations. Colonial-era buildings, plazas and churches are separated by narrow cobblestone streets. Melancholy melodies of "huayno" folk songs sung in Quechua and the inviting aroma of fresh-baked "chapla" flat bread fill the air.
Ayacucho
Ayacucho is located at just over 9,000 feet above sea level (altitude in meter 2,731) in Peru's central Andes, 204 miles (329km) from Peru's coastal capital, Lima. There are regular flights and daily bus departures from Lima to Ayacucho. By air, the trip takes just over an hour. By bus the journey is between 8 and 12 hours.
What to see in Ayacucho?
Surrounding the main plaza are a beautiful Cathedral, the national University of Huamanga, and a fascinating Museum of Popular Art that is well worth visiting, as well as several historic colonial mansions.
The Colonial Architecture
The main square is built around a statue of General Mariscal Sucre, who in 1824 led a combined force of soldiers from all over the America´s in the epoch Battle of Ayacucho on the nearby Pampa of Quinua. Sucre's army defeated the last remnants of Spain's military, marking one of the most important military events in Peruvian history.
Town of Quinua
The road from Ayacucho to the artisan town of Quinua is appoximately a 40-minute drive. Along the way is the pre-Inca ruins of Wari. Scientists believe this was the capital of the Wari Empire, and in its heyday, was home to 50,000 inhabitants, reaching its apogee in 900 C.E. (Common Era). The ruins include retaining walls, tombs and canals, as well as a small museum of artifacts.
Quinua is a charming town of red-tiled roof houses, each topped with a small ceramic church to ward off evil spirits. The town is world-renowned for its distinctive ceramics.
Craft Market
Along the main road into town is an open air artisan market and food stalls where deep fried pork ribs and guinea pig, known as "cuy," are served with potatoes and giant kernel corn. Stone steps leads to the main cobblestone plaza, surrounded by whitewashed buildings and the town church. Here, too, is the small museum where the "Capitulation of Ayacucho" was signed, sealing South American Liberty from the Spanish.
Pampa de la Quinua
Just across the road from the town is the "Pampa de Quinua," a grassy plain with a huge white obelisk rising from its center to commemorate the historically decisive 1824 battle that pitted the combined forces of South American nations against the Spanish Royalist army.
Huanta town
Further on from Quinua is the village of Huanta, with its cathedral, waterfalls and beautiful landscapes. Along the way is also Piquimachay, a prehistoric cave dwelling believed to have been home to some of the earliest human settlers on the continent.
Easter Holy Week
Ayacucho is home to one of Latin America's best known Easter Holy Week "Semana Santa" festivals. The usually tranquil Andean city, with a population of around 180,000 people, is transformed as tens of thousands of visitors flock to witness and take part in the 10-day celebration of fireworks displays, bull chases, and beautiful religious processions.
Handicrafts
Ayacucho particularly famous for its rich artisan tradition, producing some of Peru's most popular and iconic crafts. In workshops throughout the city, you will find high quality artwork, including textiles, particularly finely woven rugs, figurines and churches fashioned from clay and luminescent hand-carved ashlar stone, and finally worked wooden boxes containing intricate three-dimensional religious and cultural scenes, known as Retablos.
2 Best Ayacucho Tours
Includes:
Two nights in the hotel of your choice
Transport from and to airport
English-speaking guides
City Tour & visit to artisan workshops
Quinua & Huari excursion
Huanta & Piquimachay excursion
Entrance fees
---
Includes:
Two nights in the hotel of your choice
Transport from and to airport
English-speaking guides
City Tour & visit to artisan workshops
Quinua & Huari excursion
Entrance fees
---
To book your Ayacucho Tours now or consult with us, fill out the "Contact Us" form to the right and a Fertur coordinator will contact you within one working day with detailed information about your fully customizable trip. Fertur Peru Travel's pledge is to offer you top-quality, individualized attention that starts with the planning of your trip and continues through your journey to guarantee a great vacation.