Ayacucho 4 Days: Check Now Where to Go, Stay, and Eat!
---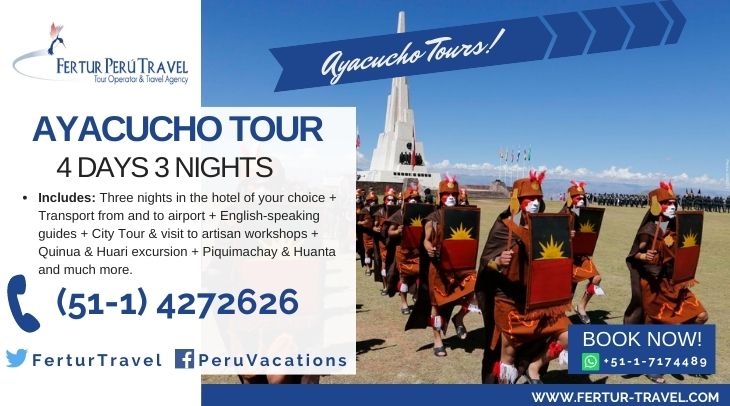 ---
This four-day Ayacucho vacation includes a historic city tour and visit to the workshops of Ayacucho's artisans. Also enjoy exploring to the villages of Quinua and Huanta and to the archaeological sites of Huari and Piquimachay. Book now your Ayacucho 4 days package!
Includes:
Three nights in the hotel of your choice
Transport from and to airport
English-speaking guides
City Tour & visit to artisan workshops
Quinua & Huari excursion
Huanta & Piquimachay excursion
Entrance fees
Prices available upon request
The Perfect Ayacucho 4 Days Itinerary
DAY 1 Ayacucho – City Tour
Reception. Transfer from the bus station to the hotel. City tours. Visit the main square, the Cathedral, Santa Teresa Convent, Santo Domingo Convent, Mirador del cerro Acuchimay. In the afternoon you will visit the workshops of Ayacucho's artisans, famed for their distinctive carpets, rugs, tapestries, carved stone and ceramic figures and intricately painted wood "retablos." (B)
DAY 2 Quinua – Huari
Breakfast. Tour of the valleys of Muyurina, Chacco and/or Lagunilla, leading to the Pampas of Quinua, and its crafts and food markets. Next you will tour the Huari ruins, then back to hotel in Ayacucho. (B)
DAY 3 Piquimachay – Huanta
Breakfast. Tour to Piquimachay, this site was home to the first human settlers on the continent. Then we continue our visit to the town of Huanta, with its cathedral and beautiful landscapes. (B)
DAY 4 Transfer Out
Breakfast. Transfer to the airport or bus station. (B)
(B) Breakfast, (L) Lunch, (D) Dinner
---
Contact Us: Get a quote for Ayacucho 4 days tour
To book your Ayacucho 4 Days now or consult with us, fill out the "Contact Us" form to the right and a Fertur Peru Travel coordinator will contact you within one working day with detailed information about your fully customizable trip. Fertur Peru Travel's pledge is to offer you top-quality, individualized attention that starts with the planning of your trip and continues through your journey to guarantee a great vacation.
Go Back to Ayacucho Tours