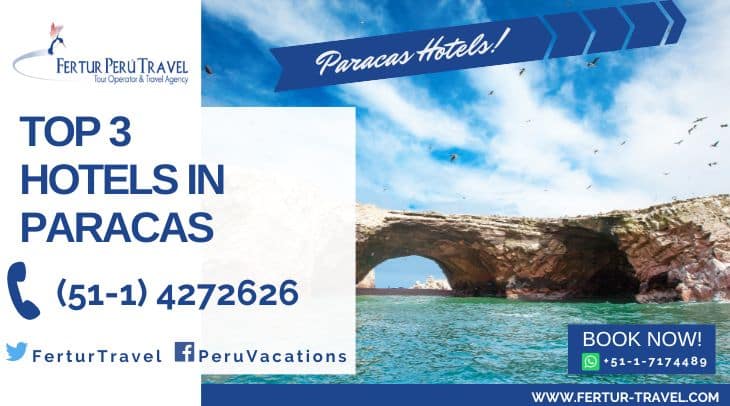 Below is a list of some of Fertur Peru Travel's top hotel picks for comfort and service in Paracas, Peru's incredible nature and marine wildlife reserve. Contact us for excellent rates of hotels in Paracas.
Great savings on luxury hotels in Paracas!
Compare and Save with Fertur Peru!
⭐⭐⭐⭐⭐
The Hotel Paracas, a Luxury Collection Resort, is a perfect place from which to launch your marine wildlife vacation. Experience top class accommodations, strategically located on the bay, in front of the Nature Reserve of Paracas. This resort hotel and spa is the ideal starting point for excursions from the hotel's own private deck to the Ballesta Islands.
⭐⭐⭐⭐⭐
Located on Santo Domingo beach on the desert peninsula of Paracas, the Doubletree by Hilton Resort Paracas is a perfect base for exploring the fascinating marine wildlife and archaeological sites, or enjoying a host of activities for couples and families with children. Leisure activities include kayaking, wind surfing or sailing on the idyllic bay, beach volleyball, relaxing by the pool with a cool cocktail, or a restorative treatments in the INCA SPA. The hotel also features a children's pool, the Paco Kids club.
---
Hotel La Hacienda Bahia Paracas Located along the beautiful beach of Paracas Bay, La Hacienda Bahía Paracas Hotel is an ideal option for couples and groups seeking a relaxing, luxurious stay adjacent to Peru's premier marine wild-life reserve. The hotel features a large pool and spacious terrace offering guests gorgeous views of tranquil beach and beyond the Pacific ocean horizon.
---
Contact Us
To book your vacation now or consult with us, fill out the "Contact Us" form to the right and a Fertur Peru Travel coordinator will contact you within one working day with detailed information about your fully customizable trip. Fertur Peru Travel's pledge is to offer you top-quality, individualized attention that starts with the planning of your trip and continues through your journey to guarantee a great vacation.