La Hacienda Bahía Paracas Hotel – Book Now!
---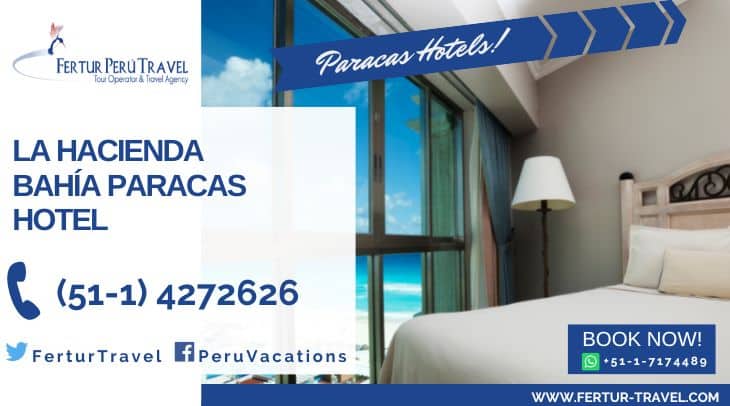 ---
Located along the beautiful beach of Paracas Bay, La Hacienda Bahía Paracas Hotel is an ideal option for couples and groups seeking a relaxing, luxurious stay adjacent to Peru's premier marine wild-life reserve. The hotel features a large pool and spacious terrace offering guests gorgeous views of tranquil beach and beyond the Pacific ocean horizon.
⭐⭐⭐⭐
Prices available upon request
La Hacienda Bahía Paracas Hotel
The hotel's The beautiful grounds include manicured gardens; a tennis court, soccer field and volleyball court; and a safe, ample children's play area. Its Oceano Spa provides the latest body treatments specially designed to help you unwind and rejuvenate.
The spacious, open El Coral Restaurant serves delectable Peruvian cuisine and delightful views of the bay. The cafe El Huarango in located in an interior traditional Spanish Colonial patio offers delicious Peruvian infusions and coffee to enjoy with traditional pastries and other specialties. Enjoy evening cocktails and live Peruvian music at the Marineros Bar. The hotel also has an on-site gift shop and exhibits of a giant sea shell collection and more than 500 pre-Columbian ceramics, textiles and intricately crafted feather and metal ritual artifacts.
Hotel Features:
80 comfortable, bright guest rooms with heat/AC system and private terraces
Second floor suites featuring fireplace and terrace with jacuzzi
Writing desk
21″ Cable TV
WiFi Internet
Hairdryer
Bathroom with tub
Minibar
110-220 voltage
Telephone with national/international direct dial
Facilities:
Restaurant, Café & bar
Swimming pool
Spa & gym
Business center
Gift shop
Tennis, Volleyball, Soccer courts
---
Contact Us:
To book your vacation now or consult with us, fill out the "Contact Us" form to the right and a Fertur Peru Travel coordinator will contact you within one working day with detailed information about your fully customizable trip. Fertur Peru Travel's pledge is to offer you top-quality, individualized attention that starts with the planning of your trip and continues through your journey to guarantee a great vacation.
Go Back to Paracas Hotels