The Best 11 Day Northern Peru Itinerary: Archaeology & History
---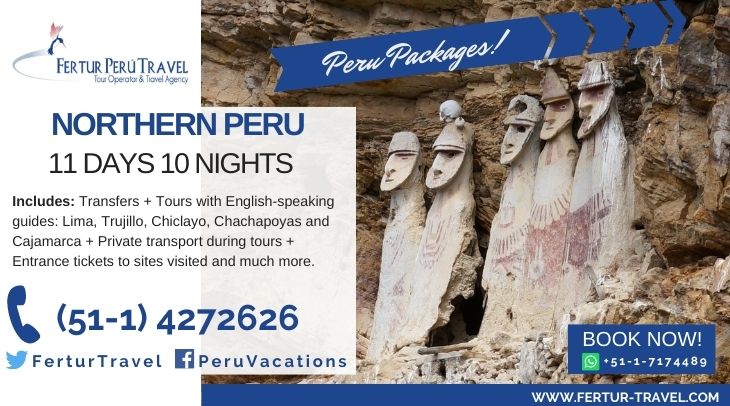 ---
This Northern Peru itinerary is an 11-day enchanted odyssey. Experience the distinctive regional customs, traditional food and dance of Peru's northern coast, Andean highlands and cloud forest jungle.
The archaeological tours encompass wondrous ancient kingdoms, including the Chimu, who built Chan Chan, the largest mud-brick citadel in the pre-Columbian Americas; the Moche, among the most accomplished ceramic artists of the ancient world; the Tucume, arguably the most prolific and mysterious pyramid builders; and the Chachapoyas, known as the Cloud People, a mystic, warrior culture of great stone builders in their own right.
They constructed the impregnable temple fortress of Kuelap, sometimes referred to as "the Machu Picchu" of the north. The Cloud People fiercely resisted but ultimately succumbed to the imperial expansion of the Inca Empire.
Prices available upon request
Detailed Northern Peru Itinerary
Lima/ Trujillo/ Chiclayo/ Chachapoyas/ Cajamarca
Day 1: Lima – Trujillo
⭐⭐⭐⭐⭐
Evening flight from Lima to Trujillo. Transfer from the airport to hotel (Libertador Trujillo Hotel )
Day 2: Trujillo
Breakfast. Full day tour including: the main square, the Cathedral, El Carmen Church and Monastery, San Francisco Church, the Urquiaga and Emancipacion Colonial mansions and the Cassinelli Museum.
Continue on to Chan-Chan, the ancient capital of the Chimu Kingdom and the largest adobe citadel of Pre-Hispanic America, Huaca Tshudi, Huaca Dragon, and site museum. On to the fishing village of Huanchaco, well known for the "Caballitos de Totora" boats made of bundles of "totoras" (reed): lunch in Huanchaco.
In the afternoon, visit to the temples of the Sun and the Moon dating from the Moche period. Overnight in Libertador Trujillo Hotel. (B/L)
Day 3: Trujillo – Chiclayo
⭐⭐⭐⭐
Breakfast. Morning departure overland to Chiclayo. In the afternoon, excursion to explore the beautiful, little known, beaches, where fishermen bring in their daily catch. Visit the artisan village Monsefú, famous for its reed and cotton crafts. Transfer to the hotel, Costa del Sol .
(B)
Day 4: Chiclayo
Breakfast. Explore the archaeological complex of Tucume, where the ruins of 26 structures constructed from huge adobe blocks are known as Peru's valley of the pyramids. Visit to Tumbas Reales de Sipan Museum, located in Lambayeque, seven miles (12km) from Chiclayo.
This ultra-modern museum offers a great collection of objects in gold, silver and copper from the Lord of Sipan Tombs. Lunch. Then on to the Sicán archaeological complex and its site museum, located in the middle of a petrified forest. Overnight at Costa del Sol Hotel.
(B/L)
Day 5: Chiclayo – Chachapoyas
⭐⭐⭐
Breakfast. In the morning you will depart from Chiclayo by private car, van or minibus with air conditioning. You will cross four different Peruvian departments: Lambayeque, south Piura, the North of Cajamarca and end Amazonas.
The journey, which takes approximately 9 hours, takes you through petrified forest, climbing steadily into the mountains over the Porculla Pass at 6,600 feet above sea level (2,000m.a.s.l.), then descending into the Marañon Valley and jungle terrain renowned for exotic bird species, huge slipper orchids and cascading waterfalls.
Late afternoon arrival to Chachapoyas. Box lunch and dinner included. Overnight at Hostal El Chillo .
(B/L/D)
Day 6: Kuelap
After breakfast you will visit Kuelap, a spectacular pre-Inca walled city hidden atop a precipitous mountain. Although Kuelap was discovered 60 years before Machu Picchu, it is not as well known to the outside world. Nevertheless recent amazing discoveries in nearby areas that relate to Kuelap and to its history have captured the attention of archaeologists, international magazines and film companies. Box Lunch. Following your visit to Kuelap, you will return to Chillo for the night. Dinner and overnight at Hostal El Chillo.
(B/L/D)
Day 7: Kuelap
After breakfast you will enjoy an excursion to Revash. Then you will enjoy an excursion on food (20 minute walk) to visit the colorful funeral buildings of Revash perched on a ledge up high on a cliff.
They overlook a valley and tributary of the Utcubamba, near the town of Santo Tomas. The Cliff walls at Revash are decorated with geometric designs and figures of camelids. Some of the tombs are decorated with T cross-shaped niches. Box lunch provided by the hotel. You will return to Chillo.
Dinner and overnight at Hostal El Chillo.
(B/L/D)
Day 8: Chachapoyas – Leymebamba
This morning you will drive towards Leymebamba. On the way you will stop at Las Palmas where a trek will start to La Congona, a spectacular settlement pattern of the Chachapoyas culture. 2 hr steep climbing. In this area you will be able to discover outstanding friezes and defensive towers still virgin in the jungle. After picnic lunch, provided by the hotel , return to Leymebamba where we will spend a night at local two star hostel.
(B/L/D)
Day 9: Leymebamba – Cajamarca
⭐⭐⭐⭐
Morning visit the Museum of Leymebamba with its amazing collection of well preserved pre-inca mummies discovered in the Laguna de los Condores. Then you will drive to Celendin and then to Cajamarca, crossing two cordilleras and several different habitats, such as cloud forest, agricultural land, desert-like areas and the Marañon Canyon. Box lunch on way (provided by hotel) Overnight at Laguna Seca Hotel and Spa .
(B/L/D)
Day 10: Cajamarca
Morning light trek through the Cajamarca countryside to see local people in their daily activities, including children going to school. Then we visit the Ventanillas de Otuzco, a pre-Inca cemetery that features a gallery of secondary burial niches (located 5 miles, or 8km, from the city).
After lunch in Cajamarca. exploration of the main points of the city: Main Square, the Cathedral and the 17th Century San Francisco church, which houses the Museum of Religious Art. Continue on to the Ransom Room; which Atahualpa, filled with silver and gold in a futile attempt to secure his freedom from Spanish conquistadors in 1532; to the Belen complex which includes the Belen church constructed from volcanic rock, and finally on to Santa Apolonia Hill, for a scenic view of the valley of Cajamarca and where one can also see the ceremonial Inca seat.
Finally we will stop for a delicious cup of coffee, tea or refreshments at a local cafeteria.
Return to hotel to take a dip in its swimming pools with thermal waters or enjoy a relaxing massage at the Spa. (This service is not included in the price).
Farewell dinner and overnight at Hotel Laguna Seca.
(B/L/D)
Day 11: Cajamarca – Lima
Breakfast.
You will be transferred to the airport for your flight to Lima.
(B)
(B) Breakfast, (L) Lunch, (D) Dinner
Package Includes:
Transfers airport/terminal-hotel- airport/terminal
Tours with English-speaking guides
Bus from Trujillo to Chiclayo: 160° panoramic seat
Private transport during tours
Entrance tickets to sites visited
Lunch in Trujillo, Chiclayo and Cajamarca: menú. Box lunch on the way to Chachapoyas
All applicable VAT (IGV) taxes
Not Included:
National or International flights
Non-itinerary meals or drinks
Tips or services not described in the itinerary
Some date restrictions may apply. Peruvians and legal residents of Peru subject to IGV.
---
Contact Us: Get a quote for this Northern Peru Itinerary
To book your northern Peru itinerary now or consult with us, fill out the "Contact Us" form to the right and a Fertur Peru Travel coordinator will contact you within one working day with detailed information about your fully customizable trip. Ferturl's pledge is to offer you top-quality, individualized attention that starts with the planning of your trip and continues through your journey to guarantee a great vacation.
Go Back to Peru tour packages