Traveling from Lima to Ica with Fertur: 3 Days 2 Nights. Book Now!
---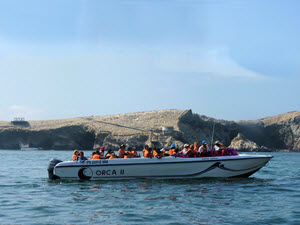 ---
Enjoy a short 3-day tour from Lima to the Pacific cities of Nazca and Paracas, and the stunning desert oasis of Huacachina. In Paracas, sail to the Ballestas Islands and visit the National Coastal Reserve. In Huacachina, practice sandboarding and experience speed in tubular cars. Enjoy this traveling from Lima to Ica with Fertur.
Prices available upon request
Best way to travel from Lima to Ica
DAY 1 Lima – Ica – Nazca
Early transfer from the hotel to the bus Station, to take the bus to Ica (approximately 4½ hours). In Ica, reception and transfer to the hotel. After lunch, Ica city tour. Visit the Regional Museum of Ica. There you can learn about the evolution of the five most representative cultures in the regions: Paracas, Nazca, Huari, Ica and the Inca. Then a stop at a traditional artisan or industrial winery. You proceed to the Huacachina Lagoon, known as the Oasis of America (Buggies tour optional). By late in the afternoon you will take the bus to Nazca. Reception and transfer to the hotel.
Overnight in Nazca.
DAY 2 Nazca – Paracas
In the morning, after breakfast, you will fly over the enigmatic Nazca Lines, etched into the Pampas of San Jose e Ingenio. These huge Figures represent animals and other geometric figures. Continue on to an archeological visit to Chauchilla Cemetery. The Nazca culture developed ingenuous irrigation techniques, not only with river water but also using underground water through subterranean canals or aqueducts. Afternoon overland transport to Paracas (approximately 3 hours). Overnight in Paracas. (B)
DAY 3 Paracas – Lima
Breakfast. Early tour to Ballestas Islands, followed by a delicious sea food lunch (not included). Then, you will have a tour to Paracas Natural Reserve These islands are rocky formations that shelter sea lions, Humboldt Penguins, dolphins and a wide variety of resident and migratory birds. It has a rich biodiversity, including 160 fish species, 216 bird species and 25 types of dolphins and whales. Return to the city of Lima. (B)
(B) Breakfast, (L) Lunch
---
Contact us: Get a quote for this trip from Lima to Ica in 2022
To book your vacation now or consult with us, fill out the "Contact Us" form to the right and a Fertur Peru Travel coordinator will contact you within one working day with detailed information about your fully customizable trip. Fertur Peru Travel's pledge is to offer you top-quality, individualized attention that starts with the planning of your trip and continues through your journey to guarantee a great vacation.
Go Back to Peru Tour Packages