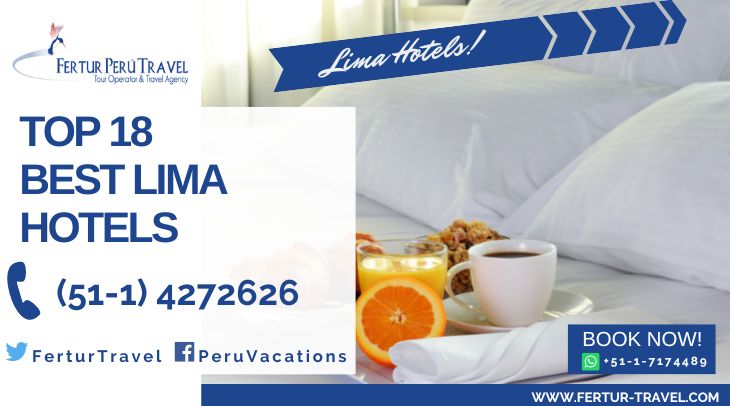 Find Lima hotels with Fertur Peru Travel.
Best Lima Hotels Price Guarantee
⭐⭐⭐⭐⭐
The Westin Lima Hotel & Convention Center, 301 ample guest rooms and suites, is a new, ultra-modern alternative for travelers seeking luxury accommodations. This 29-story towering glass skyscraper is the tallest in Lima and with its unique tapered architecture is already gaining an iconic status in Peru's capital city. Located in the heart of Lima's vibrant financial and shopping district, the hotel is just 9 miles (15 kilometers) from Jorge Chávez International Airport and minutes from a dazzling selection of restaurants, galleries, and parks as well as banks and corporate headquarters.
---
⭐⭐⭐⭐⭐
The Miraflores Park Hotel, with its 82 rooms, is a marvelous boutique hotel, nestled alongside a lush park on the edge of a seaside cliff, affording almost all of the rooms with stunning views of the Pacific Ocean. The rooms are all large and opulent, and include marble and granite bathrooms and luxurious bedding. Located two blocks from the Larcomar shopping and entertainment center.
---
Hotel Casa Andina Private Collection Miraflores renovated the former Miraflores César's, transforming it into the finest of its luxurious Private Collection hotels. Its quintessential Limeño flavor reverberates in the exquisite art collection of contemporary local artists and prized colonial-era antiques, in both public spaces and accommodations. This ultra-modern, 17-story hotel, offers spectacular views of Miraflores and the Pacific coast from most of the 148 sophisticated, contemporary luxury rooms and suites, each of which are 100% soundproofed. All guest rooms are equipped with LCD flat screen TVs.
---
⭐⭐⭐⭐⭐
A taste of Lima's architectural heritage, the Country Club Lima Hotel lies in the leafy surroundings of San Isidro, the city's most sought after district. The restored building combines touches from Peru's colonial past with the latest in business facilities and five star luxury, all in a prime location, across the street from the exclusive Lima Golf Club.
---
⭐⭐⭐⭐⭐
An ultra-modern glass tower looming 25 stories above the cliffs of Lima's Miraflores district, the JW Marriott Hotel Lima offers sweeping views of the Pacific Ocean from each of its 300 guest room. An awe-inspiring architectural marvel, the hotel houses one of Lima's finest 5-star restaurants, a truly majestic lobby and over 18,000 square feet of meeting space. A prime location across the street from the Larcomar shopping and entertainment center.
---
⭐⭐⭐⭐⭐
Located in the San Isidro district, the five-star Meliá Lima Hotel offers 185 rooms include 28 Junior Suites and 1 Presidential Suite, all offering luxurious comfort. It is close to Jorge Chávez International Airport, the International Pacific Exhibition Center, the historical city center of Lima and the commercial & leisure district of Miraflores.
---
⭐⭐⭐⭐⭐
Delfines Hotel and Casino, located in the suburb of San Isidro, boasts the best view of one of the largest and most spectacular green areas in the city: the Lima Golf Club. The hotel's guest rooms and suites are opulent and luxurious. Its Delphos Café offers a bright, open environment and an excellent selection of food and beverages in an atrium beneath a vaulted crystal ceiling.
---
⭐⭐⭐⭐⭐
Swissôtel Lima is located in the heart of the capital's San Isidro district, a financial and cultural hub. An elegant and modern hotel, the 18-story Swissôtel offers 244 elegantly appointed rooms and suites and is close to shopping and commercial centers.
---
⭐⭐⭐⭐
The new Ramada Costa Del Sol hotel offers 130 guest rooms and suites within a few meters of Jorge Chavez International Airport's main terminal, providing comfort and security to business and leisure travelers during layovers in the Peruvian capital, Lima. Buffet breakfast and 10% service charge included.
---
⭐⭐⭐⭐
Casa Andina's new Select Miraflores hotel, located across the street from Fertur Peru's office, is an excellent choice for business and leisure travelers who expect efficiency, excellent service with a comfortable design. This brand new 11-story hotel, with 155 guests rooms and suites, is located in the center of Lima's most prominent ocean-side district, within easy walking distance from banks and offices, as well as great restaurants, attractions, and shops.
---
⭐⭐⭐⭐
Located in the district of Miraflores, very near to the Costa Verde Beaches, La Hacienda Hotel & Casino offers leisure and relaxation in a luxurious setting.
---
⭐⭐⭐⭐
Maria Angola Hotel & Convention Center is located in the heart of Miraflores, the main social, financial and commercial area, only 15-20 minutes from downtown Lima and 30-40 minutes from the Jorge Chavez International Airport.
---
⭐⭐⭐⭐
With 54 large, comfortable guest rooms and suites, the Libertador Lima Hotel is located in the exclusive district of San Isidro, the financial heart of Peru's capital. Only 40 minutes from the airport, right across from the San Isidro Golf Club, the hotel offers a relaxing view of the course, innovative cuisine and dedicated service with attention to every detail.
---
⭐⭐⭐⭐
Located in the modern and dynamic district of Miraflores, just 30-40 minutes from the International Airport Jorge Chávez, El Condado Hotel & Suites is a relaxing option for travelers eager for comfort and proximity to restaurants, shopping and cinemas.
---
⭐⭐⭐
From the large comfortable couches in its lobby lined with rustic Andean paintings and indigenous crafts to its 120 clean, comfortable rooms and suites, this Miraflores hotel has earned its reputation as a favorite for savvy business and leisure travelers. It also boasts one of the best buffet breakfasts of any Peruvian hotel in its class, and a free airport shuttle.
---
⭐⭐⭐
Casa Andina Classic – Miraflores Centro Hotel, with its 58 rooms on six floors, is conveniently located a few steps from traditional handicraft markets and two blocks from Miraflores' Kennedy Park, a great tourist area full of by cafes, fine restaurants and shops.
---
⭐⭐⭐
Located in the heart of Lima's Miraflores tourist district, close to shopping and entertainment, the Faraona Grand Hotel offers opulence on a small, charming scale. The elegantly appointed lobby opens to vaulted terraces extending the full six stories to a magnificent stained glass skylight.
---
⭐⭐⭐
Hotel Mariel Boutique offers comfort, convenience and top-notch service from its excellent staff. With 40 guest rooms, Mariel is located directly across the street from Miraflores' indigenous handicraft market and three blocks from Miraflores' Kennedy Park, surrounded by an abundant array cafes, cinemas, fine restaurants and boutique shops
---
Contact Us:
To book your vacation now or consult with us, fill out the "Contact Us" form to the right and a Fertur Peru Travel coordinator will contact you within one working day with detailed information about your fully customizable trip. Fertur Peru Travel's pledge is to offer you top-quality, individualized attention that starts with the planning of your trip and continues through your journey to guarantee a great vacation.