La Hacienda Hotel and Casino
---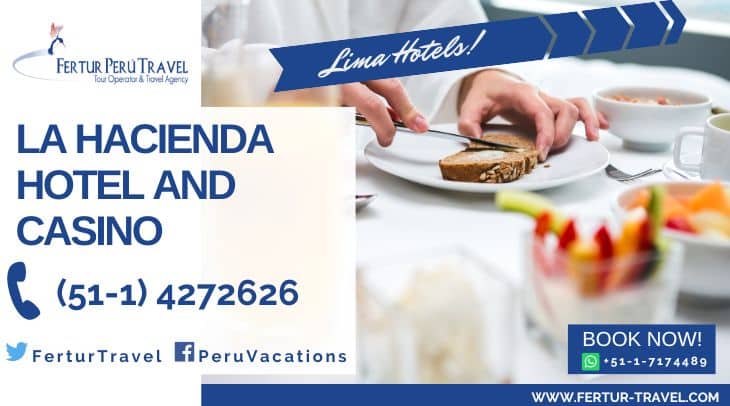 ---
Located in the district of Miraflores, very near to the Costa Verde Beaches, La Hacienda Hotel and Casino offers leisure and relaxation in a luxurious setting.
⭐⭐⭐⭐
Prices available upon request
La Hacienda Hotel and Casino in Miraflores
Minutes from the Pacific beaches of the Costa Verde, La Hacienda Hotel & Casino is centrally located in Miraflores, the tourist and entertainment district of Lima. The hotel offers a private casino with roulette and table games, along with a restaurant that is open 24 hours.
Hotel Features
Internet free access
Telephone with national and international dialing
Connection to fax modem
21″ color TV with cable system
Air conditioning
Central heating
Electronic locks
Minibar
Anti-noise windows
Facilities:
Algarrobo restaurant, open 24 hours.
La Hacienda Coffee Bar.
Conference rooms with audio-visual equipment.
Business center with access to internet, fax modem, computers, photocopy machine, etc.
Souvenir shop.
Casino (open daily from 6:00 pm to 6:00 am).
Private parking.
---
Contact Us:
To book your vacation now or consult with us, fill out the "Contact Us" form to the right and a Fertur Peru Travel coordinator will contact you within one working day with detailed information about your fully customizable trip. Fertur Peru Travel's pledge is to offer you top-quality, individualized attention that starts with the planning of your trip and continues through your journey to guarantee a great vacation.
Go Back to Lima Hotels