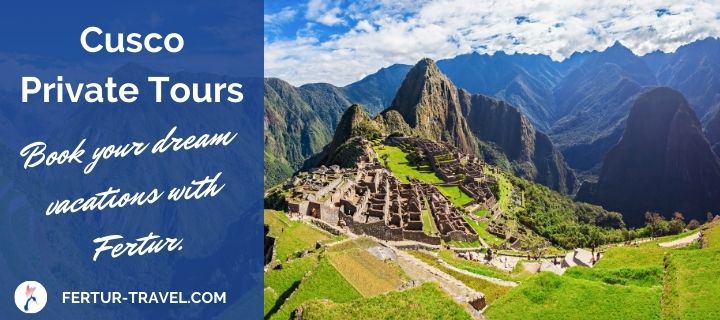 Why Cusco private tours are worthwhile: There is a lot to take in when you have only a few days in Cusco, the megalithic architecture of Inca stone masons, spectacular colonial art, out-of-the-way shops and art galleries, strolls through narrow streets to reach amazing restaurants. Being able to pause, contemplate and take it all in at your own pace isn't always possible in a group setting.
Contact us and we'll design a custom excursion departing with a private guide on any day you wish to explore Cusco to its fullest. All Fertur Peru Travel tours are fully customizable, with departures 365 days a year.
Cusco Private Tours, Custom Made
Our vacation packages with privately guided tours are designed to truly cater to your interests, allowing you to take advantage of every minute spent in Cusco based on your needs, your time, and your desires. But that doesn't mean being rushed from one tourist attraction to another.
Pacing yourself when you first arrive is something we are very mindful of. Cusco's Plaza de Armas, which UNESCO added to its list of World Heritage Sites in 1983, stands at an altitude of 11,175 feet (3406 meters) above sea level. It is very important to be prepared so altitude sickness does not hamper your visit to Cusco.
A full day custom trip in private service for some destinations is necessarily going to tend to start on the earlier side, given the distances, weather and topography of the Andes. However, not every day has to begin with the rising Sun in the Inca heartland. We can design a schedule that mixes those early starts with later wake-up times from one day to the next.
In a group tour, there is less flexibility than with a private guide, who can tailor your experience and focus on your interests — like suggesting the best restaurants and pointing out local markets, while providing history and insight into Cusco's local culture.
We will work with you to custom design your holiday, everything from the hotels in Cusco where you stay and the local food you enjoy to the range of activities you take part in.
There is an incredible array of choices, from walking the ruins in around the city and horseback riding to Chinchero, Moray and the Maras salt pans, to reserving a quiet afternoon for a cooking class.
You can arrange a full-day excursion with one of our private guides that gets you off the beaten tourist path an onto alternative Inca Trails to some amazing destinations.
There is Huchuy Qosqo ("Little Cusco" in Quechua), one of the major Inca archaeological complexes in the Sacred Valley, whose remote location has put it slightly out of reach of the standard tourist circuit. (A cable car system directly to the site is in the works, so hurry up and see it now, and beat the crowds.)
The platforms, esplanades, patios, squares, and surviving stone and adobe buildings are laid out in a staggered formation, following the natural sloping topography of the mountain. The view of the Sacred Valley on a clear day, with the snow-covered Pitusiray peak in the background is breath taking.
Or there is the Inca temple fortress Waqrapukara, with its horn-shaped towering mountain peak and the ceremonial stone architecture that melds seamlessly around it. Waqrapukara is located south of Cusco, past the Four Lakes district, 14,100 feet (4300 meters) above sea level, overlooking the Apurimac River canyon. Our driver and private guide will pick you up at your hotel for the 2½-hour drive from Cusco to the town of Santa Lucia, where you set out on the 2-hour trek.
Prices available upon request
Your driver will meet you at your hotel and drive with you to the Poroy station where you will board PeruRail's Vistadome train for a spectacular journey of just over three hours by narrow gauge railway along the northern banks of the Urubamba River to Machu Picchu.
The carriages are luxuriously designed, featuring panoramic windows and ample leather seats with tables allowing passengers to enjoy the magnificent scenery. The ride includes complimentary snacks, drinks and live entertainment throughout the journey. On arrival at Aguas Calientes, you will transfer to Machu Picchu, where your tour guide will meet you for your private tour of the iconic Inca Sanctuary.
Prices available upon request
Your guide and driver will meet you in the morning at your hotel. Your private tour begins with a 45-minute drive north of Cusco to the Sacred Valley.
The name refers to the heartland at the center of the Inca Empire — a stretch of gently sloping, incredibly fertile river plain, which the Inca believed had its celestial counterpart in the Milky Way. Along this stretch of what the Inca called the Wilcamayu, or sacred river, are the towns of Pisac, Calca, Urubamba and Ollantaytambo.
Prices available upon request
Your private guide and driver will meet you at your hotel and after a brief orientation, you'll set out on your exploration of Cusco. The excursion takes in the main attractions of the Inca capital, beginning with the Cathedral, built on the razed foundation of the palace of Inca Viracocha, who ruled Cusco 100 years before the arrival of the conquistadors.
---
Contact Us: Get a quote for Cusco Private tours
To book your vacation now or consult with us, fill out the "Contact Us" form to the right and a Fertur Peru Travel coordinator will contact you within one working day with detailed information about your fully customizable trip. Fertur's pledge is to offer you top-quality, individualized attention that starts with the planning of your trip and continues through your journey to guarantee a great vacation.