How to spend 1 day in Cusco with a private guide
---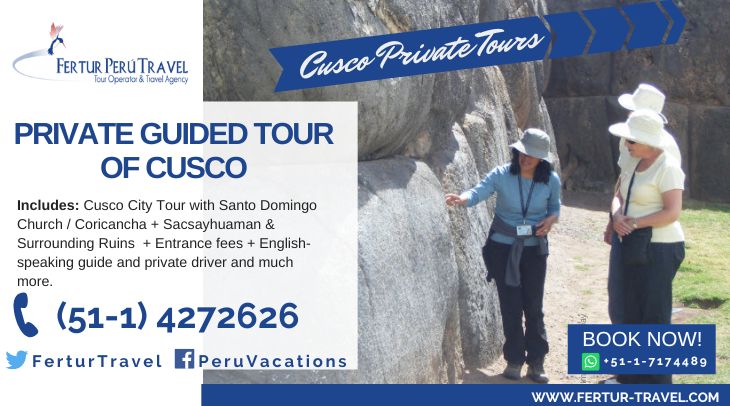 ---
Explore 1 Day in Cusco with your own guide
Prices available upon request
Your guide and driver will meet you at your hotel and after a brief orientation, you'll set out on your exploration of private Cusco city tour. The excursion takes in the main attractions of the Inca capital, beginning with the Cathedral, built on the razed foundation of the palace of Inca Viracocha, who ruled Cusco 100 years before the arrival of the conquistadors. Are you interested in 1 day in Cusco with a private guide? Keep reading.
From there, it's on to the Convent of Santo Domingo, which contains the remnants of the Koricancha, or "courtyard of gold" — the center of the Inca cosmos. Koricancha is often called the Temple of the Sun, but that was just one of the buildings that makes up the complex. Intact Inca walls and chambers were revealed when an earthquake damaged the convent in 1950, but left the Inca masonry unharmed.
You will visit the ruins on the outskirts of the city, stopping at the Inca ritual site of Quenqo, the water temple of Tambomachay, the customs house of Puca Pucara and the Inca fortress temple of Sacsayhuaman, a titanic feat of megalithic architecture. It's famous for its enormous stone blocks, assembled with incredible precision to form the imposing external walls of the complex. Some of the stones stand 9 meters tall and weigh more than 350 tons. We then return you to your hotel. (3hrs)
Included:
City Tour and Surrounding Archaeological Sites with entrance fees.
Partial Tourist Ticket
English-speaking guide and private driver.
The Cusco city tour also is available in group service from our Av El Sol office. Please call or email us beforehand to check availability and book.
---
To book your vacations now or consult with us, fill out the "Contact Us" form to the right and a Fertur coordinator will contact you within one working day with detailed information about your fully customizable trip. Fertur Peru Travel's pledge is to offer you top-quality, individualized attention that starts with the planning of your trip and continues through your journey to guarantee a great Cusco private day tours.