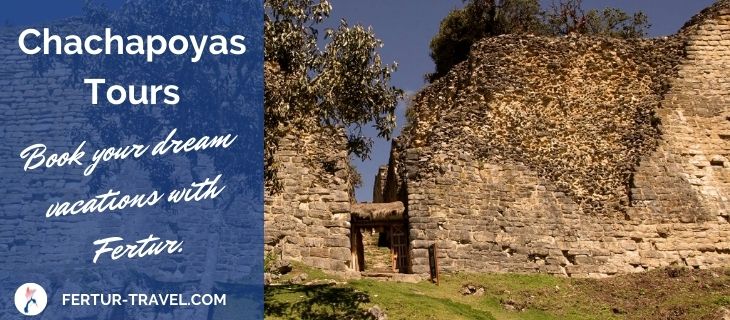 Chachapoyas, a region of archaeological wonders, and the gateway for tours of Kuélap, the mountain fortress of the Chachapoya. This tribal culture known as the "Cloud Warriors" reigned in Peru's northern cloud forest from 800 A.D. to 1450 A.D. Book now a Chachapoyas tours in 2023!
The civilization was a prodigious builder of sprawling stone citadels hidden on top of high mountain ridges over a huge swath of Peru's northern jungle. Remnants of the Chachapoya kingdom form one of the world's' most archeology-rich areas for the sheer density of mostly yet-to be excavated archaeological sites.
The Chachapoyas Culture of Peru
A fierce warrior civilization, the Chachapoya successfully staved off repeated Inca invasions before finally succumbing to the empire around 1470. Perched atop a high mountain plateau, and girded by massive 35- to 65-foot high (11-20 m) limestone block walls, the fortress of Kuelap at its peak was home to some 3,000 inhabitants.
Here they lived, more than 9,800 feet above sea level (3,000 m.a.s.l.) in more stone roundhouses, 420 of which remain in some form, several adorned with trapezoidal friezes and carvings believed to represent the eyes of pumas and snakes.
Kuelap Fortress
Reaching Kuelap's remote location in Peru's upper Amazon basin is more challenging than Cusco and Machu Picchu but well worth the effort. The ancient Chachapoyan city is now more accessible than ever.
Instead of two-hour hour ride over bumpy roads or a 5½-mile trek from Tingo Viejo, visitors can now take a spectacularly panoramic ride aboard one of the new, modern cable cars that take only 20 minutes. (Full disclosure: the cable car station at Tingo Nuevo is an hour's drive from Chachapoyas, and once you arrive to the mountaintop, there is still a mile and a half hike (2.5 km) to reach the citadel.)
Leymebamba Museum
You can also take private and customized circuits to Leymebamba Museum, 25 miles (15.5km) south of Chachapoyas. Built in 1997, the museum is dedicated to the preservation and study 219 mummies rescued from tombs nestled in a limestone cliff overlooking the nearby Lake of the Condors. They were removed before looters who had discovered them could finish plundering the mummy bundles.
The Sarcophagi of Karajia
Astonishingly high cliff tombs built into the vertical rock face of sheer mountains was a hallmark of Chachapoya culture.
Built into a high cliff side, 30 miles (48km) northeast of Chachapoyas, the Karajia Sarcophagi stare out eerily. These 8-foot-tall (2.5 m) anthropomorphic funerary statues were built in the 15th century and are believed to have contained the mummified remains of the highest-ranking Chachapoya.
---
The 3 Best Chachapoyas Tours
All of these destinations and sites are surrounded by stunning cloud forest scenery. The varied micro-climates host a vast array of wildlife. Giant ferns, orchids and bromeliads flourish. Rare endemic bird species, like the Marvelous Spatuletail Hummingbird, abound. And the dense, humid terrain provides habitat for endangered Yellow-tailed Woolly Monkeys and spectacled bears.
Delving into deep canyons there are amazing waterfalls, including the Gocta Waterfall, one of the highest in the world.
Includes:
Two nights La Xalca Hotel
One night Choctamal Marvelous Spatuletail Lodge
One night lodging in Levanto
Sonche Canyon & Huancas excursion
Three-hour Inca Trail trek
Full-day excursion to Kuelap
English-speaking guides
Entrance fees
---
Includes:
Two nights Casona Colonial lodge
One night Choctamal Marvelous Spatuletail Lodge
Karajia excursion
Full-day excursion to Kuelap
English-speaking guides
Entrance fees
---
Includes:
Four nights lodging Chachapoyas
Gocta Falls excursion
Sarcophagi of Karajia & Huancas
Full-day excursion to Kuelap
English-speaking guides
Entrance fees
---
How to Get to Chachapoyas from Lima or the Northern Coast
From Lima: One smaller airline offers direct 1hr-45min flights to Chachapoyas three days a week (Mon., Wed., Fri.). But between its restrictive luggage policy and problems with delays and cancellations, we recommend taking one of the daily flight with a larger carrier to Jaén, where a driver can be waiting to pick you up and chauffeur you in a private vehicle for the four-hour overland journey to Chachapoyas.
From Peru's Northern Coast: There are very comfortable air conditioned buses with wide, reclining seats from the coastal city of Chiclayo to Chachapoyas. It is an approximately 8-hour journey on a very good highway.
---
To book your Chachapoyas Tours now or consult with us, fill out the "Contact Us" form to the right and a Fertur Peru Travel coordinator will contact you within one working day with detailed information about your fully customizable trip. Fertur Peru Travel's pledge is to offer you top-quality, individualized attention that starts with the planning of your trip and continues through your journey to guarantee a great vacation.