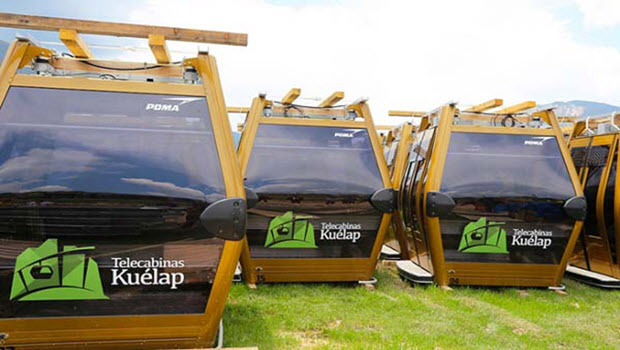 Cable cars arrive for breathtaking transport on tours of Kuelap
The fleet of 26 gleaming cable cars have arrived in the ongoing construction of an aerial tramway system to reach the Chachapoya temple fortress of Kuelap in Peru's northeast Amazon cloud forest.
"Boosting Kuelap as a tourist destination by providing domestic and foreign tourists a modern transportation system will not only be more effective over time but safer because of the effects of rain on the road," said Magali Silva, Minister of Foreign Trade and Tourism, during a ceremony to celebrate the arrival of the eight-passenger trams.
The $21.1 million project — part of a 20-year concession — is scheduled for completion by midyear and will cut the travel time between Tingo and Kuelap from two hours to just 20 minutes, offering stunning views of the lush mountain scenery along the way.
Silva told reporters that in February a bid was granted to the aviation company Servicios Aéreos Tarapoto to operate flights from Tarapoto to Chachapoyas, Santa María de Nieva, Ciro Alegría and San Lorenzo.
She said the Ministry of Transport and Communications will provide a one-year, 3 million sole subsidy, or about $893,000, to get the new air route rolling.
"We estimate that the daily flights, with similar aircraft to those used in Nazca, will begin in April and the fares will be approximately 60 soles," she said.
"Amazonas is going to become new pole of tourism development, that with the Moche Route will convert the northern part of the country into a major tourist attraction," Silva concluded.
The fortress was built by the fiercely independent Chachapoya civilization, which for decades successfully resisted conquest by the Inca Empire. Kuelap is just one of the grand hilltop complexes they constructed. Others large cities of circular buildings include Gran Pajaten and Gran Vilaya.