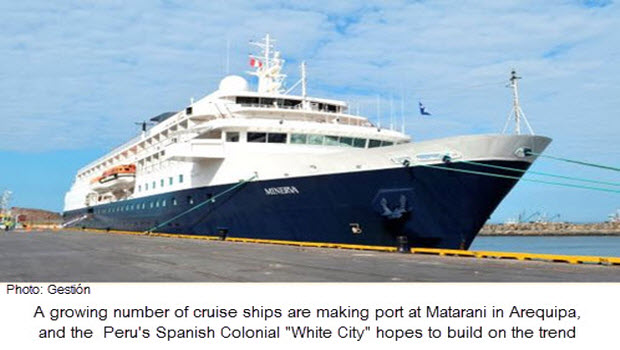 Make Arequipa a port of call on a luxury cruise vacation
The Port of Matarani in Arequipa is vying to be a port of call for cruise ship passengers to enjoy the attractions of the "White City," the port's CEO told Peruvian business daily Gestión.
Erick Hein, head of Terminal Internacional del Sur (Tisur), tells the newspaper that 10 international cruise lines made Arequipa one of its stops along the South American West coast during 2014.
"Just in January, four cruise ships will visit us, which is a great opportunity for micro, small and medium-sized companies in the tourism, food and transport sectors, among others," he said.
The 10 large cruise ships that arrived in Matarani in 2014 came mainly from Europe and Asia and America.
The cruise lines included Regatta, Delphin, Seven Seas Marine, Silver Spirit, Le Boreal, Europe, Explorer Silver Shadow and Minerva.
Contact Fertur Peru Travel if you would like to incorporate Peruvian attractions, like Arequipa, Lake Titicaca, and Machu Picchu into a luxury cruise vacation.
If you like this post, please remember to share on Facebook, Twitter or Google+