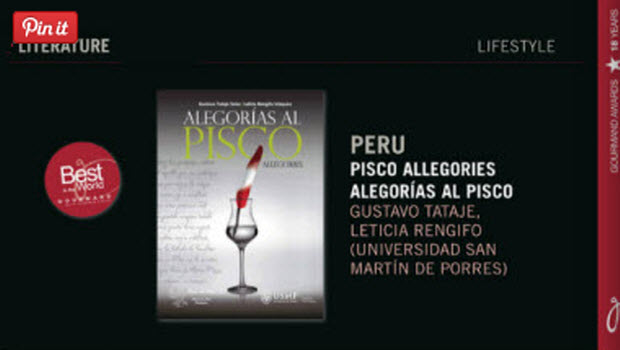 'Pisco Allegories' winner at International Gourmand Cookbook Awards in Paris
The Peruvian book "Pisco Allegories" took top prize in the Lifestyle category for Wine Literature this past weekend at the prestigious 2013 Gourmand Awards in Paris.
The book, coauthored by Leticia Rengifo and her husband Gustavo Tataje, is a compilation of stories, songs and poems, including the Afro-Peruvian genre "décima," or ten line verse, singing the praises of Peru's hallmark distilled grape spirit.
The bilingual book includes works by Roberto Samamé, Joaquín Sabina, César Ángeles Caballero, and José Hidalgo, among others.
Books from 171 countries competed at this year's Gourmand World Cookbook Awards Gala event. The finalists came from 86 countries.
If you like this post, please remember to share on Facebook, Twitter or Google+