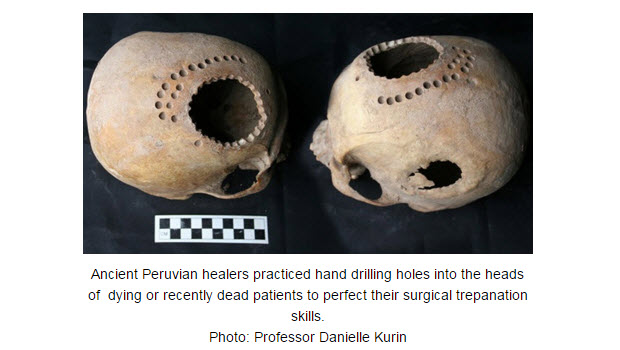 The practiced craft of ancient Peruvian skull surgery
It is a well-established fact that ancient Peruvian healers were experts in trepanation — the surgical removal of a piece of the skull usually to treat hematomas or cranial fractures.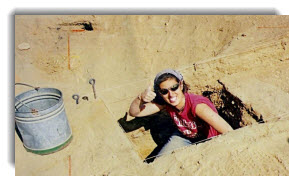 Many of these operations are attributed to the treatment of head injuries suffered during ritual combat or fighting between warriors. The conclusion is evidenced by the fact that of the hundreds of trepanation skulls in museums in Peru and abroad, significantly more trepan holes are found on the left side of the head, consistent with blows delivered by right-handed adversaries during combat.
But what do we know about the ancient healers who performed these operations? What surgical techniques did they employ, and what kind medical training did they receive?
University of California at Santa Barbara bioarchaeologist Danielle Kurin and her research team have just published a study in the American Journal of Physical Anthropology that delves into that subject.
Working with the burial remains of 32 individuals unearthed in Peru's south-central Andean province of Andahuaylas, Kurin reportedly studied 45 separate trepanation procedures that date back to Late Intermediate Period (Common Era 1000-1250).
The healers who performed the surgeries used scraping tools and hand drills with differing degrees of success.
"Scraping trepanations evinced the highest survival rate," according to Kurin's article Abstract, while "circular grooving, drilling and boring, and linear cutting were far less successful."
She also found evidence of postmortem trepanations, suggesting the ancient healers practiced on corpses to perfect their technique.
"In one example, each hole is drilled a little deeper than the last," Kurin told the UC Santa Barbara publication The Current. "So you can imagine a guy in his prehistoric Peruvian medical school practicing with his hand drill to know how many times he needs to turn it to nimbly and accurately penetrate the thickness of a skull."
If you like this post, please remember to share on Facebook, Twitter or Google+