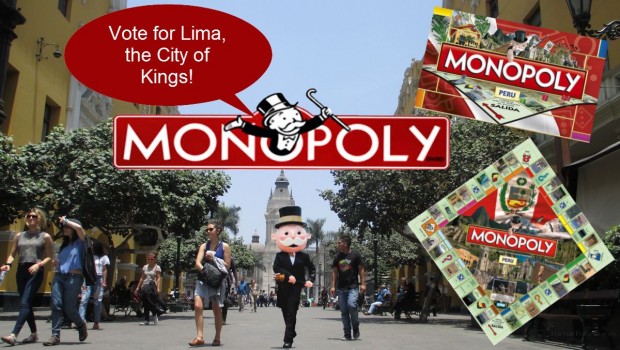 Mr. Monopoly Tours Lima in Search of Votes
Mr. Monopoly landed in Lima earlier this month. He's touring the historic city's sites here in search of votes for The City of Kings' inclusion as one of 22 world properties in the next edition of the classic Hasbro board game.
Monopoly is coming up on its 80th anniversary. (No wonder Peru is on Mr. Monopoly's bucket list!)
To celebrate, players are invited to cast electronic votes to elect which of the world's greatest cities should be included around the board as coveted real estate. The balloting ends for the tally on March 2, 2015.
So DO NOT PASS GO or Collect $200 until you've voted for the historic downtown center of Lima, founded by Conquistador Francisco Pizarro in 1535 and declared a World Heritage Site by UNESCO in 1988.
Click this link to vote, Vote and VOTE again for LIMA!
 If you like this post, please remember to share on Facebook, Twitter or Google+