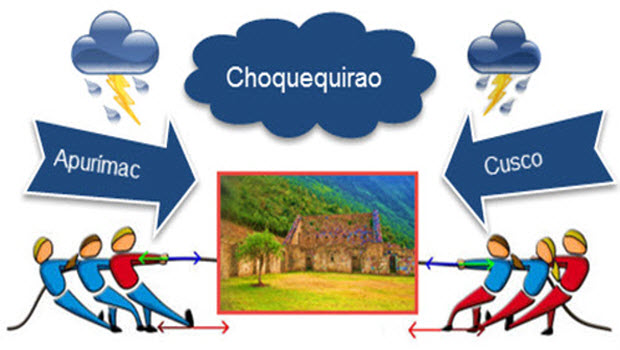 Cusco wants in on Choquequirao Cable Car action
A legal tug-of-war is brewing over the little known ancient Peruvian citadel of Choquequirao — often referred to as Machu Picchu's sister city.
With plans underway to build Peru's first cable cars to the 15th century mountaintop ruins, regional officials in Cusco are threatening to file a court injunction against neighboring Apurímac to halt the project. They contend that Cusco has been left out of the planning and the potential tourism revenue it would reap.
The cable cars will travel 2.8 miles (5.4km) from Kiuñalla in Apurímac department to the Choquequirao archeological park in Cusco department, crossing the Apurímac canyon. Travel time will be 15 minutes and the system will be able to carry 400 people an hour.
Peru's private promotion investment agency ProInversión in February awarded the consultancy tender to develop the economic model for the Choquequirao cable cars to a consortium comprised of Pricewaterhouse Coopers and Ingerop Conseil Ingenieri.
But Cusco officials are now crying foul.
"Cusco was never consulted on the issue," said René Concha, regional president of Cusco. "This project should be bi-regional. In this sense, we insist Apurímac's regional president converse with us, and if necessary we will go personally to Apurímac to seek dialog."
Folks from Cusco's Anta province, where Choqueqirao is located in the Mollepata district, came out in force to voice their concern. Some 5,000 protesters from Anta reportedly flooded the streets of the city of Cusco yesterday, demanding that a general assembly of local and regional officials meet with residents in the district of Mollepata before month's end to get their input.
"The second point," said Anta's municipal mayor, Eulogio Uscamayta, "is for (Cusco's) regional president to have a meeting with the (national) Council of Ministers to make sure the project is bi-regional, otherwise it's a no-go."
Pablo Olivera Baca, a regional council member from Anta, said his province planned to file a court injunction to halt the project "because the region of Apurímac is conducting a project in Cusco's territory without consulting us."
"There was an initial agreement for the project to be bi-regional that has not been followed," he added, echoing the sentiment.
For nearly a century reaching the remote royal estate, built during the late 15th century by the Inca ruler Topa Inca Yupanki has taken several days of hiking over narrow high mountain passes.
Only a few thousand travelers (just over 3,000 in 2013) make it to the site each year. The number of visitors to the site is on the rise now, as people hurry to experience the ruins before the project is completed and Choquequirao is packed with crowds arriving on aerial trams.
Political wrangling between Cusco and Apurímac could mean a reprieve from and impending "Crowds through the clouds to Choquequirao."
Another thing to consider is the magnitude of the project, and the engineering challenges that building a tram spanning that part of the Apurímac River represents. But more on that later. Stay tuned….
In the meantime, it is a good time for travelers to experience the ruins in their current state. Fertur Peru Travel is proud to be working with Edwin Dueñas and archaeologist Gary Ziegler to offer the Choquequirao experience in style: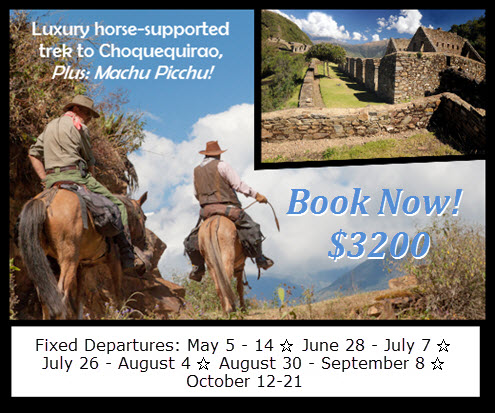 If you like this post, please remember to share on Facebook, Twitter or Google+