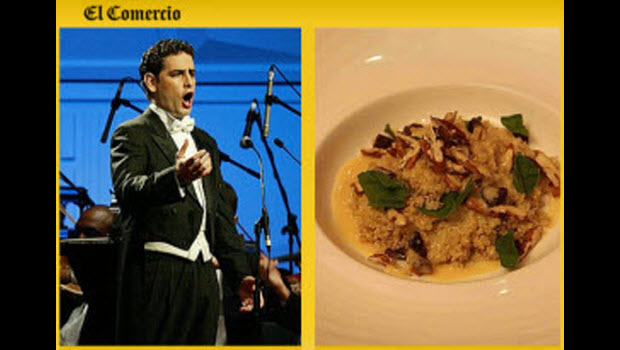 El Comercio: Quinoa, the secret of Juan Diego Flórez's energetic opera performances
Peru's world renowned tenor Juan Diego Flórez says one of the secrets to his fluid, expressive singing and dazzling virtuosity is an edible Andean seed, heralded by the United Nations as the international food of the year: quinoa.
"The day of a performance, I eat quinoa," Flórez told Radioprogramas radio. "It gives you energy. It's fantastic. The day of my show, no matter where I am, I eat quinoa and avocado."
Flórez returned to Peru for rehearsals, singing the part of Arnold in the opera William Tell, "an opera I have always wanted to do and a very challenging and enormously satisfying role."
Daily El Comercio reports the opera will premier March 1 at the Grand National Theater in Lima's historic center.
If you like this post, please remember to share on Facebook, Twitter or Google+