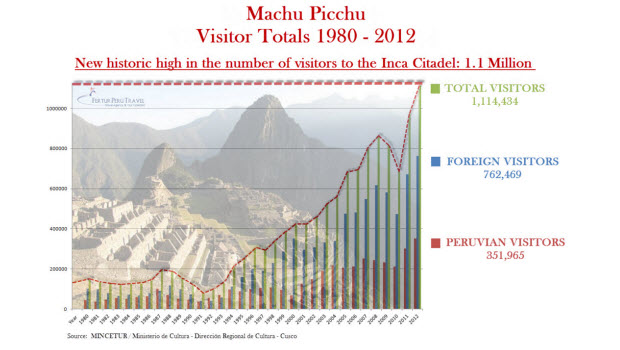 Record breaking 1.1 million tourists visited Machu Picchu in 2012
Visitors to Peru's most famous archeological site, the ancient Inca city of Machu Picchu, surpassed one million tourists for the first time ever in 2012.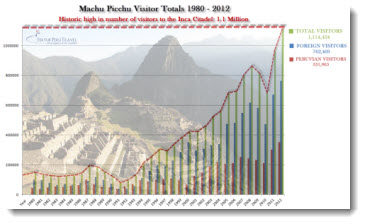 The record-breaking figure of 1,114,434 visitors appears in the annual totals published by the Ministry of Foreign Commerce and Tourism (MINCETUR).
But the million+ Machu Picchu milestone — an average of more than 3,000 people per day — has received little publicity or fanfare.

Perhaps that's because for years UNESCO and Peru's Ministry of Culture have been at odds with MINCETUR and Peru's private tourism sector over how many tourists should be allowed to enter Machu Picchu.
The UNESCO-sponsored Master Plan for Machu Picchu in 2001 called for no more than 917 visitors per day – and no more than 385 visitors at any one time. Meanwhile, the National Institute of Culture — now under the Culture Ministry — recommended a maximum carrying capacity of 2,000 visitors. Peru's central government advocated in 2002 for 3,400, and the parties settled in 2008 on a daily limit of 2,500 visitors.
But in recent years, Peru's tourism sector has pushed hard to raise the limit. Peru's Tourism Ministry contended in a 2011 report that Machu Picchu could handle up to 5,479 visitors per day, setting up a verbal confrontation with then-Culture Minister Susana Baca.
Peru risks the wrath of UNESCO, which could add Peru's top tourist attraction to an infamous list of endangered sites.
If you like this post, please remember to share on Facebook, Twitter or Google+