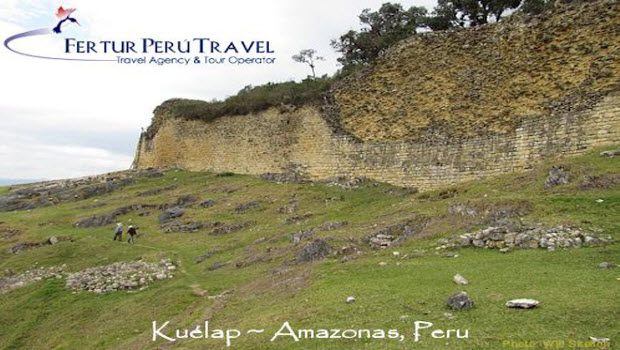 Seven reasons to visit the temple fortress of Kuelap on your vacation to Peru
Last week Peru's government signed a partnership agreement with a French company to build a cable car system to reach the Chachapoya temple fortress of Kuelap in Peru's northeast Amazon cloud forest.
You Might Also Like: Reserve The Chachapoyas 5 Days Tour
Here are the top seven reasons why you should visit the site, preferably before the $17.9 million building concession — scheduled for completion in 2016 — is shuttling hundreds of tourists a day to the still relatively remote site.
1. Grandeur
Kuelap is one of Peru's great, lesser known archaeological treasures, often called the "Machu Picchu" of the North. Its towering ramparts were built onto a mountain ridge at an altitude of 3000 meters above sea level, by the fierce and mysterious Chachapoyas culture, which dominated the region between 1000 and 1400 AD. The gigantic outer wall that protects the city is more than 25 feet high and extends more than 656 yards, encircling the ruins. A impenetrable fortress has a series of guard posts and a tower built overlooking a sheer cliff. The three entrances are so narrow that invaders would have no choice but to enter in single file.
2. Get ahead of the Tipping Point
Visits to Kuelap increased nearly 20 percent during the first nine months of 2014, compared with the same period last year. The total number of visitors through the third quarter this year was 27,286 (Source: PromPeru / National Directorate for Culture – Amazonas). Kuelap's popularity is building toward critical mass, and a tipping point when awareness of the ancient site spreads exponentially like wildfire.
3. People in high places say Kuelap is going to be Peru's next hot destination
"Kuelap could easily be a second Machu Picchu," Peru's President Ollanta Humala told reporter last week after signing the deal with French consortium Pomagalski to build the cable cars. "With Kuélap, we can create a tourist package as competitive as in the south (of Peru)."
4. Hike don't ride
If you go to Kuelap now, you will reach the ruins, declared a cultural heritage site in 2003, by a combination of car and hiking to reach the ruins. If you wait until after the cable cars are built and running, you will still be able to hike in, but there will be 26 tram cabins able to carry eight to 10 passengers at a time, arriving ahead of you. The aim is to have a capacity to transport 1,000 passengers every hour.
4. Kuelap is mystic and mysterious
The archaeological evidence suggests Kuelap was considered a mystic and magical realm. The interior walls are covered with geometric friezes, sculptured serpents (a sacred symbol for the Chachapoya) and ET-like round glaring stone faces.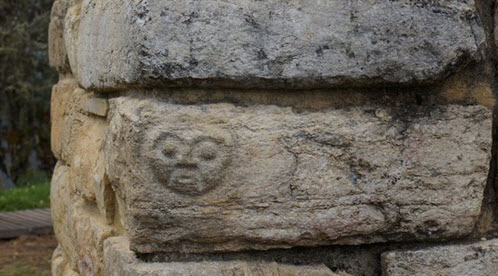 5. There are other archaeological wonders nearby
If you visit Kuelap, there are other amazingly archaeological sites nearby, like the Chachapoya Sarcophagi of Karajia, built into the walls of a cliff, more than 30 intact sculpture coffins, joined in groups of 4 to 8, with red and white painted faces.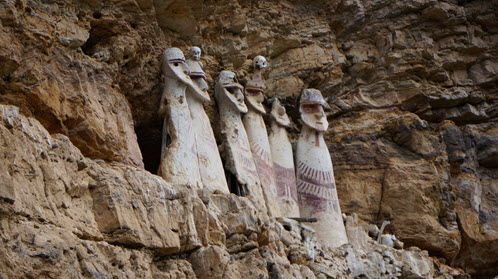 6. Incredible natural beauty, too, including Gocta, one of the world's highest water falls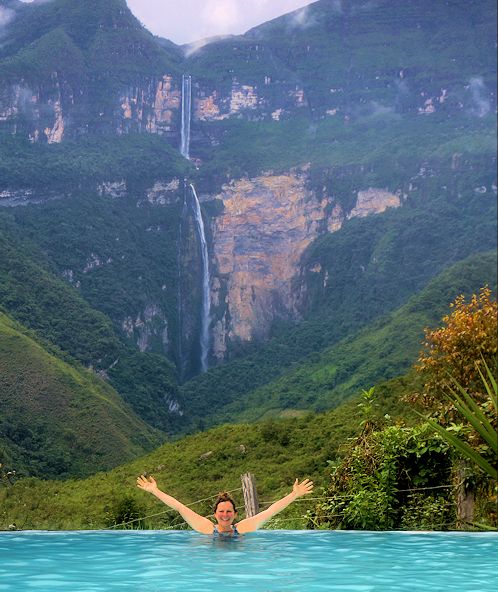 7. Giant orchids, moss-laden trees and bromeliads, and equally exquisite fauna
So, in summary, the still remote location of Kuelap and the surrounding Chachapoya archaeological sites means it gets fewer visitors than the more famous attractions of Cusco and Machu Picchu to the south.
See it soon and beat the crowds.
If you like this post, please remember to share on Facebook, Twitter or Google+