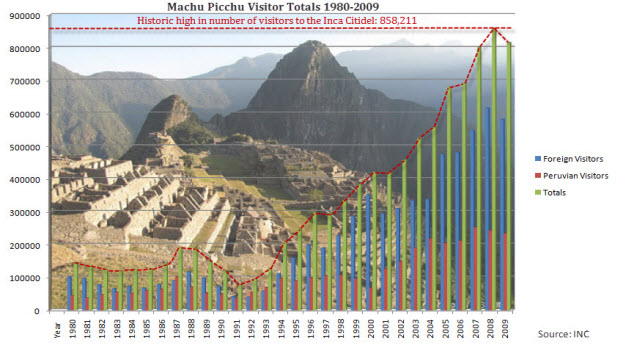 Peru's tourism sector and National Institute of Culture clash again over visitor limits to Machu Picchu
UNESCO and Peru's National Institute of Culture (INC) once again find themselves at odds with Peru's private tourism sector over how many tourists should be allowed to enter Machu Picchu.
Carlos Canales, president of Peru's National Chamber of Tourism (Canatur), is calling into question the technical basis that the INC used for setting that limit at 2,500 visitors per day and advocates doubling the figure.
The INC's study "was not prepared by specialists," Canales contended in Monday's edition of Peru's main business daily Gestión. "Nor have international methodologies been used to measure the environmental impact and the burden caused by the number of visitors."
"You can distribute the number of tourist routes into the sanctuary and you could easily double the amount estimated by the INC and reach up to 5,000 visitors a day," Canales said in a statement on Canatur's Web site.
"Nobody wants to overburden our patrimony. No one wants to saturate the destination," he added.  "But nor can we restrict the normal, sustainable and orderly growth that Cusco and Machu Picchu should have."
But conservationists fear the wild upswing in the number of visitors to Machu Picchu over the last two decades has been anything but normal, sustainable and orderly.
In 1980, Machu Picchu received 145,566 visitors. By 2000, that figure surpassed 420,000, and by 2008 it had doubled, reaching an all-time high of 858,211, according to INC figures. Last year, there was a slight decrease in the number of visitors — 815,268, representing a 6 percent dip — due to the world economic crisis.
National Institute of Culture's Response:
Juan Julio Garcia, regional director of the INC, told Peru 21 news agency that the current carrying capacity limit is not only contained in the Master Plan for Machu Picchu but is also based on technical studies carried out between 2002 and 2005 to support its implementation.
The UNESCO-sponsored Master Plan for Machu Picchu called for no more than 917 visitors per day – and no more than 385 visitors at any one time – while the INC has recommended a maximum carrying capacity of 2,000 visitors. Peru's central government advocated in 2002 for 3,400, and the parties settled in 2008 on a daily limit of 2,500 visitors.
"One possibility would involve amendments to redo the study," Garcia said. "To date, there has arisen no technical proposal of this nature and from our end we're not planning to make that assessment."
"We are now in full implementation of the Master Plan. There are a number of points included in that and it would be hasty to speak now of a higher capacity versions of visitors," Garcia concluded.
Where President Alan García's administration stands:
Peruvian Tourism Minister Martín Pérez is walking a fine line between the two positions. He told state news agency Andina that the government plans to create "two or three new routes to enter and exit Machu Picchu," but without causing problems to the Inca citadel.
"There is no real technical study on how many people can get to Machu Picchu," he said. "However, we do have a consensus that it could be around 2,500 tourists a day."
Pérez said there are different types of tourists coming to visit the Inca sanctuary. Some are only interested in a one-hour tour, while  others spend 1½  hours, and other tourists, who are more demanding, want to explore as much of the site as possible. Four hundred visitors per day are permitted to climb the adjacent peak of Huayna Picchu, which typically requires three hours.
The different entrance points and tours through the site could come with different ticket prices, he said, adding that the development of these alternative routes would ultimately help to conserve the monument.
Gestión Editorial: Machu Picchu, investment and preservation

Published Tuesday, Sept. 7, 2010

The debate between employers and the National Institute of Culture (INC) over the limit of daily visits to the sanctuary of Machu Picchu is an opportunity to take this issue by the horns.

Animosity by the business sector is understandable when it comes to the application of a limit (set at 2,500 by the INC), especially if it could jeopardize investments in recent years to meet demand. On the other hand, it is also reasonable that the INC and international organizations expressed their concern about the possibility of damage to the shrine due to over-exploitation.

Fortunately, everyone agrees to preserve Machu Picchu, because otherwise this World Heritage site might end up being included on the list of endangered monuments and the tour circuit would, thus end up killing the "goose that lays the golden eggs."

In fact, there is no reason why private investment should be incompatible with the preservation of archaeological monuments in general, and the sanctuary of Machu Picchu, particularly if the business involves proper use and, above all, the sustainability of the monument.

This requires a system and an optimal management plan, and strong and independent institutions to effectively enforce rules governing visits, as is done today in the world with many similar archaeological monuments.

For now, the INC must share the technical study that supports the current limits on visitors (the Minister of Trade and Tourism says it has not had access to it) and if this is not optimal, we must charge international experts with the implementation of a new one, which must not only scientifically support a set limit on visitors, but also offer technical recommendations for optimal management of them, considering access, shift schedules and types of tourism.

The study should involve organizations such as UNESCO, the ministries of Trade and Tourism and Institute of Culture, and even representatives of the tourism industry. And since Machu Picchu is an ecological park, facing other threats (solid waste, landslides and mudslides, introduction of exotic plants, changes caused by the power plant, among others), it would also be advisable to involve the Ministry of Environment.