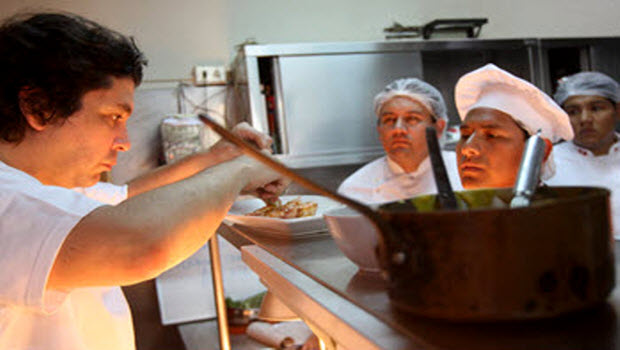 Lima foodie elite go to avant-garde, performance art extreme
Anyone who reads this blog or our Facebook page knows that we pray at the alter of Peruvian foodie holy man Chef Gastón Acurio. More than any other single mortal, Gastón has spread the gospel of Peru's intensely diverse, complex and wonderful cuisine to the world.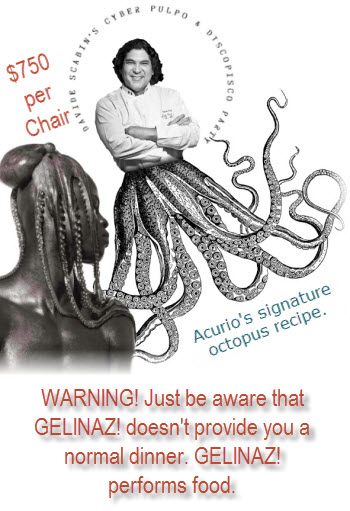 So, even though we're scratching our heads a little bit on this one, we're going to help spread the word about an event that Gastón is headlining with an international avant-garde "Rock Band" lineup of celebrity chefs in Lima next Monday (September 9).
Promoted as the PULPO FICTION NIGHT, the event is being put on by the GELINAZ! Project. According to its Web site, they're all about jazz riffing, improvisational orgies of pure culinary experience… followed by a big 'ol party.
The concept involves taking one recipe — they call it "the Matrix" — which is then studied, deconstructed, re-interpreted and transformed by each and every chef taking part in the "performance art."
For Monday, they've chosen Gastón's cult recipe, the octopus al cilindro, which "will be explored, deconstructed and reinterpreted by every chef."
The price to take part in this dinner experience is $750 per chair (Pucha!).
Culinary Artists:
Gaston Acurio ~ Peru / Albert Adria ~ Spain / Andoni Luis Aduriz ~ Spain / Kim Alter ~ United States / Alex Atala ~ Brazil / Daniel Humm ~ United States / Chiho Kanzaki ~ Japan / Inaki Aizpitarte ~ France / Massimo Bottura ~ Italy / Mauro Colagreco ~ Argentina / Kobe Desramaults ~ Belgium / Rodolfo Guzman ~ Chile / Virgilio Martinez ~ Peru / Magnus Nilsson ~ Sweden / Petter Nilsson ~ Sweden / Daniel Patterson ~ United States / Fulvio Pierangelini ~ Italy / René Redzepi ~ Denmark / Davide Scabin ~ Italy / Mitsuharu Tsumura ~ Peru / Blaine Wetzel ~ United States