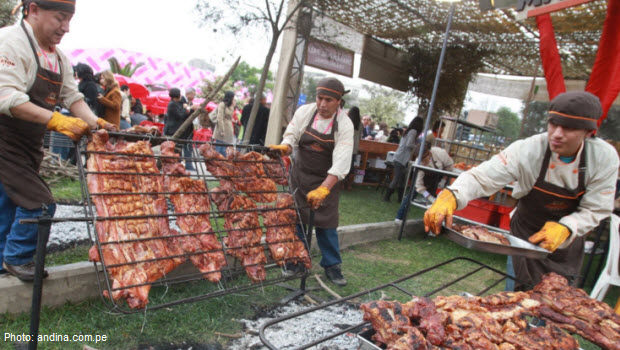 Mistura 2013 – Peru's premier food fair – Opens
Mistura, Lima's showcase culinary event, opened today, for its sixth run.
The opportunity to taste the spectacular dishes from Peru in a single place will continue over the next 10 days in a new location, along a stretch of the Pacific coast beachfront, on the Costa Verde of Magdalena del Mar.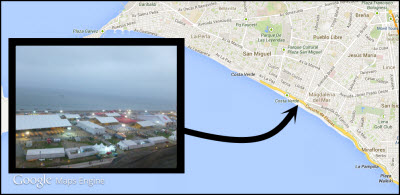 Since the Spanish Conquest in the 16th century, the Peruvian kitchen has produced one of the world's original fusion cuisines, formed by a host of outside influences — from Chinese and African, Japanese and Spaniard, North American and European. Conquerors, natives, slaves and immigrants alike contributed to the delectable melting pot. Mistura is an opportunity to sample a cross-section of that deep culinary tradition, from cebiches, and Chinese Peruvian stir-fry, to Aji de Gallina and grilled anticuchos.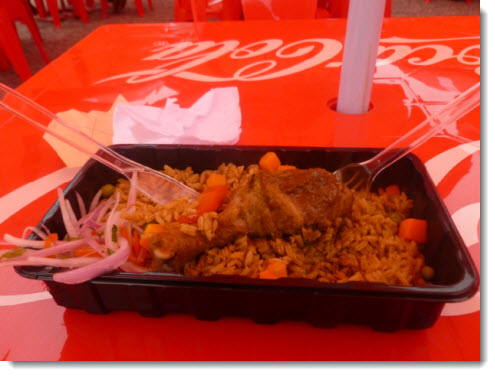 Tickets can be purchased at the Teleticket booths in Wong and Metro supermarkets. Admission is 25 soles (US$8.90) for adults and 12 soles (US$4.25) for children.
Organizers are expecting turnout this year to match or surpass last year's 500,000 visitors.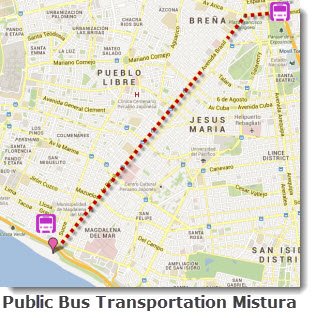 Parking is limited and fines for leaving for cars left in illegal zones are stiff. So the best advice is to go in public transportation.
Lima's Metropolitano bus system will be running a continuous route a block down from the Central Station, outside the Museo del Arte Italiano, making stops at eight bus stops along Avenida Brasil to the Magdalena district and the Mistura fair grounds. The roundtrip fare is only two soles, or less than US$1.
Hours: Monday to Thursday: 10:00 am – 10:00 pm / Friday through Sunday: 10:00 a.m. to 11:00 pm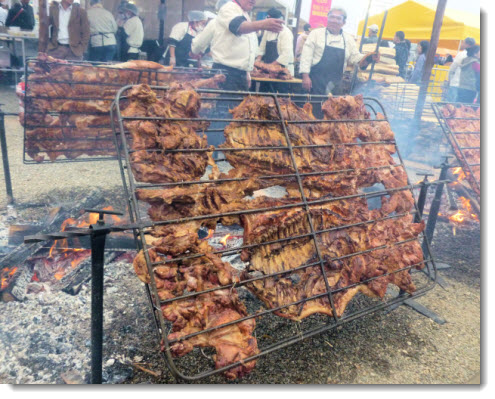 Chancho al palo, suckling pig roasted over an open wood fire, served up at Mistura food festival in Lima, Peru, on Sept. 5, 2013.
The fair will feature 140 stands, offering food and drink from distinct Peruvian "worlds" of food.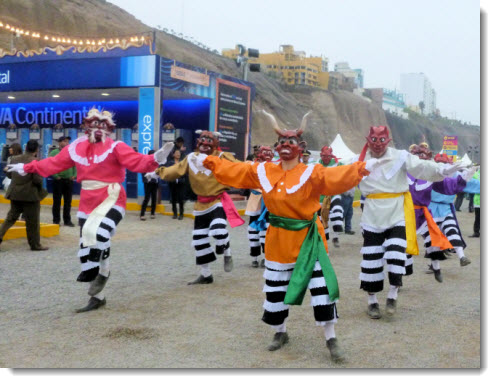 Mistura offers more than a just a gastronomic experience. It's a cultural smorgasbord as well, showcasing Peruvian music and dance.
List of the food stands at this year's Mistura culinary fair:

Brasas (Fire Pit Roasted) : La Leña (La Molina), Granja Azul (Ate Vitarte), Pachamanca de Jesús Gutarra (La Victoria), Carlos Ramírez Tradiciones de Huaral (Puente Piedra), Chaxras (Pachacamac), Ramadita de Pepe Warmi (Huaral), La Caja China de Juan Talledo (Comas), Gonzalete (Arequipa), Makatón (Huaral) y Kankacho –Doña Julia (Ayaviry).

Taverns and Bars: Pisco Bar (Miraflores), Bar Mayta (Miraflores), Bar Capitán Meléndez (Miraflores), Bar Huaringas (Miraflores), Bar Santa Diabla (Barranco), la Antigua Taberna Queirolo (Pueblo Libre), Bar El Pisquerito (Cusco) y Museo del Pisco (Cusco).

Chinese Peruvian (Chifa) & Japanese Peruvian (Nikkei): Edo Sushi Bar (Miraflores), San Joy Lao (Surco), Salón de la Felicidad (Lima), Majarisco (Barranco), Niqei (San Borja), Wa Lok (Miraflores), Hanzo (Surco), Turrones y Cachangas Don Freddy (Parque Kennedy- Miraflores) y Yuquitas Fritas Lyn Lyn (La Victoria).

Amazon: Aguajal (San Borja), La Patarashca (Tarapoto), Amaz (Miraflores), La Mishkina (Iquitos), El Tuyuyo (Pucalpa), La Coconita (San Juan de Miraflores), El Pichito (Breña) y la Asociación de cocineras de Chazuta (Chazuta-Tarapoto).

Andean: El Remanso de Magaly Solier (Comas), Miskychallwa (Callao), El Tarwi (Jesús María), Cameycar (Ayacucho), Peña el Gordo (Caraz-Ancash), Normita (Ancash), Dulzura Caracina (Caraz- Ancash), Patasca de Asunta Zegarra (Lima) y Tamales Josefina (Cusco).

Southern: Valens Restaurante (Santa Anita), Ari Qipay (Parque de la Amistad, Surco), El Rocoto (Miraflores), Manifiesto (Miraflores), Culantro y Perejil (Monterrico-Surco), La Olla de Juanita (Ica), La Benita (Arequipa), La Tía Mary (Arequipa), Gustitos Arequipeños (Arequipa), La Lucila (Arequipa), La Glorieta (Tacna), y El Sausal (Chincha-Ica).

Northern: La Chayo (Piura), El Nuevo Ajicito (Piura), El Cántaro (Lambayeque), Géminis (Huacho), Donde Peruco (Surco), Herencia Norteña (Surco), Champús de Amor (San Martín de Porres), Melcochas Don Freddy (Lima).

Ceviche and Sea Food: Sonia (Chorrillos), El Kapallaq (Miraflores), Rincón de Chela (La Victoria), La Anchoveta Azul (Cerro Azul-Cañete), El Verídico de Fidel (La Victoria), Pulpo Azul (La Molina), Tumbes Mar (Lima), Punto Marino (Lince), Punta Sal (San Isidro), La Preferida (Miraflores), Los Esteros de Tumbes (Magdalena), Mazamorras Mechita (Alameda Chabuca Granda-Lima) y Dulces Rosita (Parque Turístico Pachacamac).

Anticucho (Open Grill) : Juancito (Jesús María), Tía Grimanesa (Miraflores), Glotons (Miraflores), Doña Pochita Anticuchería (Lince), Anticuchos Pascuala (Surquillo), Anticuchería Fortunato, Anticucho de Alpaca (La Victoria), Anticuchos Liz (San Miguel), Picarones Mary (Parque Kennedy–Miraflores), Tamalitos Nancys (Miraflores), Yuquitas Reyes Rojos (Barranco) y Tina Mía (San Miguel).

Sandwiches: El Chinito (Lima), La Lucha (Miraflores), El Peruanito (Miraflores), Ton Fon (San Miguel), El Filetón (Miraflores), Tourbush (Miraflores), Arepa Café (Barranco) y Tip Top (Lince).

Limeño: El Rincón que no Conoces (Lince), Tradición Barranquina de María Zuñiga (Parque de la Amistad-Surco), Fernando's (Mercado San Roque-Surco), Sabores Peruanos (Miraflores), Don Bosco (Jesús María), Doña Chela (Punta Negra), Kamcha (Surquillo), Sanguito la Tía Marce (Rímac), Donde Arturo Brandon (San Bartolo), Doña Nora (Mercado de Breña-Breña) y La Picantería (Surquillo).

Ice Cream, sherberts and refreshments: Punto del Sabor Yuquitas y Bombitas (Magdalena del Mar), Cremoladas Villa (Chorrillos), Emoliente Claudio (San Roque, Surco), Ugos Factory (Magdalena del Mar), Api Wiñaymarca (Arequipa), Miski Yaku´s (Surco), Gustitos Nasqueño (Nazca), Hectitor del Norte (Los Olivos), Refrescos David (Tingo María), Juguería Anita – Aquí Me Quedo (Surco), Bebidas Calientes Gladys (Surquillo), Cremoladas Angélica (La Molina), Helados Paletti (San Miguel), Allin Aqha (La Victoria), Mi Cantarito (Callao), Jugo de Naranja San Luis (Chanchamayo), among others.
Source: El Comercio