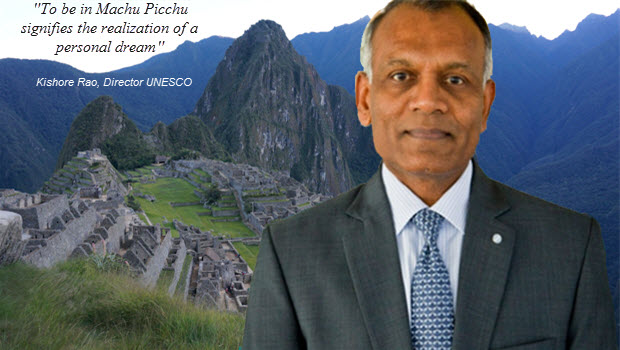 UNESCO chief tours Machu Picchu and lauds the beautiful experience
The director of UNESCO toured Machu Picchu this week and judging from his reaction, the long-standing threat that the Inca citadel will wind up on the infamous endangered sites list appears to be dissipating.
"It is the first time I am visiting Machu Picchu and honestly, I am impressed by the beauty of the place," Kishore Rao, chief of the Paris-based World Heritage Centre, told Radioprogramas Radio. "The state of conservation and maintenance of this World Heritage site is a beautiful experience."
Rao reportedly offered congratulations to Juan Pablo de la Puente, vice minister of Cultural Patrimony in Peru's Ministry of Culture. "Their labor reflects the perfect state of conservation and maintenance of the site, which is admired by the whole world," he reportedly said.
"To be in Machu Picchu signifies the realization of a personal dream," he added.
Rao was in Cusco this week for a regional conference of historians, archaeologists, conservation specialists and government officials from Peru, Bolivia, Brazil, Chile, Colombia, Ecuador, Paraguay, Uruguay and Venezuela to draw up a 2015-2020 South American heritage action plan.
The meeting comes three weeks after Peru approved a long awaited Master Plan for Machu Picchu that calls for a dramatic "reconceptualization" of the Inca Citadel, backed by a proposed $43.7 million makeover of its tourist infrastructure.
César Moreno-Triana, head of UNESCO's program for Latin America and the Caribbean, who attended the Cusco conference, said the question of Machu Picchu's inclusion on the endangered sites list will be taken up in a meeting set for June 15 in Bonn, Germany.
He indicated that UNESCO is very pleased with the Machu Picchu Master Plan. It could be key to keeping the sacred center off the endangered sites list.
"This is a great achievement, it really is a very positive sign that the Master Plan has been officially approved by the Ministry of Culture and by Sernanp," Moreno-Triana told Radioprogramas radio. "It is a rather optimistic and important step to ensure protection of the site."