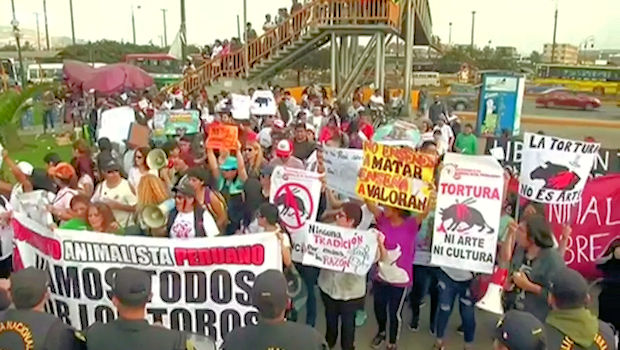 Anti-bullfighting activists in Lima demand an end to the traditional blood sport
Hundreds of anti-bullfighting activists, known as "antitaurinos" in Spanish, marched on the Plaza de Toros de Acho in historic downtown Lima to demand Peru ban what they — and we — consider a senseless and abhorrent blood-sport.
They carried signs that read: "Stop already with the running of the bulls!" and "Torture is neither art nor culture" and clashed with police, who used tear gas to break up the demonstration.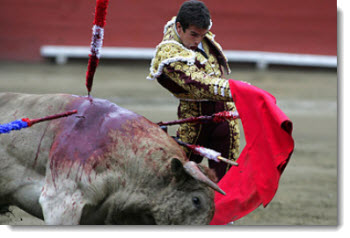 "No more killings, that is all we want," Nadia Soto, one of the protesters, told BBC news. "These sordid games should not exist."
The bullfighting season in Lima's  historic Plaza de Acho — the second oldest bullring in the world — began yesterday and will run every Sunday through the first week of December.
Proponents say that bullfighting is an integral part of Peruvian culture, going back to early Spanish colonial times. The corrida de toros was made an official spectacle in Lima in 1558.
In recent years, protests against bullfighting have become as much an annual event as the bullfighting itself.
In 2012, semi-nude, the demonstrators lay prone on the ground, with fake blood spattered across their bodies and fake barbed spears, called bandilleras, taped to their backs.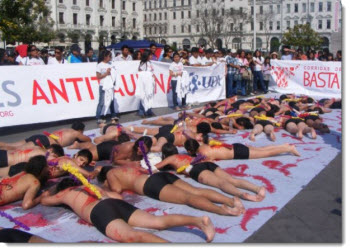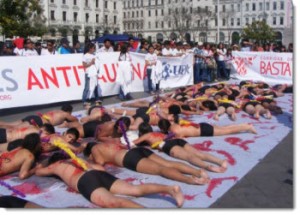 CAS International, an animal rights organization dedicated to the abolition of bullfighting worldwide, reports that the sport is legal in Peru, in spite of national animal protection legislation for domestic and captive animals. The exemption also exists for cockfighting.
But pressure from the "antitaurinos" movement has had an impact.
In 2004, Peru's Constitutional Tribunal stripped bullfighting of its tax exempt "cultural" status, ruling that it is a commercial activity.
But the "antitaurinos" have lobbied lawmakers in vain to pass a bill in Congress to prohibit the entry of children under 12 into bullfighting events.
According to Peru's Antitaurino movement, "78 percent of Peruvians are against bullfighting, but they are still legal in our country, despite the fact that they are violent spectacles where human beings and animals die."
Daily La Republica reported that a class action lawsuit filed before Peru's Constitutional Court (TC), representing more than 5,000 citizens, has not yet been admitted by the high court.
As a matter of policy, Fertur Peru Travel opposes bull fighting and does not offer any touristic service that promotes or advances this deplorable, inhumane activity.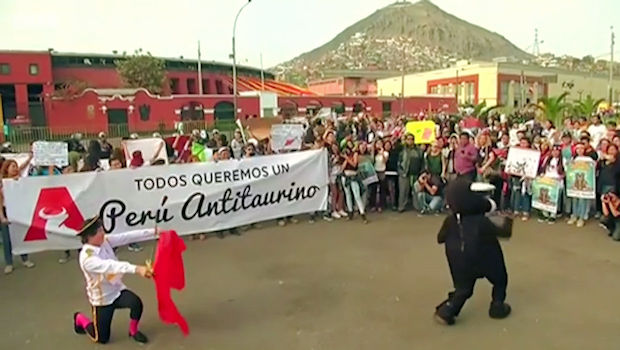 If you like this post, please remember to share on Facebook, Twitter or Google+