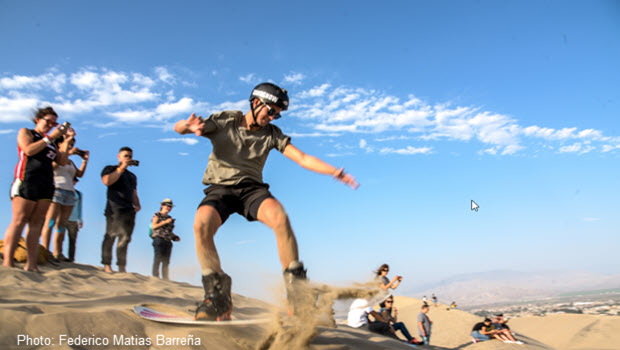 Sandboarding in Huacachina: An Unforgettable Desert Adventure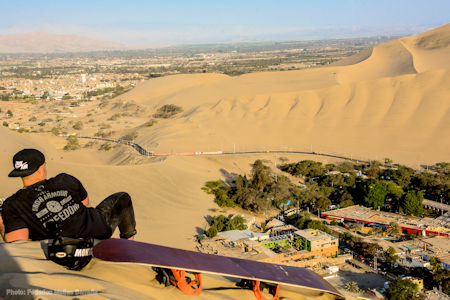 When people think of travel destinations, they tend to conjure images of blue waters, majestic mountains, vibrant jungles, or bustling cities. While it might not be the first thing that comes to mind, we've got a desert oasis that offers an exciting once-in-a-lifetime experience. Sandboarding in Huacachina, Peru, is the best sandboarding in South America.
You Might Also Like: 7 Best Active Adventures in Peru
Why Sandboarding in Huacachina is so stupendous
If you aren't familiar with sandboarding, the concept is quite simple: it's like snowboarding, but instead of racing down snow-covered slopes, you're boarding down the side of an enormous sand dune. But these aren't just little hills made of sand; they're towering dunes that will make you feel like you're on another planet!
Some people say that visiting the adventure playground of Huacachina is an otherworldly experience. No matter what, nobody can deny that adventure tours that have you zooming down a mountain of sand is an absolute blast.
You Might Also Like: Tours from Lima to Paracas
Dune Buggy Rides
Another popular activity in Huacachina are the dune buggy rides. Dune buggies are all-terrain vehicles with no doors, so you get an unobstructed view of the natural beauty around you. This is no leisurely ride — dune buggies will get your adrenaline going!
Unlike sandboarding, where an embarrassing spill or a bad sunburn are about the most sever dangers you'll face, dune buggies do entail some risk.
Many adventure tour operators offer a dune buggy ride and a sandboarding experience in one package, so it's the perfect two-in-one adventure for an afternoon. The best time to go is at about 4 pm, when the desert sun is beginning to relent before you get to see it set over the stunning landscape.
You Might Also Like: Paracas full day tour
What To Wear
It's natural to think that sandals would be the right choice for a desert escapade, but it's recommended that you wear sneakers, since sandals will inhibit your ability to sandboard and explore the dunes. Besides sandals, wear a t-shirt and shorts that will keep you cool, pack a hat and sunglasses, and bring plenty of sunscreen and water.
The best thing about Huacachina is that it's very easy to work into a trip to Peru. Ica, the nearby city, has plenty of great restaurants and hotels. Tours to Ica from Lima is only a half-day drive, so you could easily make an overnight trip, or even a full-day journey of it. One thing's for sure: if you visit Huacachina, you will not regret it.
You Might Also Like: The Perfect 2 Days in Ica Itinerary
Are you interested for this tour?
[ninja_form id=3]