Paracas Day Trip From Lima: Your Perfect Vacation Here!
---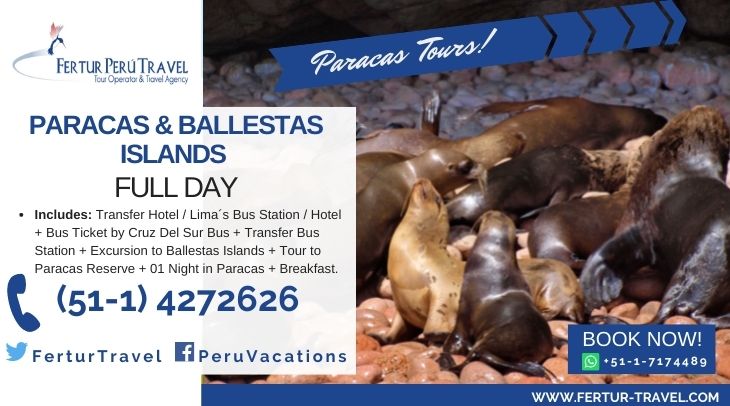 ---
This Paracas day trip from Lima, which includes transfers to and from Lima, takes you on an exciting boat tour of the Ballestas Islands for a close-up view of its amazing marine wildlife. You will explore the Paracas Reserve with a certified English-speaking guide, who will explain the highlights of the ancient Paracas culture and the region's impressive biodiversity.
Your perfect Paracas day trip from Lima
Includes:
Transfer Hotel / Lima´s Bus Station / Hotel
Bus Ticket Lima / Paracas / Lima by Cruz Del Sur Bus
Transfer Bus Station / Paracas Hotel / Bus Station
Full day excursion to Ballestas Islands
Tour to Paracas National Reserve
Certified English-speaking guide
Not included:
Lunch
Tips or services not described at the itinerary
Prices available upon request
Day Trip: Lima – Paracas – Lima
Morning early transfer from your Hotel in Lima to Bus Station. 04: 00 am Travel to Paracas by bus, around 08:00 am arrival and transfer to El Chaco dock where you will board a boat for travel around the Ballestas Islands, home to sea lions, Humboldt Penguins, dolphins and a wide variety of resident and migratory birds.
Then we will explore the Paracas Reserve, where the Paracas culture flourished 2000 years ago. The reserve has a rich biodiversity, including 160 fish species, 216 bird species and 25 types of dolphins and whales. In the afternoon transfer to the Bus Station for your return to Lima.
Due to its semi-tropical location, we suggest bringing strong sunscreen and a hat for protection from the sunlight. Once we have visited all the islands, we return to El Chaco dock and continue our tour by bus to Paracas National Reserve — designated a protected area because of its vital marine ecosystem.
There, we visit the Julio C. Tello Site Museum, where your expert guide will offer insights about exhibited artifacts from ancient cultures that inhabited this region of Peru's desert coast: Elaborate textiles and funerary shrouds, mummies, and deformed, elongated skulls.
Return to the city of Lima.
---
This Hotel stands out as one of the highly recommended: Libertador Paracas Hotel and La Hacienda Bahía Paracas Hotel.
Contact Us: Get a quote for this Paracas Day Trip From Lima
To book your vacation now or consult with us, fill out the "Contact Us" form to the right and a Fertur Peru Travel coordinator will contact you within one working day with detailed information about your fully customizable trip. Fertur Peru Travel's pledge is to offer you top-quality, individualized attention that starts with the planning of your trip and continues through your journey to guarantee a great vacation.
Go Back to Paracas Tours