Bolivia Tours
Cruise Lake Titicaca and visit the largest salt desert in the world, the Salar de Uyuni, located in the highlands of Bolivia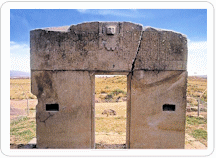 Prices available upon request
Day 1: Puno – Copacabana – Sun Island (South) – Inti Wata – Sun Island (North)
Early land transfer to Copacabana Sanctuary, aboard the Catamaran Cruise Ship. A morning snack is provided on board while sailing to Sun Island, the legendary birthplace of the Inca Empire. Visit the Inca Garden, steps and fountain followed by the Inti Wata Cultural Complex including the Ekako Underground Museum, the traditional medicine and the Titikaka Reed Shipbuilders display centers, the Pachamama agricultural Inca terraces, a handicraft center, the Intica lounge and at the Manco Kapac look out.
Also, the Inti Wata Complex at Sun Island includes a unique sailing experience aboard a huge Titikaka Traditional vessel for a panoramic visit to the Pilkokaina Inca Palace.
Catamaran Cruise to Sun Island's isolated Challapampa Village, while enjoying lunch on board. Half day of participative tourism, visitors have the opportunity to interact with one of the most unspoiled indigenous Titikaka villages through an innovative program organized with the local community visiting their own museum, chapel, school, a typical house, sailing in their vessels to an Inca holy temple and walking through Inca trails. Romantic candle light dinner and overnight on board the Catamaran in lake view cabins with private facilities. (L/D)
Day 2: Copacabana – La Paz – Tiwanaku Ruins
Catamaran Cruise Ship sails across the lake enjoying breakfast and the overwhelming panorama. Land transfer to Tiwanaku Ruins.
TIWANAKU RUINS
At its height, the capital of Tiwanaku was the largest in the world and considered to be the Cradle of all American Civilizations. This pre-Inca ruins is the subject of endless archaeological debates. The most recent radiocarbon 14 tests show that its structures date back to 1580 B.C.
In this ancient breath taking city we will visit the Kalasasaya (Sun) temple, the Semi-subterranean (Earth) Temple, Akapana Pyramid and the legendary Sun Gate. The tour also takes us to an impressive museum filled with ancient objects and tools that demonstrate just how advanced this civilization really was.
Service Includes: Private transport, bilingual guide, ruins admission fee and lunch in a local restaurant (fixed menu). (B/L)
Day 3: La Paz – Oruro – Uyuni
Pick up from hotel and depart in regular bus to Oruro. Continue by train towards Uyuni, arrival late at night. Transfer to hotel, overnight stay. (B)
Days that the Oruro-Uyuni train operates:
Departures
Tuesday and Friday:
Departure from Oruro
: 15:30 hrs
Arrival to Uyuni
: 22:20 hrs
Wednesday and Sunday:
Departure from Oruro
: 19:00 hrs
: Arrival to Uyuni
: 02:20 hrs next day
Day 4: Uyuni – Uyuni Salt Flat – Uyuni – Oruro
Breakfast. Visit the Uyuni Salt Flat and Isla Incahuasi, a rocky foothill covered with a giant cacti that measures up to 12 meters high (26.25 feet). The climb to the top of this geological wonder provides amazing panoramic views. Lunch or Box Lunch. The trip continues towards Coquesa village; ascend towards the Tunupa Volcano to visit the Coquesa Mummies. In the afternoon return to the hotel in Uyuni. At midnight, transfer to the train station to board a train to Oruro. (B/L)
Days that the Uyuni – Oruro train operates:
Departures:
Thursday and Sunday
: Departure from Uyuni
: 00:05 hrs
: Arrival to Oruro
: 07:00 hrs on day 5
Tuesday and Friday
: Departure from Uyuni
: 01:45 hrs
: Arrival to Oruro
: 09:10 hrs on day 5
Day 5: Oruro – La Paz
Arrival to Oruro in the morning and transfer to the bus station to board a regular bus to La Paz. Arrival to La Paz and transfer to hotel.
P.M. CITY TOUR AND MOON VALLEY
Pick up passengers from the hotel to visit the famous Witch Doctor's Market, San Francisco Colonial Church and the typical handicrafts of the Sagarnaga Street. The tour continues to Plaza Murillo where the Cathedral, the Government Palace and the National Congress buildings are located. Then, visit the famous colonial street Jaen where interesting museums are clustered together, followed by a visit to the replica of the semi-subterranean temple of the Tiwanaku Culture. To change scenery the tour continues to the residential areas of Obrajes, Calacoto and La Florida. The tour ends with a visit to the unique Moon Valley, where passengers will have the opportunity to walk around, and visit a ceramic workshop with a demonstration of the art of pottery. (B)
Day 6: La Paz – Farewell
After breakfast, private transfer from your hotel to the airport. (B)
(B) Breakfast, (L) Lunch, (D) Dinner
Included:
Catamaran service is shared with other passengers on board and in dock. Included guide bilingual (English / Spanish).
The meals that is mentioned in the description of services and does not include drinks
All cabins are double (02 single beds) with lake view and private bath with shower stall
The routes La Paz – Oruro – La Paz (Bus) & Oruro – Uyuni – Oruro (train) are shared and have no guide service, the rest of the package in Uyuni is private and exclusive guide service bilingual (English / Spanish)
Other services (La Paz) are private and exclusive guide service required language (English, Spanish, French and German)
On Saturday and Sunday afternoons and all day Monday, the museums of Jaen Street in the city of La Paz are closed, therefore it is optional visit other exhibits, such as the Musical Instruments Museum
Not Included:
International and Domestic Flights
Airport Taxes
Excess Baggage Fees
Tips
National and International phone calls
Personal expenses, food and extras not mentioned in itinerary
---
To book your vacation now or consult with us, fill out the "Contact Us" form to the right and a Fertur Peru Travel coordinator will contact you within one working day with detailed information about your fully customizable trip. Fertur Peru Travel's pledge is to offer you top-quality, individualized attention that starts with the planning of your trip and continues through your journey to guarantee a great vacation.