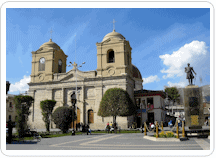 Huancayo, a provincial capital in the heart of the Peru's central Andes, in the beautiful Mantaro Valley, an agricultural bread basket, and a center of indigenous crafts, traditional cuisine, dance and religious festivals.
Huancayo, a destination less traveled than Arequipa or Cajamarca, but no less fascinating. This provincial capital boasts one of Peru's most dynamic Sunday open air markets. The city is ringed by pre-Inca ruins and picturesque villages, like Chupaca, Sicaya, Matahulo and Cochas Grande and Chico, where amazing tapestry weavings and Peru's famous Mate de Burilado (carved gourds) are produced.
The 2 Best Huancayo Tours
This Huancayo vacation features the highlight locations of the Mantaro Valley, including the Ocopa Convent, Paca Lagoon, the artisan villages of Hualhuas and San Jeronimo and the impressive Huari ruins of Warivilca.
Includes:
Transport from and to bus station
One night in the hotel of your choice
Jauja excursion Paca Lagoon
Concepcion Convento de Ocopa
Inegnio trout breeding center
Artisan villages of Hualhuas & San Jeronimo
Warivilca Sanctuary
Ñahuimpuquio Lagoon
Arwaturo Archaeology Center
English-speaking guides
Entrance fees
---
A Huancayo vacation in the heart of Peru's central Andes offering history, folklore and a rich cultural experience set to the backdrop of beautiful landscapes, marvelously embroidered tapestries, and intricately carved gourds.
Includes:
Transport from and to bus station
One night in the hotel of your choice
Jauja excursion Paca Lagoon
Concepcion Convento de OcopaInegnio trout breeding center
Artisan villages of Hualhuas & San Jeronimo
English-speaking guides
Entrance fees
---