Huancayo 3 Days 2 Nights: Book Now with Fertur!
---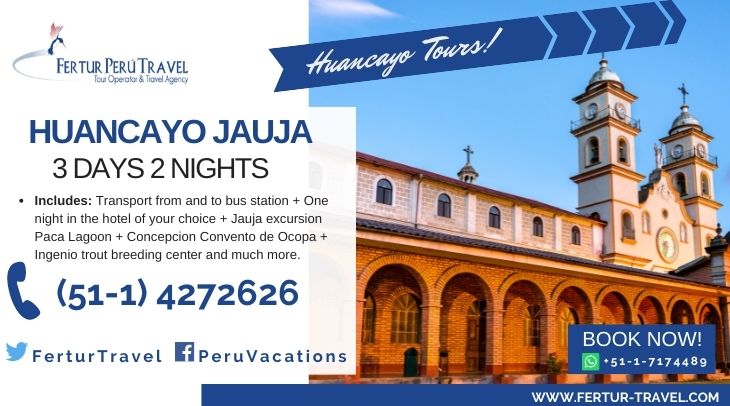 ---
This Huancayo vacation features the highlight locations of the Mantaro Valley, including the Ocopa Convent, Paca Lagoon, the artisan villages of Hualhuas and San Jeronimo and the impressive Huari ruins of Warivilca. Enjoy our travel programs in Huancayo 3 days!
Includes:
Transport from and to bus station
One night in the hotel of your choice
Jauja excursion Paca Lagoon
Concepcion Convento de Ocopa
Inegnio trout breeding center
Artisan villages of Hualhuas & San Jeronimo
Warivilca Sanctuary
Ñahuimpuquio Lagoon
Arwaturo Archaeology Center
English-speaking guides
Entrance fees
Prices available upon request
Our perfect Huancayo 3 days tour
Day 1: Laguna de Paca – Convento de Ocopa – Handicrafts
Reception. Transfer to the Hotel. Depart to Jauja province and boat ride on Paca Lagoon, an Andean lake surrounded by bulrushes and quaint restaurants, and a spectacular view of mountains in the distance. Then visit the Convento de Ocopa. founded by Franciscan monks in 1725, for a guided tour of its coisters, library of 25,000 volumes, some dating back to the 15th century, and Amazon jungle musuem. Tour of Ingenio trout breeding center. Lunch. Visit to artisan town of Hualhuas (weaving), San Jeronimo (silver jewelry). Return to hotel. (L)
Day 2: Warivilka Sanctuary – Chongos – Ñahuimpuquio Lagoon – Arwaturo
Breakfast at hotel. Departure to Warivilca Sanctuary, ancient sanctuary of the Huari Empire. Then continue to the town of Chongos, Ñahuimpuquio Lagoon, and the Arwaturo Archaeology Center. (B/L)
Day 3: Huancayo – Lima
Breakfast at hotel. Morning at leisure. Transfer to the bus station. (B)
(B) Breakfast, (L) Lunch, (D) Dinner
---
Contact Us: Get a quote for this Huancayo 3 days!
To book your Huancayo 3 Days now or consult with us, fill out the "Contact Us" form to the right and a Fertur coordinator will contact you within one working day with detailed information about your fully customizable trip. Fertur Peru Travel's pledge is to offer you top-quality, individualized attention that starts with the planning of your trip and continues through your journey to guarantee a great vacation.
Go Back to Huancayo Tours