Qoyllur Rit'i 2022 Pilgrimage: The Best Religious Circuit in Cusco
---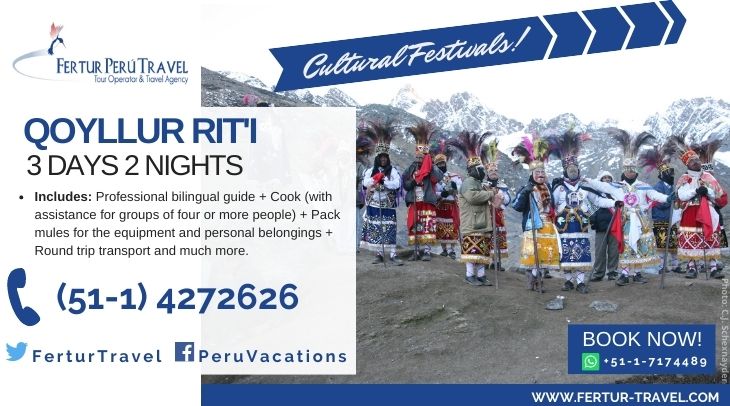 ---
There is no event in the world comparable to the high mountain festival of the Qoyllur Rit'i (or "Snow Star" in Quechua). The breathtaking celebration is an incredible opportunity to experience Andean culture up close. Qoyllur Rit'i is an annual pilgrimage of tens of thousands of people, mostly from mountain villages, to the Sinakara glacier. There they worship Taytacha (Father Earth), Jesus, the Virgin Mary and the powerful Apu deities that inhabit the four surrounding mountains (Ausangate, Hunacauri, Qanyaqway and Colquepunku).
Prices available upon request
(A two-day program is also available)
The Perfect 3-Day Itinerary
Day 1 (June 13): To Qoyllur Rit'i
Departing from Cusco around 8 a.m. we make the three hour journey to Mawayani to begin the pilgrimage. After a light lunch, we'll embark on a moderate to challenging 2½- to 3-hour hike, covering approximately five miles (8 kilometers). Pack mules and muleteers help carry the equipment and your personal belongings as we ascend from 12,800 feet to the Sanctuary of the Señor de Qoyllur Rit'i at 15,750 feet (3900 m.a.s.l. – 4800 m.a.s.l.).
Dance troupes representing different towns and community groups — known as comparsas — perform in amazingly elaborate costumes representing different religious and mythical characters. Central players are the Ukukus, mythical half man-half bear creatures, who represent the guardian spirits of the festival.
We will settle in for dinner at our comfortable camp site, among tens of thousands of other pilgrims. (L/D)
Day 2 (June 14): Qoyllur Rit'i
Following an early breakfast, we'll go to church to participate in the special mass dedicated to El Señor del Qoyllur Rit'i. Then we will begin the collective march to sacred mountain shrine of Qoyllur Rit'i to witness and participate in ancient rites, customs.
Vendors sell "alacitas," or small keepsakes, to take to the chapel to be blessed in a symbolic gesture to achieve your heart's desire. It is said that if you attend the festival three years in a row for this blessing, you will be assured of having your wish granted. Hypnotic, pentatonic-scale pipe and drum music fills the air and tremendous arrays of fireworks, mounted on enormous rustic scaffolds, go off all night. (B/L/D)
Day 3 (June15): Back to Cusco
After an early breakfast, we'll join the line of pilgrims wending our way back down the valley to Mawayani and our waiting vehicle for the ride back to Cusco, arriving around 2 p.m. (B/L)
INCLUDED
Professional bilingual guide (English – Spanish)
Cook (with assistant for groups of four or more people)
Pack mules for the equipment and personal belongings – maximum 11 lbs / 6 kg
Round trip transport
Camping equipment
Double occupancy tents (all new equipment!) with foam mattresses
One lunch, one dinner, one breakfast.
NOT INCLUDED
Sleeping bag (ask us for help hiring)
TIPS for porters, guides, and cooks
Flight Cusco-Lima (ask us for help with making arrangements)
Tips for trip guide, cooks, porters and driver
Drinks apart from water or soft drink with meals
ADDITIONAL
You can horseback ride for the ascent for US$30 per horse. You cannot ride the horse for the descent back to Mawayani.
WHAT TO BRING
A Day Pack
A Rain Jacket or a Poncho
Sturdy hiking boots or cross trainers
Warm clothes
Water bottle
A hat or cap to protect you from direct sun and high altitude chill
Sun block
Camera
Snacks
Flash light
Note about Conditions at Qoyllur Rit'i 2022
This trip is strenuous and not for the faint of heart. It entails hiking and a night of camping at high altitude and is suitable for people who consider themselves adventurous. You will be surrounded by tens of thousands of other campers.
You will experience rowdy crowds, curiosity from people who may never have seen a foreigner before, and food that won't necessarily be prepared to the same standards of hygiene you might be used to.
This is a trip deep into a traditional rural culture and as such, as well as being very rewarding, it entails a diminished standard of living for the few days we are immersed in the celebration.
You will be with a very experienced guide who will make life as comfortable as possible for you, but you may experience some moments of discomfort. All that said, the reward is two days and nights of amazing traditional music, dance and fireworks that few foreign travelers experience.
---
To book your vacation now or consult with us, fill out the "Contact Us" form to the right and a Fertur Peru Travel coordinator will contact you within one working day with detailed information about your fully customizable trip. Fertur Peru Travel's pledge is to offer you top-quality, individualized attention that starts with the planning of your trip and continues through your journey to guarantee a great vacation.