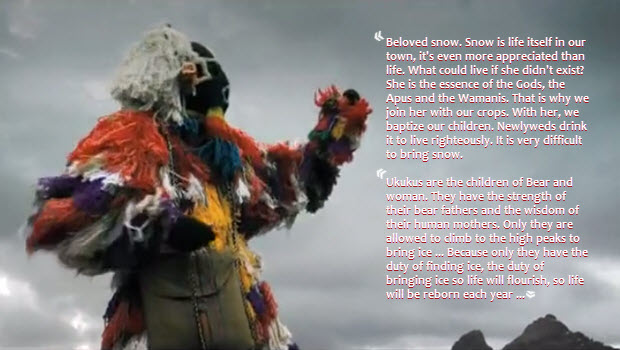 Peru's mythical ice-seeking Ukuku and its sensitivity to global climate change
If there is one creature from Andean mythology most impacted by the accelerated melting of Peru's glaciers due to global warming, it would probably be the Ukuku.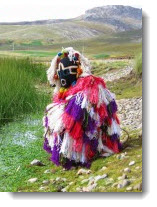 This mythic creature from Peru's Cusco region is half-man, half-beast — the offspring of a peasant woman and a bear. The Ukuku is feared because of its supernatural strength, playful but amoral character and lack of rational judgement.
Stories tell of children killed by an Ukuku's well-intentioned, but unintentionally powerful, slap on the back. Horses are split in two when Ukukus try to ride them.
But they also serve the community with the sacred, sworn duty of climbing the high Colquepunku glacier each year during the Quyllur Rit'i festival. There, they pray for the health of the people, and return with large chunks of ice strapped to their backs, which is melted and used in healing and spiritual ceremonies throughout the year. ¹
What becomes of the Ukuku who climbs to the highest Andean peaks, but finds no ice. How does he fulfill his sacred mission? With the glaciers gone, where will he go to fulfill his destiny?
That is the premise of this poignant and ironic short film directed by Gastón Vizcarra.
Ukuku – a short film by Gaston Vizcarra — (2009).
¹QOYLLUR RIT'I, AN INCA FIESTA OF THE PLEIADES: REFLECTIONS ON TIME & SPACE by Robert Randall (1982)