Peru's Justice Palace exhibits fake Ricardo Florez paintings – artist's daughter charges
Ricardo Florez (1893-1983), one of Peru's greatest painters of the 20th century, is at the center of an embarrassing scandal involving Peru's Justice Ministry.
It appears that justice officials allowed themselves to be completely snowed last week, exhibiting dozens of counterfeit Ricardo Florez paintings in the Palace of Justice.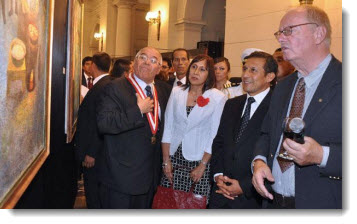 President Ollanta Humala attended the inauguration of the exhibit, as did Florez's daughter, who blew the whistle on the alleged forgeries.
Art collector Hans-Wolfgang Schemke definitely has some explaining to do. Florez's daughter says she told him earlier that he was exhibiting fakes upon viewing forgeries of her father's work in Schemke's gallery in Chile. That was not the first time he had been warned, she told Lamula.pe. She also alleges that her mother told him some time ago, when he showed her photos of some paintings, "My husband didn't paint that crap."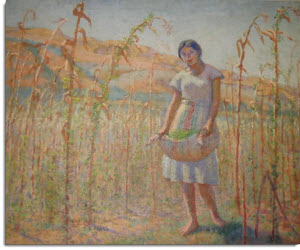 Schemke told nightly news program 90 Segundos that the paintings had been certified as authentic by international art experts and added that he was evaluating whether to file defamation charges against Florez's daughter for her declarations.
But La Mula.pe quoted Gabriela Arakaki, organizer of a major 2005 exhibit of Florez's work at Banco Continental, agreeing that the paintings in question at the Justice Palace were not part of Florez's known catalog and did not demonstrate the painter's distinctive technique.
Florez was born into a wealthy family in Lima, and was expected to follow in his father's foot steps and become a physician. Instead, he pursued painting, moving to the central Andean village of Tomayquichua in the 1940s. There, drawing on the local culture and amazing landscape, he perfected his impressionism and pointillism techniques.
Beautiful poster-sized prints of Florez's painting are available for sale at the Central Reserve Bank of Peru Museum (Jr. Antonio Miró Quesada 441-445, historic downtown Lima).
The museum also has several of Florez's original paintings as part of its permanent collection.