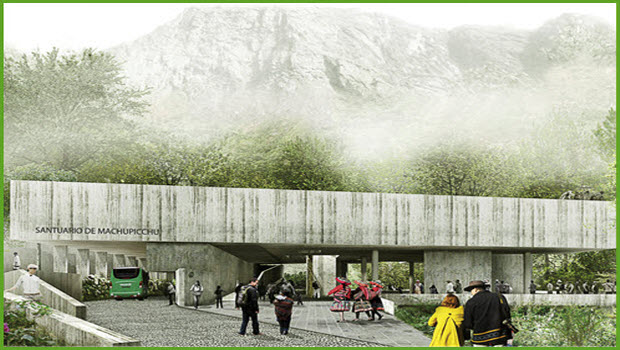 Design of new visitor complex entrance chosen for Machu Picchu
The design of a new visitors' center and entry management point for Machu Picchu was chosen last week, the Peruvian Times reports.
Architect Michelle Llona's project won the national competition. It was chosen from among four final architectural proposals.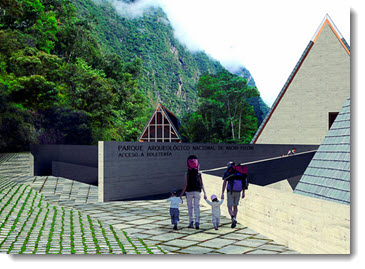 Officials from Peru's Ministry of Culture announced in January that they were evaluating plans to create a visitor and research center, as well as relocate the entry point into Machu Picchu from the current entrance just outside the mountaintop ruins to down below in the deep river gorge.
"Every year the number of visitors to Machu Picchu increases," Culture Minister Diana Álvarez Calderón said in a statement, announcing the winning design. "As the Ministry of Culture we are working to ensure its conservation and provide adequate attention to the tourists."
Construction of the $3 million project is planned to begin in the latter half of 2016.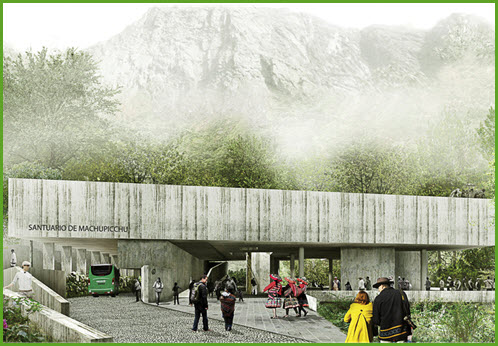 Machu Picchu was inscribed as a UNESCO World Heritage cultural and natural site in 1983. The terms of its preservation is mandated under the U.N. convention, as well as Peruvian law.
With nearly 1.2 million visitors to the ancient Inca citadel last year, Machu Picchu far exceeded the daily maximum of tourists agreed to with UNESCO.  Peru is now under intense pressure to make drastic changes in order to avoid the iconic ancient citadel being added to UNESCO's list of endangered sites.
Ricardo Ruiz Caro, chief of Cusco's regional Culture Directorate, last month announced that by mid-July a new ticketing system would be implemented to enter the Inca citadel in two shifts — one in the morning and the other in the afternoon — through the remainder of this year's high season.
While that announced emergency measure did not materialize, an expected surge of tourists following the conclusion of the World Cup in Brazil did, precipitating a rush for tickets in August and huge lines of people in Aguas Calientes waiting for the shuttle buses up to the ruins.
The lack of infrastructure and space in the small tourist town demonstrated how a new visitor complex could be vital to managing the flow of visitors to the site.
Browse through the architectural illustrations below. Click on the images to  see them enlarged:

If you like this post, please remember to share on Facebook, Twitter or Google+