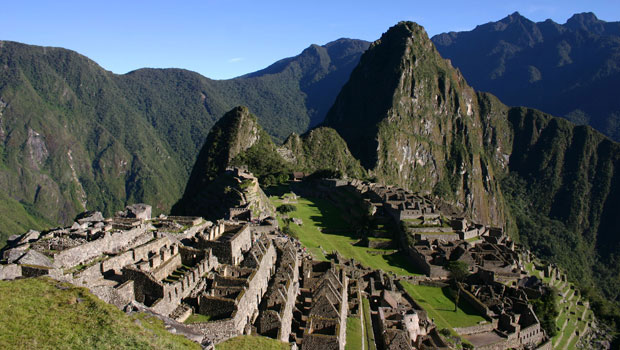 Cusco Tourism leader worried over Machu Picchu preservation
The president of the Association of Cusco Tour Agencies says he's concerned that poor management and overcrowding at Machu Picchu is taking an undue toll on the iconic Inca citadel, and he blames the Ministry of Culture.
Enrique Velarde told Peru's tourism trade publication T News that the Culture Ministry is taking too long to update the Machu Picchu Master Plan. He said the ministry is dragging its feet on improving Machu Picchu's tourist infrastructure and implementing new rules for visitors aimed at preserving the World Heritage site.
"It seems like they want it all to collapse," Velarde was quoted saying.
The number of visitors to Machu Picchu surpassed one million tourists for the first time ever in 2012, according to totals published by the Ministry of Foreign Commerce and Tourism (MINCETUR).
The statistics show that during all but three months of  last year, the average number of visitors far exceeded the daily limit of 2,500 agreed to by Peru and UNESCO. Crowds swelled to well over 3,000 people per day during the months of April and July through November.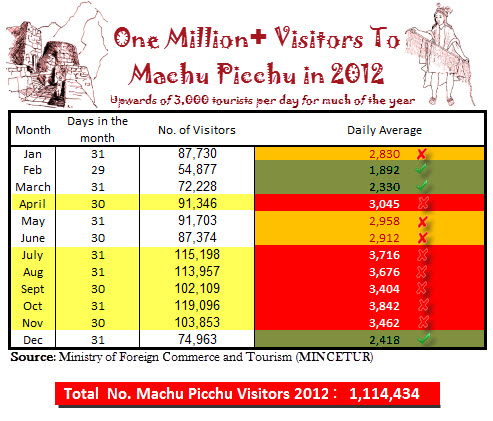 For years, Peru's tourism sector has pushed for a re-evaluation of that 2,500 visitor limit at Machu Picchu, arguing that carrying capacity could be doubled or even tripled, but only if steps are taken to thin out the concentration of people trampling through at any one time. One measure would be establishing predetermined routes through the ruins to control foot traffic. Visitors would enter in shifts spaced out across the day. Another would be to create a new entrance, and a separate exit point.
Currently, visitors enter and exit through the same narrow gate next to the Machu Picchu Sanctuary Lodge Hotel, and tourists are allowed to explore the sprawling ruins all day long, if they wish.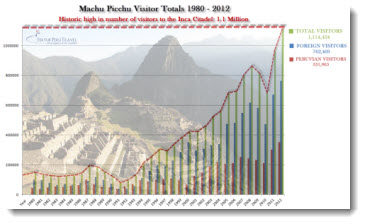 Velarde contended that the Ministry of Culture has ignored a technical "Machu Picchu Tourist Use Plan" put together by Peruvian and international experts. He said the plan does not call for drastically increasing the number of visitors to 4,000 or more, but rather focuses on improving the management of the historic sanctuary, based on new entry and exit points to allow for smoother transit.
"If there is more than one entrance and exit, the visitor can enter through Gate A, tour the archaeological complex for three hours and then head out Exit B," he told T News. "That would be ideal."
Peru risks the wrath of UNESCO if it pushes too hard on increasing daily visitor totals without proving that Machu Picchu can take the extra, sustained punishment of all those hiking boots. Peru has faced threats over the years of having its top tourist attraction added to UNESCO's infamous list of endangered sites.
 If you like this post, please remember to share on Facebook, Twitter or Google+